Blue Turmeric Is the Latest Super Spice to Shake Up Pantry Shelves
There's one variety of the ubiquitous spice that is only now gaining traction in the U.S.: blue turmeric.
(Bloomberg Businessweek) -- Think of a popular superfood, and turmeric will be near the top of the list. It's achieved that status because of perceived anti-inflammatory properties that may help alleviate joint pain and high blood pressure. Turmeric is a key ingredient in curry powder, and today can be found as an add-in to just about any smoothie, grain bowl, and latte.
But there's one variety of the ubiquitous spice that is only now gaining traction in the U.S.: blue turmeric.
The color of the root ranges from turquoise to periwinkle to violet—shades of blue rarely seen outside a packet of gummy bears. Once the root is dried, the colors merge into a less visually striking shade of gray, but the taste is unforgettable. Its pine-flavored bite is more invigorating than the musky notes of the golden one.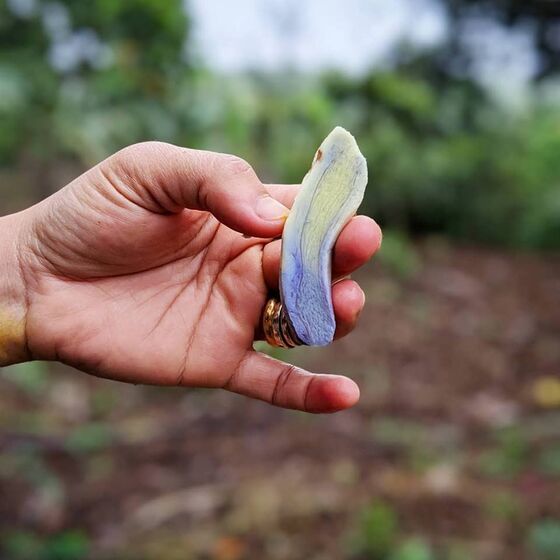 Studies on the health benefits of blue turmeric, including its concentration of the anti-inflammatory curcumin, are preliminary. It is said to be good for gastrointestinal and fertility issues, according to Kanchan Koya, the author of Spice Spice Baby, a cookbook devoted to the healing properties of global spices. "It also stands out in neurological symptoms like depression," she adds.
At ABCV in New York, chef Neal Harden includes blue turmeric as an integral part of several spice blends, such as the tandoori masala that coats a bestselling roasted white sweet potato. "I like the herbal mentholated spice flavor, and it doesn't immediately dye everything yellow," he says.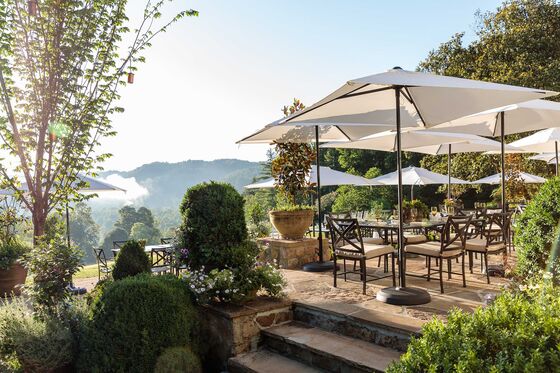 Josh Feathers, chef at the Main House at Blackberry Farm in Walland, Tenn., describes the flavor as "piney and nutty" and makes it a key component of the lemon-blueberry griddle cakes (below) he serves on Tuesday mornings.
"The biggest challenge is finding enough of it," Feathers says. He gets his supply from the globe-trotting spice company Burlap & Barrel. Most blue turmeric is grown in India, but founder Ethan Frisch discovered it in early 2019 in the mountains of Vietnam's Cao Bang province. Frisch sources the rhizomes from a farm cooperative called Dace Co., which promotes sustainable production and helps the local Hmong farmers transition into growing commercial, higher-value products rather than subsistence vegetables.
In 2020, Frisch imported about 220 pounds of blue turmeric. He'll stock the same amount this year. Initially, only chefs bought it, but now, as with many of his products, home cooks are hungry for it. "It's got such a unique flavor, intense and bitter," he says. "It's different from any other spice I've tasted."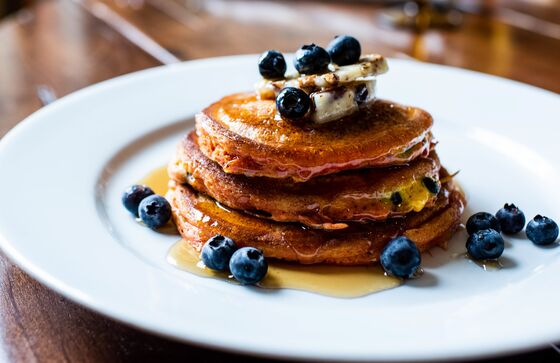 The following recipe is from Josh Feathers, chef of the Main House at Blackberry Farm.
His test for doneness is to wait until 11 bubbles appear on top of each pancake. "This was part of our mess cook advancement exam for the Navy. It really serves to act as a gauge of the doneness before flipping the cakes."
LEMON-BLUEBERRY GRIDDLE CAKES
1 cup all-purpose flour
½ cup sugar
2 tsp blue turmeric powder
1½ tsp baking powder
½ tsp salt
3 large eggs
1 cup buttermilk
3 tbsp melted unsalted butter
2 tbsp lemon juice
1 tbsp grated lemon zest
1½ tsp vanilla extract
1 pint fresh blueberries
Sift dry ingredients together. In another bowl, combine eggs, buttermilk, butter, lemon juice, lemon zest, and vanilla. Whisk wet ingredients into dry. Ladle ¼ cup batter per cake onto hot griddle and top with blueberries. Cook until 11 bubbles appear on top. Flip, then cook 3 more minutes, until cooked through.