The Bond King's Genius Was No Match for His Ego
Mary Childs, the co-host of NPR's Planet Money, takes a close look at the rise and fall of billionaire investor Bill Gross.
(Bloomberg Businessweek) -- I. Team Bonding
When Bill Gross started his career in investing in the fixed-income department of a sleepy life insurance company in the 1970s, bonds were just pieces of paper stored in vaults. Gross soon became the face of a revolution: actively trading those pieces of paper in pursuit of price appreciation. He was good at it—by most accounts, the best. He and Pacific Investment Management Co., the firm he co-founded, reigned over the bond market for decades, earning Gross the title of "Bond King." From the outside, he seemed folksy, if a bit eccentric, and Pimco appeared polished and professional. The truth was more complicated.
The early crew had seemed to enjoy tormenting each other on the trade floor. They rotated who bore the brunt—though, more often than not, it landed on the same people. For much of the 1990s, that was Frank Rabinovitch, the portfolio manager and technology specialist. He arrived a sweet statistics nerd, and left twisted, broken, full of rage. They'd doused him with bug spray, saying he smelled bad. When he wore an expensive new tie to work, they cut off the bottom of it with scissors. It was an ugly tie; we're helping you. They tackled him on the trade floor playing touch football, even after he instituted a rule that you had to count to three after snapping the ball. ("He was not real athletic," partner Wes Burns recalled in Pimco's self-published history book. "The guys would go and crush him anyway. It was their mindset. You had to make a really aggressive argument to win the day.")
They called it good fun, but it was kids pulling wings off a fly—because they'd all arrived missing wings themselves. The abuse demonstrated their strength, proved that they deserved to survive. It sharpened them, prepared them for the field. It was Gross's chant in the '90s: "Grow or die, grow or die!"
That chant had become acutely relevant to one of Pimco's co-founders in the early '90s; the chief executive officer decided to leave.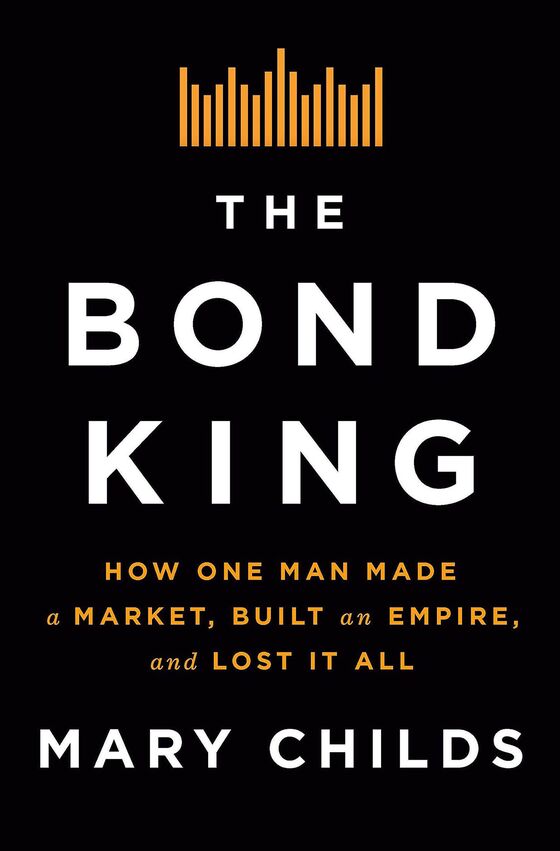 By 1993, Bill Thompson stepped in as Bill Podlich departed with his pile of money and an acid-stripped esophagus, riding his train into the American Plains. (Yes, this story is packed with Bills.)
Thompson wasn't a fly missing a wing in the same way as his new colleagues. He was unfailingly positive and respectful, his sky-high eyebrow arches punctuating a joyful bearing. His easy humor helped him defuse tense moments. He remembered colleagues' children's names and inquired after their well-being. He remembered who loved baseball, as he did, and which team.
He and Gross had similar backgrounds—simple Midwestern boys with middle-class fathers, abruptly rich in confused California. Thompson had the patience for Gross's eccentricities, could tolerate his mood swings, appreciated his strange little sense of humor, and possibly projected it when doing so was useful. He provided the antidote to Gross's insecurity, a balm to the open wound of Gross's psyche and the culture it created.
While Thompson was careful to observe that culture, he also sought to balance it. As he got his footing, he realized this band of unruly wild animals was actually a bunch of self-serious purists. At one point, Rabinovitch threw a chair at him. He could feel that they weren't sure of him and his polish.
So after a little while on the job, Thompson decided some team-building was in order. Some way to get them laughing together. But it couldn't be a normal corporate trust-fall thing.
When they announced the newest partners in early 1994, Thompson arranged a big, celebratory dinner for all the managing directors, the new with the old. A chance to loosen up.
In those days, Pimco's core was mostly young, and they still sometimes socialized. Drinking activities were largely spearheaded by Bill Powers, who had to keep his tolerance up for his role as good cop to Wall Street. Gross only occasionally partook in these nights—he wasn't a big drinker or a big team guy, but in the very early days, even through the early '90s, he showed up occasionally. When the partners all went to Vegas, he went, too, though he ducked out early to fly back so he could be fresh on the trade floor in the morning.
Gross showed up for Thompson's gambit. It started off as a standard dinner, in a staid conference room at the Pacific Club, not 5 miles from the office, with hotel steak and red wine.
Once they were good and limber, Thompson rose. He took out a stack of pictures, headshots of each of the managing directors gathered before him. His audience emptied their wine glasses and grinned their purple teeth, listening between whispers. They were going to do an exercise together, Thompson told them. He held up a picture: portfolio manager John Hague's beautiful tanned face. Robust, bushy eyebrows. Blinding Hollywood smile. "The closer," they called him, for his uncanny track record of closing new client accounts. Thompson turned and pinned the picture to the wall behind him.
"We're gonna tell him what we really think of him," he said, as he pinned up more pictures. "Go ahead, get it out. Call him an asshole."
The men looked at one another with some discomfort.
Thompson gave them a beat. "Go ahead!"
"He's … an asshole!" one man, from the back of the room, finally said.
"ASSHOLE!" another joined in.
Thompson held up the face of another: portfolio manager Chris Dialynas, mouth frozen in what seemed to be his perpetual smirk. The response came more naturally this time: "ASSHOLE!"
Ernie Schmider. Actually a lovely guy, which of course you couldn't say at Pimco; that would be a career ender: "ASSHOLE!"
Meek, fastidious client-facing Dean Meiling: "ASSHOLE!"
"There were people at that table who looked at other people at that table and thought they were assholes," says one former partner. "This was the vocalization of it, and everybody got a shot. It's like, 'Yeah, he's an asshole!' and he's sitting right there, but you're looking at his picture, not at him."
Thompson's gamble was on-key, perfectly Pimco.
"People actually loved it," Gross says. "It was Thompson's way of introducing himself to the group and being one of the boys."
And so Thompson was on his way to being accepted as their leader, a first step in becoming beloved and respected almost throughout Pimco. He would go on to lead the firm to explosive growth, with that same artful appreciation of how to calm and wrangle the unruliest factions of the organization, including and especially Gross. Cohered and stable, employees could focus their aggression more constructively—toward digging out market quirks and bond document loopholes to exploit to the hilt, toward bullying banks and competitors, toward straining the legal and social limits on definitions and conduct—all to scrape out more basis points for clients than the next guy.
Pimco's willingness to dance on the edge, its dedication to doing so, would show up again and again over the years in its investing—eternal paranoia about falling behind wed to a love of risk. Inside its walls, the mood was the same: a pressure cooker kept just below the boiling point, a delicate tension that required careful, canny management.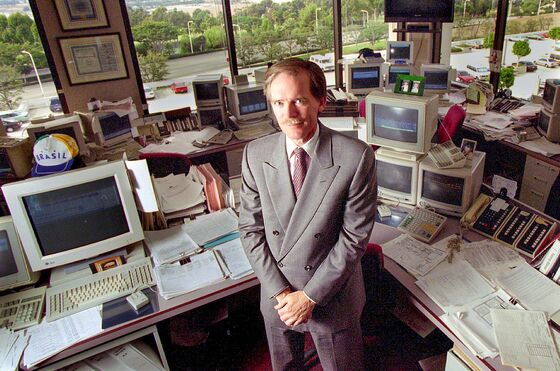 In 2007, Gross had been excited about recruiting economist and money manager Mohamed El-Erian back for a second stint at Pimco. But after some years, Gross's relationship with the CEO started to fray. Finally, El-Erian quit in January 2014. (Among other things, he went on to become a columnist for Bloomberg Opinion.) Soon after, reporters began publishing stories about the fractious politicking at the top of Pimco, citing anonymous sources within the company. Gross was horrified. He prized his image, his fame; it was his fuel. He'd always wanted to be famous, and bond management was, in some ways, just a vehicle for his aspiration. The recent press coverage was negative, portraying him as erratic and mean. Gross became convinced that El-Erian was tearing him down from the outside. But he also began to obsess over enemies down the hall.
Gross was on a hunt. He was watching, silently, as odd behaviors proliferated within the firm and as articles favorable to El-Erian surfaced in the media. Internal events kept showing up everywhere, with conversations cited verbatim, sometimes right after they happened. How? Who?
Someone at Pimco was sabotaging him, them, from the inside. Someone Pimco had chosen, someone they were paying ungodly sums of money, was talking to the press, leaking damaging information, undermining the company in public, and, slowly, destroying it. Pimco had a mole, maybe multiple moles. It was no longer safe within Pimco's walls. Someone was actively seeking to hurt the firm. Who would do that? The thought disgusted Gross, horrified him.
Suspicion grew in his head, began to take over. It could be anyone. His most trusted lieutenants, his oldest allies. He had no way of knowing who the traitor was. And all the while, they were clipping their fat coupons. It was eating away at him. He had to get to the bottom of it.
He wasn't wrong. There were people speaking to the press, dozens; he was one of them.
"There's a group of people that are hunting Bill," one person inside the firm said at the time. "Bill manages $700 billion. A lot of people see that the day he retires, those assets are going to be released; they're going to be up for grabs."
And the stakes were particularly high: The U.S. Securities and Exchange Commission had been poking around Pimco for months, asking about how to value bonds, how to mark them, the firm's third-party pricing systems. Pimco was proud never to have gotten a Wells Notice, that dreaded warning of imminent enforcement action. Everyone was nervous that their luck might have run out.
To find the leaker(s), Pimco's general counsel David Flattum combed through emails and telephone logs. Gross printed some of the emails and put them in a three-ring binder, adding his own handwritten notes. He clipped in his observations, scrawled notes on legal paper or printouts about who the moles might be. He carried it around the office with him, everywhere he went, like a security blanket.
Gross and Flattum gathered a list of potential candidates, those most likely to be the spies, and brought them in for questioning. People were abruptly pulled aside, seemingly at random. Gross was interrogating his employees, from members of the investment committee and managing directors down to lower-ranking money managers, analysts, and traders. Gross's binder sat open on the table during interrogations.
Eventually, someone did confess: Andrew Balls, a portfolio manager in London and a onetime Financial Times reporter, conceded he had talked to the media, at El-Erian's request. Pimco's media policy was if the CEO says do it, it's OK. So this was technically within bounds.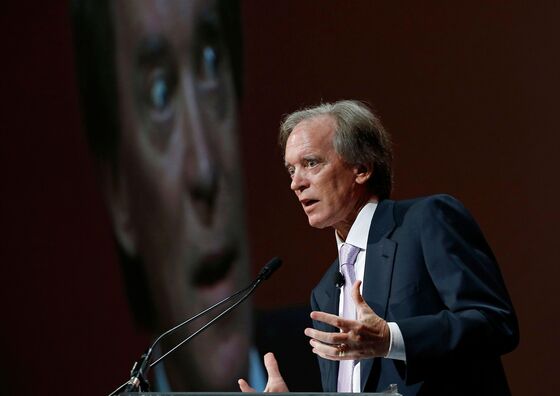 But what about El-Erian? To Gross, it was clear that Mohamed El-Erian was part of the problem. He was still collecting money from the company; in Gross's eyes, there was no way he should be allowed to profit from the firm he was actively working to destroy. El-Erian had also recently started tweeting, invading Gross's favorite social media platform. Gross could only imagine what kind of smear campaign El-Erian was preparing to mount. ("Not once did Dr. El-Erian use social media or any other media to say anything remotely critical of Mr. Gross," El-Erian's lawyer says.)
Gross asked the executive committee to fire El-Erian retroactively, or at least deny him part of his $50 million bonus for the first quarter of 2014. Some of his colleagues would recount that Gross wanted to smear El-Erian anonymously in the press or to bait him into suing Pimco, believing it would hurt his chances at a new job. They remember him demanding that they present Gross in a better light to a newspaper reporter. He wasn't one to let things lie. He wanted to strike back.
The executive committee refused. They found his requests disturbing: It was so far beyond the bounds of anything resembling professional. What would clients say if they heard any of this? He was not handling this well. At this point, it became urgent to have a real succession plan in place. Maybe over a shorter time horizon, like a year. Or maybe less. Just in case things didn't settle down.
CEO Doug Hodge warned Gross that, at some point, he could be held accountable for his behavior.
Gross remembers it as Hodge pulling him aside and saying, "I could fire you, you know."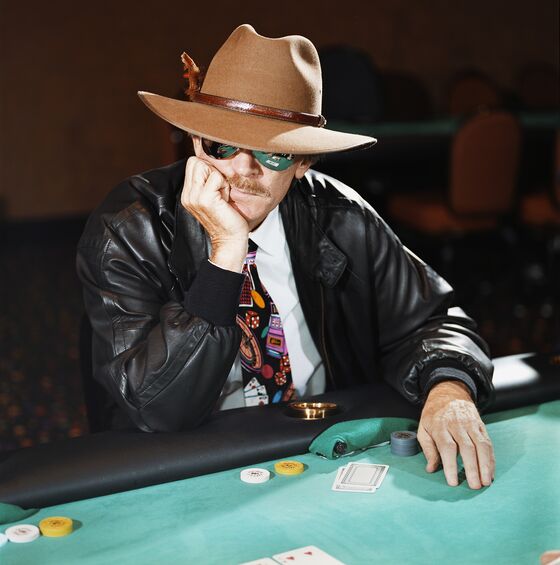 In September 2014, Gross shocked the financial world by abruptly departing his own firm and, famously, joining a much smaller competitor, Janus Capital Group Inc. After about four years, he retired.
Back when he used to interview potential Pimco employees, he liked to ask, "Which would you like to have the most: money, power, or fame?" They were always embarrassed, and they always said money or power. Gross would then gladly share his own answer. "I was obsessed from the beginning," he says. "From the get-go, my motivation was to be famous." In the end, he got what he wanted. And now he's self-published his own book, a memoir combined with economic analysis called I'm Still Standing.
By almost any of his metrics, he had won. Money, of course—that had come first. Fame—he'd had all the headlines and TV interviews he could ever have dreamed of. And power—the present moment notwithstanding, hadn't he been influential? He had been king, had had a kingdom. He'd joined the stable world of bond investing, paper resting in a vault, and had helped transform it into a casino. He'd taught disciples to play like he did; his enthusiastic embrace of mortgages, derivatives, and complicated structures had charged their growth, and when they destabilized the entire U.S. economy, he had helped write the government's guarantee, which has now expanded to, arguably, everything. Gross was always one of the few willing to say out loud that investing was just gambling, but in the end, he made it more and less of a gamble.
He knew better than to be unhappy, or at least to admit it. He was alive and a billionaire, and those things had to count. But as his laurels receded in his mind, as it seemed more and more as though he were ending the game with the same colored chips as everyone else, his worse instincts fought through his more sober reflections.
In September 2020, Gross issued an investment outlook by press release, titled Tattooed, in which he called his youngest son, his only child with his ex-wife Sue, a disappointment. "Guess there is always one tattooed (black) sheep in every family," he wrote. "Nick is mine." Then he pivoted to how the global economy had been "tattooed" by the coronavirus.
He was also in a fight closer to his literal home—or, rather, the beautiful home he'd bought for his then–"life partner," Amy Schwartz. He'd met her through Bill Powers, of all people, in 2017; she was a former tennis pro in her late 40s then. They loved to golf together.
He'd gifted her a $1 million Dale Chihuly sculpture, which they'd installed in the yard of the beachfront mansion. When the statue—22 feet of cobalt-blue glass, stabby tubes, and some fat globes sitting on the ground—was damaged by the elements (perhaps falling palm branches), they added what looked like a soccer net above it for protection.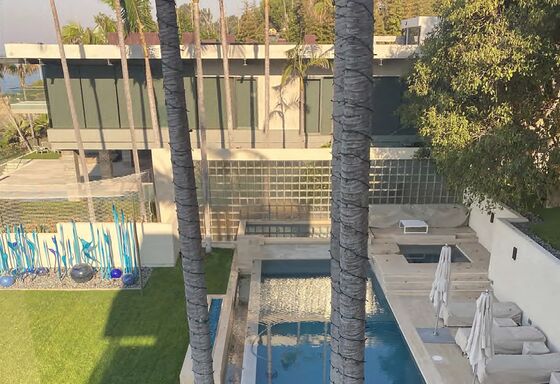 Except that the net obstructed the view of their next-door neighbor, who attempted to get them to remove it. They would not. Eventually, the neighbor complained to the city of Laguna Beach, which sent Bill and Amy a letter saying the sculpture and netting needed permits.
Bill and Amy then started playing loud music, with speakers right near the property line, at all hours. From July into October. Including Led Zeppelin and 50 Cent and the theme songs from the TV shows Green Acres and, most frequently, Gilligan's Island.
When the neighbor texted Amy at almost midnight on July 31, asking for them to turn it down, Gross wrote back: "Peace on all fronts or we'll just have nightly concerts big boy."
In October, Bill and Amy sued the neighbor for invasion of privacy, among other things, saying he'd been watching, photographing, and filming them, including in various stages of undress while they swam in the pool. The next day, the neighbor sued for harassment.
So, that winter, as most people sheltered from the pandemic, Bill and Amy attended court in Santa Ana. They testified that they just enjoy music, in particular the theme from Gilligan's Island. "We've learned lyrics, and we act together with hands and pointing. It's like a little play," Gross testified. "We play it because it makes us real happy. Half the time we start dancing, and when we finish, we're looking at each other like it's a good time."
One critical exhibit: a video of Gross in his shorts behind the wall abutting the two properties; 50 Cent's In Da Club is audible. Gross is dancing, pointing his fingers, swaying, as his neighbor films him. After a while, Gross crouches, apparently hiding. The 50 Cent song peters out. The music changes to the Gilligan's Island theme. Gross looks up, beyond the wall, to his neighbor's camera.
"We're gonna subpoena that, boy, so you'd better erase it," he says, peeking through palm trees. "That's harassment. Harrrrrrrrassment!" He lunges forward as he growls the last word, before he creeps back to his own house.
In December, Gross tried a new tack: In an open letter to his neighbor, he said the situation had gotten out of hand. They'd lost sight of things at a particularly tacky time. "Those who know me and my history also know I do not willingly back down from a fight," he wrote. "But this situation has escalated far out of proportion to the actual issues at stake, which are petty in comparison to a world in which thousands are dying and suffering every day, while many more are out of work and desperate to pay the rent and feed their families."
They should end their fight, Gross said, tally what they'd already spent and would spend in legal fees and court expenses, and donate that total to Orange County food banks and other charities.
The neighbor declined, his attorney saying, "This is just billionaire Bill Gross trying to buy his way out of accountability for his horrible behavior."
Gross went ahead and donated half a million dollars anyway, renewing his offer, in another self-published press release, for his neighbor to join him.
In December 2020, the judge sided with the neighbor, ruling that Bill and Amy had indeed been harassing their neighbors. She barred Bill and Amy from coming within 5 yards of the neighbors (except when they were on their own property) and banned them from playing music (above 60 decibels) outside their home when no one was in the backyard pool area. She tossed Gross's claim of harassment.
Gross said in a statement that though he was "disappointed in the outcome," he would abide by the terms of the decision. That month, a press release went out announcing that Bill Gross had signed the Giving Pledge, promising to contribute a majority of his wealth to philanthropic causes.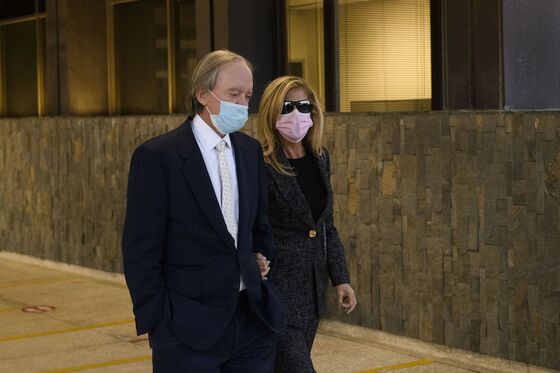 He's had time for one more reinvention. After four years of dating, he and Amy got married, in April 2021, in a small ceremony in Indian Wells, overlooking the Vintage Club golf course awash in bright desert sunlight. They were surrounded by a small group of family and friends and giant vases bursting with white roses. Afterward they climbed in a golf cart with a "Just Married" sign and tooled around the enclosed community. A local write-up said the couple will "split their time between homes in Laguna Beach, the China Cove Beach section of Newport Beach, and their Indian Wells house," all within a radius of about 100 miles.
At the commission of an editor at the Orange County Business Journal, Gross wrote about his philanthropy, saying that giving makes for a happy life. He explicated lyrics from a 1960s song, Happiness Runs, describing a "self-contained, inward-looking self-satisfaction that equates happiness to being content with yourself as a person" and also something about "the Buddhist philosophy of impermanence and the priority of the moment."
"Have I achieved that level of folkie (or fogey) happiness? Well, I just married the love of my life, Amy Schwartz, so I'm a little closer. But I also know that a lifetime of giving provides happiness that can be measured as much by self-satisfaction as by quantity."
Before, success was asset growth, trading profits, an S&P strangle with the right range. Now he has again changed the benchmark: Success is seeing what he's done, and being satisfied.
Gross seems to have recovered his structural ability to forget, to start again, fresh. It has allowed him to approach the table unclouded by unhelpful emotions like regret. It's the posture a gambler must take: The system works, it just didn't work that time. If he keeps playing, he'll get the true odds.