Big Tobacco Hopes Oral Nicotine Pouches Fill the Vaping Void
(Bloomberg Businessweek) -- Chewing tobacco once called to mind men in double-breasted suits gathered around a spittoon or a baseball player sending a mouthful of brown spittle spewing across home plate. But do a hashtag search for #oralnicotine today, and you'll see young women in parkas playing with a sleek container labeled Epok. Try #snus, and you'll see a freckled Swedish maiden whose crown of flowers is studded with a tin of Ace Superwhite nicotine pouches.
Such Instagram-friendly products, known as dip, snuff, pouches, or snus, are being positioned as a replacement for cigarettes. Traditional smokes are a more than $700 billion-a-year global business that for decades has been dogged by health concerns and changing social norms that have led to a slow, steady decline of users. Big Tobacco in recent years had hoped to get its mojo back by steering smokers toward vaping. Instead, the industry ran into new trouble with concerns that fruity vape flavors helped addict a young generation to nicotine and that the liquids aerosolized into harmful chemicals. Then came Covid-19: Public-health agencies warn that smoking may worsen the symptoms of the virus, and vaping's effect on them isn't fully understood.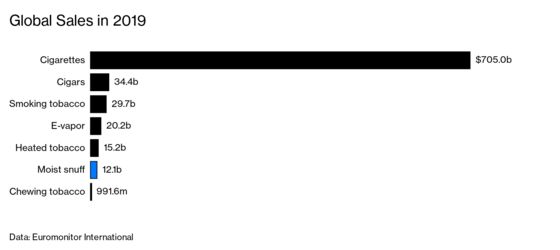 Such long-standing health concerns have created an opening for new oral tobacco products, which are neither heated nor inhaled. Although the U.S. Food and Drug Administration on July 7 said Philip Morris International Inc.'s Iqos heat-not-burn device exposes users to fewer harmful chemicals than traditional smokes, the agency hasn't authorized any e-cigarette to be marketed as fully safer than cigarettes. But last October it granted that status to Swedish Match AB's snus, saying that compared with cigarettes, the product has a lower risk of causing mouth cancer, heart disease, lung cancer, stroke, emphysema, and chronic bronchitis. The FDA is also reviewing a bid by Marlboro maker Altria Group Inc. to get the same status for its Copenhagen snuff fine cut and by Reynolds American Inc. for its Camel snus.
"The oral pouch seems to be the first oral tobacco product that is taken seriously as an alternative to cigarettes," says Chris Bunka, chief executive officer of Lexaria Bioscience Corp., a Canadian biotech that's working on ways to increase the speed at which nicotine reaches the brain.
These new smokeless products have come a long way. In 2020 global retail sales of the moist snuffs are estimated to reach $12.7 billion, up 4.8% from 2019, according to Euromonitor International—even though snus isn't sold in most of the European Union. There's about $1 billion in annual sales for chewing tobacco. Vaping products are expected to log $22.6 billion in sales this year.
The new products don't require spitting because tobacco or other solids are enclosed inside single-serving pouches that are lodged between the gums and lips, sucked on discreetly, and easily discarded like chewing gum, making them more appealing to young or female consumers who've been averse to traditional snuff products. Some of the flavors are citrus, berry, mint, and cinnamon. And there's a cool factor: Many brands hail from Nordic countries—in particular Sweden, whose 200-year-old tradition of moist snuff gave rise to the term "snus."
Lexaria, which holds patents on methods to get fat-soluble drugs into the bloodstream quickly, signed a licensing deal with Altria in 2018. Three of Lexaria's employees spent a year researching oral methods to deliver nicotine with equipment from Canada's National Research Council, and the company is now waiting to see if Altria will pay it for further research.
Bunka says he's seen more interest in Lexaria's patents from global tobacco companies, which wouldn't be restricted by the U.S.-only deal with Altria. "Covid-19 has certainly put oral tobacco on more people's radar screens," he says. He declined to name the other companies, and Altria declined to discuss its deal with Lexaria or comment on its research related to oral products.
The Lexaria-Altria deal is but one example of how the race to provide nicotine without combustion—or even tobacco—is heating up. Swedish Match, which dominates the Scandinavian market, has sold Zyn nicotine pouches in the U.S. since 2016 and is expanding fast. They were sold in 67,000 stores across the U.S. at the end of December and in 80,000 by the end of March.
British American Tobacco Plc's modern oral category, which includes the Epok and Velo brands, saw revenue rise 273% last year, to £129 million ($162 million), outpacing that of heated tobacco and vapor products.
At Altria, talk of oral tobacco now dominates investor conference calls that used to focus on its license to sell the Iqos device in the U.S. and on its $12.8 billion investment in vape maker Juul Labs Inc.
Altria entered the oral nicotine pouch market in 2019, when it bought a $372 million stake in Burger Söhne Holding AG and agreed to start distributing the Swiss company's On! brand in the U.S. In a trial of adult smokers and dippers who used On! for six weeks, more than a quarter completely switched to On! products, and more than 70% of the adult dippers did the same, Altria says. Women were as likely as men to switch.
Altria recently submitted data to the FDA to authorize U.S. sales of On!, which would pit it against Swedish Match, BAT, and smaller companies that make so-called modern oral pouches such as Dryft Sciences LLC's Dryft brand and NicoGen Pharma Solutions' Rogue brand. If Altria wins that approval, it intends to also seek permission to market On! as a reduced-risk product.
The On! pouches, available in seven flavors and five nicotine strengths, are tobacco-free. That puts them in the growing category of "white" or "modern" pouches that don't contain tobacco leaf, only the nicotine that's extracted from it. Rogue, Dryft, Velo, Epok, and Fiedler & Lundgren AB's Lyft nicotine pouches are all in that category.
The On! brand team plans to use Altria's huge database of tobacco users to reach consumers, the company says. But even though On! doesn't contain tobacco, Altria says the product's marketing will comply with all laws involving the sale of tobacco and only reach out to users over age 21.
That hasn't silenced critics. "Tobacco-free is a deceptive language," says Matthew Myers, president of the Campaign for Tobacco-Free Kids. It's the nicotine in such products that's addictive, and the industry's own internal documents have indicated how flavors help attract younger users, he says.
Oral nicotine has so far shown a solid safety edge over cigarettes and older forms of oral tobacco. Some newer kinds of oral nicotine also use pasteurization, which kills the bacteria blamed for chewing tobacco's carcinogenic chemicals, says Dr. Michael Steinberg, a professor at Rutgers University's Robert Wood Johnson Medical School. Still, he says, "we don't know that snus is harmless." Evidence suggests that it increases the risk of heart attacks, dental disease, and some cancers, he says.
"The faster you can get it to your brain, the more addictive a product is," says Steinberg. Part of the reason oral nicotine has never really competed with cigarettes is that it takes too long to do just that. Although a speedier hit from snus could help lure more smokers to a safer product, it could also addict new users. "We have to be careful. A reduced-harm product means you're comparing it to the most deadly legal product in our society, which is cigarettes," Steinberg says. "It may be true, but it's not that impressive."
 
Read next: Flavor Companies Want Fake Meat to Taste Like the Real Thing