Schools Brace for a Chaotic Reopening With Delta Raging
(Bloomberg Businessweek) -- The beginning of the school year is imminent, and superintendents around the country aren't sweating bus schedules and bell times but Covid-19 vaccination rates and mask rules as the pandemic threatens to disrupt K-12 education for the third year running.
School leaders face complex pressures with millions of students preparing to return. The spreading delta strain of the coronavirus is highly contagious, though it still appears that children typically fare better with the virus than their elders do. But they may bring deadly infections home.
Parents are eager for their children to be back learning in person so they can work. But public-health guidance has been inconsistent: The U.S. Centers for Disease Control and Prevention said less than three weeks ago that only unvaccinated children need masks at school, while the American Academy of Pediatrics says everyone over 2 years old should wear one.
In the face of delta, the CDC changed its guidance on July 27, advising that everyone should wear masks in schools. CDC Director Rochelle Walensky said the change was warranted by "worrisome" science showing that some vaccinated people infected with the delta variant can spread it. She acknowledged that the shift in guidance, which also calls for vaccinated people in high-risk areas to wear masks indoors, is not welcome news. "This is not a decision that we or CDC have made lightly," she said. "This weighs heavily on me."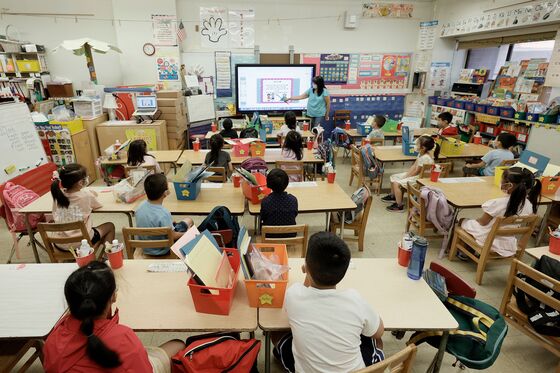 Seven states, including Arizona and Arkansas, have banned local school districts from requiring pupils to wear masks. At the opposite end of the spectrum are California, Washington, and a few other states, which require them in public schools but with some flexibility for school districts. Other states have sought a middle ground, allowing districts to set their own policies but recommending that they require masks.
The patchwork of policies means the least protected districts risk being the first to close again. Given the widespread vulnerability, Dan Domenech, executive director of the School Superintendents Association, calls bans on mask mandates in schools irresponsible. "It's going to be tough going, because I think we're going to see more quarantining, and closings are going to have to take place again," he says. "We want the kids in school in person, but you're not going to allow us to do all the things that will mitigate the spread of disease."
Texas is among the states that have banned school mask mandates. Governor Greg Abbott said on a Houston TV channel on July 21 that "kids will not be forced by government or by schools to wear a mask in school." After the CDC announcement on July 27, he doubled down, tweeting: "The time for government mask mandates is over—now is the time for personal responsibility."
"We're going to make do with the best we can," says Christina Martinez, president of the San Antonio Independent School District board. "It's concerning that local governing bodies don't have the autonomy they need to make the decisions that are right for their communities." Data broken down by ZIP code shows vaccination rates for people 12 and older and fully protected in San Antonio ranging from 25% in the least-vaccinated places to a high of 53%.
U.S. Covid cases had hit a seven-day average of more than 56,000 as of July 26, up from almost 14,000 at the beginning of July, and they're expected to rise further. Hospitalizations and deaths have climbed ominously as well. Nationwide, only 26% of children ages 12 to 15 and 38% of 16- and 17-year-olds are fully vaccinated , according to CDC data. Vaccines aren't yet authorized for children younger than 12.
Some public-health experts blame the CDC's relatively lenient May guidelines that said vaccinated people generally no longer needed masks for leading governors to drop mask mandates even as the pace of vaccination slowed. "The CDC made a grave error, and the Biden administration made probably the most serious blunder of the pandemic to accept the CDC guidance," says Leana Wen, an emergency physician and professor at George Washington University who previously served as Baltimore's health commissioner.
Nick Polyak is superintendent of the Leyden High School District outside Chicago, which will require masks across the board. "If our priority is getting our kids in front of our teachers and keeping them in front of our teachers, starting with masks was the best way to do that," he says.
Polyak announced the decision to his 3,400 students and their families on July 23 and made a five-minute video explaining it for teachers and staff. "We are not going to create a situation where kids use different-colored lanyards or IDs based on their vaccination status," he said in the video. "We're also not going to create classroom lists for teachers of vaccinated vs. unvaccinated students. We want our faculty and staff focused on teaching and learning and not spending their time determining who needs to be in a mask and who doesn't."
Even though only about a third of the district's staff said in a survey that they preferred masks for everyone, Polyak says the response to his announcement hasn't been heated. That acceptance might reflect that Covid infections in children have been on the rise nationally.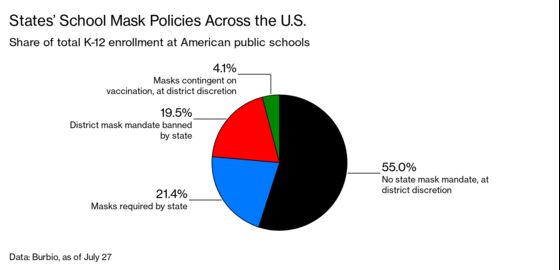 Districts have left themselves fewer options than last year, when classes went virtual in a matter of weeks. This year, at least 73 school districts out of the largest 200 won't offer a virtual option, according to school tracking website Burbio.
Randi Weingarten, president of the American Federation of Teachers, says the country's second-largest teachers' union is "fully embracing" the CDC's new guidance. "We don't really know what's going to happen. This is a big curveball, and we're going to have to navigate this the best we can," she says, adding that the goal "is a welcoming and safe environment for our students and for our members."
In San Antonio, leaders are using the lack of a virtual option to encourage mask-wearing even if they can't require it. Parents will have to grant permission for children to go barefaced. "What we want families to acknowledge is, if you don't wear a mask and there is an exposure in the classroom and you get sent home, then we're going to have to figure out ways to make up those absences," Martinez says.
Clare Weil, president of the Montgomery Public Schools Board in Alabama, where districts can set their own policies, tries to focus on the positive: Music and art programs will be back for the first time since she can remember, thanks to federal relief funds. The delta variant, she says, is "the big looming cloud." Alabama is at the bottom of states when it comes to vaccination rates: Only 34% of its population is fully protected, according to Bloomberg's Vaccine Tracker.
"I just wish people would take it seriously, get their vaccinations, continue to socially distance, wash hands, and wear masks when they need to," Weil says. "Alabama is suffering from a lot of this variant." Covid cases in Alabama rose to 1,681 per day as of July 25, from 195 at the beginning of July, according to Johns Hopkins University statistics.
Even where inoculation rates are relatively high and cases have climbed more slowly, delta has spooked parents. New York City Mayor Bill de Blasio has said public schools there will require masks. Shannon Waite, a member of the city's Panel for Education Policy, says she's grateful her second grader will be attending where masks are required.
"I don't think I'd live in Texas," she says. "I'm not sending my kid to school without a mask. I'm not volunteering my kid to be in a tribunal. This is not the Hunger Games." —With Nic Querolo