The Sports News Site Haters Love to Dunk on Keeps Signing Up Subscribers
(Bloomberg Businessweek) -- Alex Mather would like you to know that he loves newspapers. He's loved them since he was a kid growing up in Philadelphia. "I waited for the smack of the Inquirer on the ground in the morning," he says. "I would grab it, rip it apart, take the sports section, leave the rest for the family, and read it front to back." Mather, co-founder and chief executive officer of the Athletic, a digital sports-news subscription service, delivers this paean to the sports pages in a June interview at the company's San Francisco offices.
It's a do-over, of sorts. Two years ago, while talking to the New York Times, Mather spoke less warmly about newspapers when describing his company's ambition. "We will wait every local paper out and let them continuously bleed, until we are the last ones standing," he said. "We will suck them dry of their best talent at every moment." After the comments went viral, Mather apologized, writing that he was "not rooting for newspapers to fail" and had "learned a lesson in humility." But the damage was done: The Athletic was just another tech-bro startup out to wreck livelihoods in the name of disruption.
"I'll stay away from metaphors, for sure, for the rest of my career," Mather says now.
"That's good," says Adam Hansmann, the Athletic's co-founder and chief operating officer, who's sitting across the table.
Mather has tempered his rhetoric, but the Athletic hasn't stopped poaching talent. It had about 65 editorial staffers when he spoke with the Times. Now there are over 400, covering more than 270 teams in the U.S. and Canada. This summer the service added dozens of reporters from the BBC, the Guardian, and elsewhere to cover English Premier League soccer. "We have hired more journalists than most in the world," Mather says. "We've both hired over a hundred personally."
The hiring spree comes amid spiraling industry decline. American newspapers shed 238,000 jobs—more than half of their total employment—from 2001 to 2016. And the layoffs have recently hit digital publishers once hailed as the future of media, including BuzzFeed, Refinery 29, and Vice Media. There were 3,000 jobs cut in the first five months of this year, which is on pace to be the worst in a decade.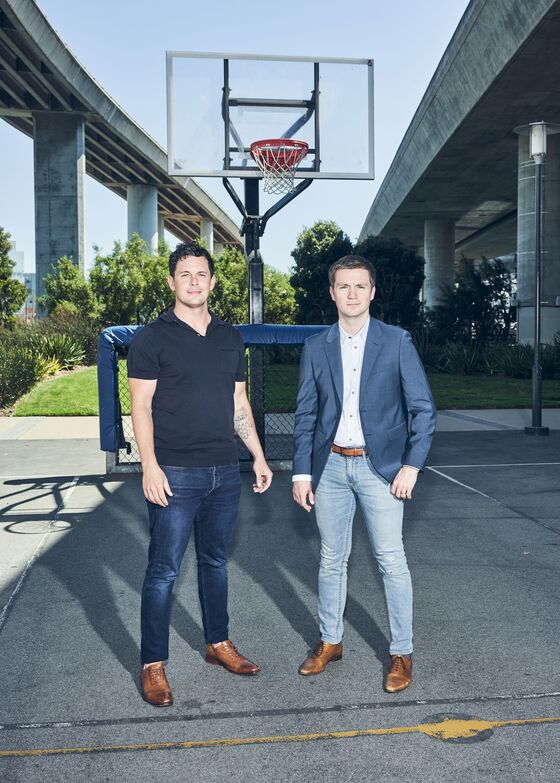 The Athletic—ad-free, online-only—is a test of digital journalism's subscription model. Subscriptions cost $10 per month or $60 per year, though many start at lower promotional rates. Average annual revenue per subscriber is $64, according to the company. Almost every one of the 1,200 stories the site publishes in an average week is behind the paywall.
In August, Mather says, the Athletic crossed 600,000 subscribers. "We'll end the year somewhere close to a million," he says. The leader in digital journalism, the Times, has almost 3 million online-only subscribers, not including people who get just its crosswords and cooking services. The Wall Street Journal has 1.8 million, the Washington Post more than 1.5 million as of last year, and the Financial Times about 750,000. All four were founded in the 19th century and have carried a loyal readership into the internet age. The Athletic published its first story three and a half years ago.
ESPN's new subscription service, ESPN+, which has more than 2 million subscribers, includes some journalism with its live sports. But the Athletic doesn't really have direct competitors. ESPN, Bleacher Report, and Yahoo Sports, each of which reaches tens of millions of users per month, rely on ads to support their free content.
The question is whether the Athletic can make money. It has yet to turn a profit. Venture capital investors have poured more than $90 million into the site to date; in the most recent fundraising round, a $22 million investment the Founders Fund led in May, the company was valued at about $500 million, says a source familiar with the offering. (The Athletic declined to comment on its valuation.) The early numbers are impressive, but more than one person interviewed for this story made comparisons to the ill-fated National Sports Daily. The tabloid started in 1990 and spent $150 million to poach top writers before folding 18 months later.
Mather, 39, and Hansmann, 31, met while working at Strava Inc., a subscription service runners and cyclists use to track and share routes. Mather was head of product, and Hansmann worked in finance and operations. In 2015, Mather told his colleague his idea for building a network of online sports pages by hiring beat reporters and charging for subscriptions. He planned to call it the Armchair.
A few major newspapers had begun experimenting with paywalls, but the consensus then was that "information wants to be free" on the internet. Publishers would have to ride on the back of social media. Bleacher Report and SB Nation, two of the most successful digital sports media startups, had built their brands by paying armies of freelancers to churn out stories designed to show up at the top of Google search results or go viral on Facebook. (Sample headline, from Bleacher Report: "Why Tom Brady Is the Most Overrated Quarterback in NFL History.")
In fall 2015, Mather and Hansmann left their jobs and funded the Athletic out of their own pockets. "Someone has to be in the locker room," Mather says. "We can't have everyone barely paying kids to write their opinions on teams." They messaged hundreds of journalists on LinkedIn.
The first bite came from Jon Greenberg, a reporter at ESPN's local site in Chicago who had recently been told his contract wouldn't be renewed. "Open to a new opportunity?" asked the message from Hansmann. Greenberg replied that he was and that he knew some other writers who might join him. Mather and Hansmann made Chicago their test market and hired Greenberg as editor. He recruited two others from ESPN Chicago, and the site went live in January 2016. Hundreds of subscribers signed up on the first day, mostly friends and family and readers of the three reporters' prior work. Later that year, the Athletic added coverage in Toronto, and by yearend the site was reaching 3,500 subscribers in the two cities. Emails began coming in from writers who wanted to introduce the site elsewhere.
That fall, Mather and Hansmann raised $2.5 million in seed money from a handful of investors and, in 2017, began raiding newsrooms in the Bay Area, Cleveland, Detroit, and Philadelphia. Big-name national writers joined: Ken Rosenthal (baseball), Seth Davis (college basketball), Stewart Mandel (college football). "Why I'm Joining the Athletic" essays—loving remembrances of print's glory days and disdain for clickbait—became their own subgenre on the site.
The rest of digital media, meanwhile, was in free fall. In 2016, Facebook Inc. announced it would no longer traffic in headlines "that intentionally leave out crucial information." The company adjusted its algorithm to deprioritize publishers and solidified its grip, with Google, on the digital ad economy. Traffic plummeted, leading to layoffs. Vice shuttered its sports department. Fox Sports announced it would stop publishing written work, one of many sites to "pivot to video."
Dana O'Neil got a call from Mather in June 2017, a couple of months after losing her job covering college basketball for ESPN. She was one of about a hundred laid off from the network's newsroom that spring. "I remember I hung up the phone, and I said to my husband, 'If he's honest, I just talked to my journalistic fairy godfather,'  " says O'Neil, who also remembered the National Sports Daily. "I was uneasy," she says. "But I said, 'I'm willing to take one more hard swing at this.'  " With the industry in shambles, it felt as safe a place to land as any.
Starting salaries, according to conversations with more than a dozen Athletic employees, ranged from $55,000 to more than $120,000, depending on experience and location. For a top beat writer in a new market, the company might pay a 20% premium or more. In the early days, the site offered bonuses for bringing in subscribers. Every employee gets a small slice of equity. Stephen Holder, who came from the Indianapolis Star to cover the Colts last year, says of Mather, "He's infamous for his New York Times quote, but he's passionate and he made a hell of a pitch."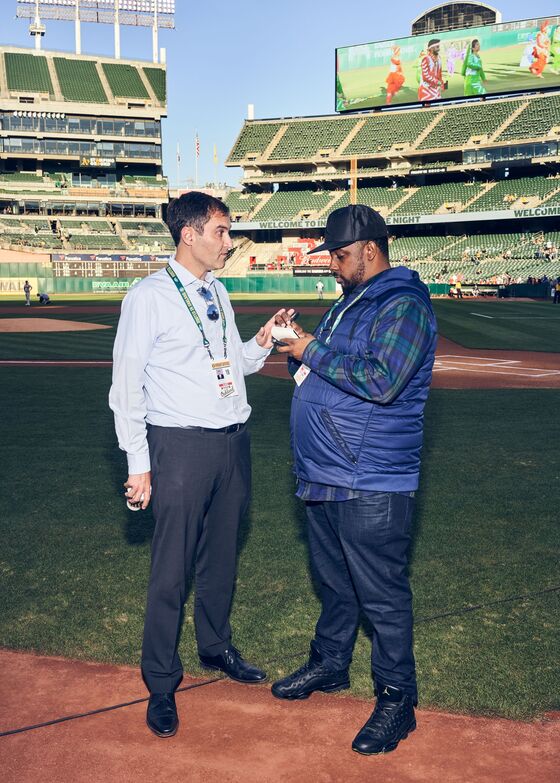 The Athletic doesn't want reporters racing to get a post-game quote from a head coach to plug into a game summary on deadline. The mandate is to report what can't be found elsewhere—to get the back story on a trade, to break down the tactical move that tilted a game or the strategic shift that's shaping a league, and to explore personalities. The standing order, from Mather, Hansmann, and Chief Content Officer Paul Fichtenbaum, a former editor of Sports Illustrated, is to "do the best work of your career."
"I don't have to scramble to get something quick off at the buzzer," says Anthony Slater, who came from the Mercury News to cover the Golden State Warriors. Instead, he takes a few hours after each game to produce a "five observations" column that uses video clips to break down plays and strategy. Katie Strang, a reporter in Grand Rapids, Mich., who came from ESPN, spent much of last year reporting on the trial of Larry Nassar, the former USA Gymnastics and Michigan State University doctor convicted of sexual assault and child pornography. "I always tell people, 'I write much less but work much harder,' " she says.
Every Athletic story is available to all subscribers, who can choose which teams and leagues they want to follow. (A few stories, usually teasers in new markets or those considered public service, such as Strang's Nassar coverage, are free to read.) Company data show that close to 60% of subscribers are what it calls super bundlers—people who follow teams from more than two cities, plus at least one college team, and at least one league as a whole. In my feed, on a Friday in August, there was a story about the Boston Red Sox's fading playoff hopes, a mailbag-style column about the coming Warriors season, and a profile of North Carolina Courage forward Kristen Hamilton. "You can't get that bundle anywhere else," Mather says.
Online dashboards for reporters show how their stories perform. The main internal metric is the number of people subscribing to read a story. A hundred or more is a "home run" in company vernacular. Most stories draw far fewer—getting to double digits is considered a success. The dashboard also shows engagement among existing subscribers. Out of everyone who follows, say, the New England Patriots, what percentage open a story about the team? In that case, 40% would be seen as good.
Feedback loops aren't always kind to journalists, who want to believe that readers care about finely tuned phrases, hard-won insights, and nuanced portraits. But traffic data show that what many want are rumors about where free agents are going to sign, reminders about what time the Super Bowl starts, and opinions about whether, if LeBron James had a time machine, he could beat Michael Jordan one-on-one. But Strang and other reporters say Athletic readers' appetites align with their own. "It's what everyone tries to do when they write or produce anything," says Jayson Jenks, who left the Seattle Times for the site last year. "It has to be informative or emotional or interesting or fun or thought-provoking."
"The more phone calls you make for a story, the more traffic or subscriptions it drives," says Brendan Quinn, who covers college basketball in Michigan. He points to a story he did last year about the University of Alaska at Anchorage, which upset the University of Michigan in 1988, as the kind of reporting-heavy piece that does well.
The Athletic's goal isn't for every story to reach the largest audience; it's for each one to fill a niche. The target demographic, Mather says, is the fan who follows a team, win or lose. He and Hansmann say they can potentially amass tens of millions of subscribers by collecting die-hard fans of every team under one roof.
Investors, media executives, and reporters who don't work for the Athletic all express skepticism about the business. But almost no one will share these sentiments publicly. Who wants to be seen badmouthing one of the only places still hiring journalists? Bringing on writers for top dollar and freeing them from chasing clicks is admirable, the doubters say, but it's no way to make money. The digital media economy is a cutthroat competition for attention, and there are plenty of places online to read about sports for free, from ESPN to local newspapers to team websites.
"It's hugely competitive," says Joseph Lichterman, manager of editorial and digital strategy at the Lenfest Institute for Journalism. The Athletic, he points out, competes not only with other news organizations but also with Netflix Inc. and Spotify Technology SA and companies selling subscriptions for razors, meal kits, and underwear. McClatchy, which owns 30 daily newspapers across the country, has responded to the Athletic by offering readers in 10 markets regional, sports-only digital subscriptions for $50 a year.
A lot rides on whether the Athletic can retain the large number of subscribers still reading through introductory discounts. Doing so will require adding to the service so that it still feels like a bargain when it comes time to renew at full price. Earlier this year, the company added a podcast network—mostly beat writers talking about their teams and leagues—along with a New York office covering the business of sports. The move into the Premier League is as much about pleasing current subscribers as it is about adding new ones in the U.K.
Mather says more than 80% of users re-up after their first year, and the rate is the same whether or not they first signed up at a discount. The Lenfest Institute estimates that newspapers keep only about half their digital subscribers after a year. "We have not seen anything like the retention they've put up at the scale they've put up," says Daniel Gulati, managing director at Comcast Ventures LLC, an Athletic investor.
The company is profitable in all but a few markets, according to Mather, who says it usually takes 6 to 12 months to break even. The money losers, he says, are the youngest cities, which include Phoenix and Washington, D.C. He declined to comment on overall revenue and losses other than to say the site is still looking to grow by expanding coverage and adding writers. Within the past year, it has introduced national coverage of boxing, motor sports, and fantasy baseball. "There's always a moment where, if we need to, we can pull the rip cord and worry less about the next continent and get to profitability," says Mather.
In June the Athletic had a Bird Box moment, a breakout hit that came out of nowhere. Jenks, the 29-year-old Seattle Times alum, unearthed what became the unofficial tag line of the NBA Finals: "Board man gets paid." The phrase comes from Kawhi Leonard, who was then leading the Toronto Raptors to their first championship. Leonard had initially used it years ago, as a college player at San Diego State University, when he would grab rebounds during practice. (The brag is a pun on "board," another word for rebound, and, of course, chairman of the board.) Jenks found out about it by calling his former teammates and coaches for an oral history.
He had written this type of story twice before at the site, calling college teammates of NBA stars Klay Thompson and Damian Lillard to talk about what they were like. Both pieces had done well, Jenks says. Leonard's went viral, however, landing at just the right time to provide a peek into the personality of the league's most laconic superstar. (Leonard's most famous utterance in eight professional seasons was telling reporters that he was a "fun guy" before laughing like a robot about to fail the Turing test.) Jenks's story showed that Leonard was as enigmatic in private and that, when he did speak, he sounded like a modern-day folk hero.
ABC commentator Jeff Van Gundy said Leonard's four-word catchphrase on air during Game 3 of the Finals. "That was a great piece in the Athletic," added play-by-play man Mike Breen, providing free advertising for an audience of 10 million. Leonard wore a T-shirt with the line on it at the victory parade. Nearly 1,800 people have signed up for subscriptions to read Jenks's story, making it one of the top 10 in the site's history. "He wrote the defining piece of the NBA playoffs from Seattle," says Hansmann. "And Seattle doesn't even have an NBA team."
To contact the editor responsible for this story: Bret Begun at bbegun@bloomberg.net, Silvia Killingsworth