Drive Safely and This App Can Lower Your Insurance Premium
(Bloomberg Businessweek) -- Ginger Purgatorio, senior vice president for product management at Allstate Corp., is demonstrating a new phone-app feature that, depending on your personality, will either stress you out or warm your penny-pinching heart. As she drives her car through snow-covered Northbrook, Ill., the app is busily recording her speed, counting the distance, and registering any time she slams on the brakes. At the end of 18.1 miles, Purgatorio's app calculated the tally for how much that one trip would cost for insurance: $1.67.
For more than a decade, auto insurers have had ways to watch a driver's behavior, often using phone apps or so-called telematic devices that connect to a vehicle and send data to the insurers. Now, Allstate, the U.S.'s fourth-largest personal auto insurer, is going a step further by translating the data into an insurance rate that can vary from week to week. If the customer's driving appears to be safer, rates can fall. Most programs only apply the rates based on telematic data to policies when they're renewed annually or semiannually. "Insurance pricing has been fairly confusing and opaque to most consumers for a long time," says Glenn Shapiro, president of personal property-liability insurance at Allstate. "This is less complicated than that."
The personalized pricing system is being tested on customers in Arizona. Two-thirds of those using it are seeing their rate decrease, the company says. The move builds on Allstate's usage-based programs: Drivewise, which rewards drivers for better habits, and Milewise, which allows customers to pay insurance only for the distance they drive. In the new program, drivers pay a baseline rate plus one based on the trips they make. Progressive Corp., one of Allstate's main competitors, offers a telematics option called Snapshot. Warren Buffett's Geico, a longtime holdout on the technology, started a pilot program last year.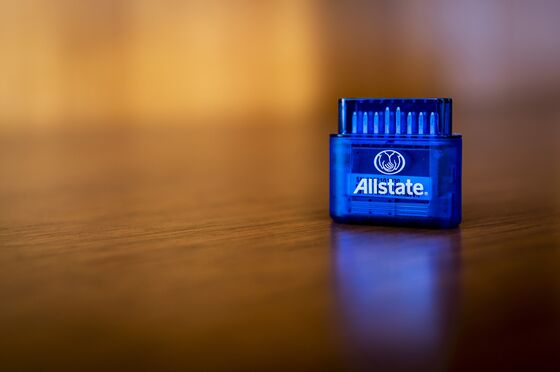 Collecting data may be only part of insurers' motivation. Credit Suisse Group AG analyst Mike Zaremski points to the importance of customer self-selection. Many telematics programs are voluntary, and those who agree to sign up for one are likely to be more engaged and less risky. In insurance, finding ways to identify people who are better risks—so you can safely draw them in with lower premiums—is key to winning market share while staying profitable. On the flip side, companies that don't monitor driving could get stuck with a disproportionate share of riskier drivers—one reason Geico may be testing the waters, Zaremski wrote in a research note.
One way drivers can be safer is to be on the road less. In Allstate's Milewise program, the loss ratios (basically, the insurer's cost for damages relative to premiums) are significantly better than for its traditional auto insurance, Purgatorio says. That's partly because of self-selection. Customers who want to pay for the miles probably expect to rack up fewer of them.
But Zaremski thinks the programs are beginning to influence driver behavior, too. In a July note, he estimated that Progressive customers who use its telematics offerings are 15% to 25% more profitable than consumers who don't—in part because telematics users' collisions, when they happen, are at lower speeds. Zaremski suspects that's because drivers who know they are being tracked are more careful.
Allstate's app gives feedback on driving habits. Shapiro says he found he was hard braking routinely near his house because of the rabbits that scurried in front of him during his daily commute. But with time and more information, he was able to remind himself to slow down, making it safer for the local rabbit population—and better for his insurance rate. The company also has a more frankly commercial motivation for offering the service: It means that customers will think about the Allstate brand more than once or twice a year. "We are looking for that interaction," says Purgatorio.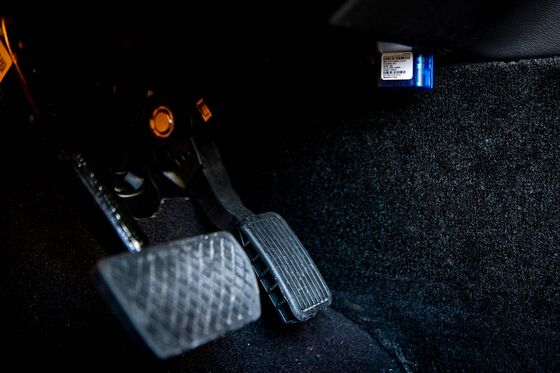 As companies tap more deeply into reams of data, concerns about privacy and fairness are growing. Regulators and the insurance industry have debated fairness for years. In recent years, New York regulators have gotten several insurers to agree to stop from using education level or occupational status as factors in determining a consumer's rate. Last year, California's state regulator prohibited companies from using gender as another factor.
Allstate says it works to anonymize the information consumers hand over with telematics and is more focused on the aggregate data it collects from consumers than the individualized location data of each customer. Shapiro contends the pricing delivered by telematics gives an insurer a more unbiased look at a customer's actual risk, one that isn't driven solely by the traditional formulas an insurer would use. "There's no better predictor of how you'll drive than how you actually drive," Shapiro says. "I think it is as unbiased as anything could be."
Pam Dixon, executive director of the World Privacy Forum, a nonprofit research group, says there's a benefit to using the driving data instead of the old system of guessing and analyzing what aspects of a person's life correlate to their driving habits. Still, companies need to be careful about how they handle all the data they're collecting from consumers, she says.
Only about 15% of Allstate's auto customers participate in its telematic programs now, the company says. But new customers are signing up at a faster clip, with about 23% of them choosing it. Shapiro says the day may come when it's impossible to be in the auto insurance business and not offer telematic options. "And it's not in the distant future," he says.
To contact the editor responsible for this story: Pat Regnier at pregnier3@bloomberg.net