Airlines Step Up Hygiene to Keep Covid Out of the Air
(Bloomberg Businessweek) -- In that long-ago time before the pandemic, most travelers chose an airline based on a single, straightforward factor: price. And those who didn't grab the cheapest fare typically steered their business toward a carrier where they had frequent-flyer miles. Cleanliness, by contrast, barely registered.
These days, hygiene is the most important factor in choosing a travel company for almost 60% of Americans, according to a survey by aerospace products manufacturer Honeywell International Inc. That tracks with International Air Transport Association data showing that passengers worry about boarding planes, with 42% of them uncomfortable using lavatories and more than a third concerned about breathing recirculated cabin air. "We know that our customers are more conscious than ever about hygiene," says Anil Jain, engineering chief at Air India Express, which has introduced robots to clean its planes. "We need to be proactive."
Gone are the days when airlines could get away with quickly picking up the trash and wiping down the galley between flights, doing a deep cleaning only once a month or so. As the pandemic sent revenue into a tailspin in the spring of 2020, most carriers stepped up their hygiene game in hopes of convincing travelers that it's safe to fly. They began touting their hospital-grade HEPA filtration systems that bring in fresh air every few minutes. And many planes now get a serious cleanse every day with virus-killing chemicals, antibacterial foggers, electrostatic sprayers, or ultraviolet lights that zap germs. But with the omicron variant of the coronavirus wreaking havoc worldwide as the pandemic enters its third year, consumer fears about cleanliness are spiking again.
Although some changes made early in the pandemic were seen as temporary measures to win back travelers, carriers today are taking the long view, embracing innovations such as robots that sanitize surfaces in minutes, devices that spray electrically charged cleaning mists, and seat cushions that kill viruses. "I don't think we as the traveling public will allow airlines to operate flying pigsties again," says travel industry analyst Henry Harteveldt. "We are all hyperaware of biosafety now."
With no global rules governing aircraft hygiene, carriers have adopted a patchwork of solutions. Korean Air Lines Co. sprays all surfaces with a cleaning fluid that it says neutralizes more than 100 bacteria and viruses. United Airlines Holdings Inc. says it wipes down high-touch areas with a disinfectant and uses electrostatic sprayers and UV light disinfection systems. The robots at Air India Express have cleaning arms that plop down into the rows to reach every nook and cranny.
In July 2020, Honeywell introduced a system that can be pushed through the cabin, bathing the plane in high-intensity UV light. The technology has been used for decades to kill germs in water treatment plants and hospitals, and advocates say it destroys almost all viruses on surfaces and in airborne droplets. Honeywell says its device is being used by nine airlines such as Qatar Airways QCSC and Brazil's Azul SA. Last year both Honeywell and Boeing Co. started selling handheld UV wands to disinfect hard-to-clean places such as the flight deck. "It's evident that airlines, airports, and lodging providers must address safety and cleanliness as part of their core brand offering," says Bill Kircos, a marketing vice president at Honeywell.
A Canadian company called Aero Hygenx has taken the concept a step further, with a sanitizing robot it calls Ray that can clean narrowbody planes from front to back in as little as five minutes and a widebody in under 20—about twice as fast as human-operated machines. The unit, which looks something like a beverage cart, steers itself with cameras and a laser sensor and can kill 99% of viruses and bacteria within 5 feet, the company says. The robot also collects information about each cleaning job—creating a data trail airlines can use to reassure passengers. "We wanted a solution that's sustainable, doesn't use harmful chemicals, and can meet airlines' quick turnaround needs," says Arash Mahin, chief executive officer of Aero Hygenx, which has distribution deals with the maintenance units of Deutsche Lufthansa AG and Mitsubishi Heavy Industries Ltd.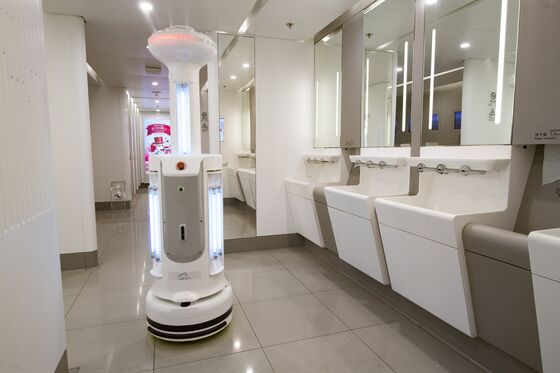 At the onset of the pandemic, many carriers adopted electrostatic sprayers that turn cleaning liquids into an electrically charged mist that adheres to surfaces. MasVida Health LLC, a Texas company that has sold such devices to carriers including Alaska Air Group Inc., says it logged record growth in 2020 before seeing demand taper off last year. As omicron spreads, sales are picking up again, not only to airlines but also to cruise lines, schools, and hospitals. The company has developed a newer version of its primary device, a backpack weighing less than 15 pounds that can spray multiple planes before refilling. Next up are robotic models, says MasVida CEO Joshua Robertson, as well as technologies that can be quickly adapted to new variants or other viral threats. "Covid is relatively easy to kill," Robertson says. "We have to be proactive and ready for the next outbreak."
An alternative approach to scouring planes is to neutralize germs as soon as they land or keep them from sticking to surfaces in the first place. French aircraft-parts giant Safran SA is developing spray-on seat coatings that it says will kill viruses for a year or more. Boeing is researching polymer-based sprays that can resist and kill viruses, and it's planning touchless features such as lavatories with toilet lids that lower and flush at the wave of a hand. "Covid has accelerated what we're doing," says Dan Freeman, engineering chief of Covid-related safety at Boeing. "We're looking into how we can create an environment that's hostile to viruses and incorporating that into the design process." —With Ragini Saxena and Justin Bachman