The Left's Plan to Slip Vote-Swaying News Into Facebook Feeds
(Bloomberg Businessweek) -- In the days after the White House released a readout of Donald Trump's July 25 phone call with the president of Ukraine, setting off the impeachment saga, Trump's reelection campaign and the Republican National Committee made a major financial move designed to shape public opinion. Operating jointly, they dumped millions of dollars into Facebook and Google ads to send a counter-narrative coursing through the internet. In this alternate reality Trump was the victim, not the perpetrator, of an effort to enlist foreign interference in a U.S. election. He was fighting, not encouraging, Ukrainian corruption. And Democrats were the bad guys. ("When President Trump asks Ukraine to investigate corruption," went one ad, "the Democrats want to IMPEACH him—and their media lapdogs fall in line!")
Almost instantly, conservative websites and Facebook pages with millions of followers lit up with Trump's exculpatory storyline, creating a kind of a parallel universe in which a reader seeking to understand the day's headlines would come away learning roughly the opposite of what the facts of the Ukraine scandal appear to show.
A Democratic strategist named Tara McGowan watched all this unfold with particular alarm. McGowan, 33, is the founder of Acronym, a nonprofit digital strategy group that organizes progressives online to vote and volunteer. Lately she's gained notoriety for her outspoken criticism of her party's inability to challenge, or even clearly comprehend, Trump's dominance of the digital landscape—and the threat it poses to Democrats' chances in 2020. Facebook's decision to allow political ads with false information has only intensified her worry.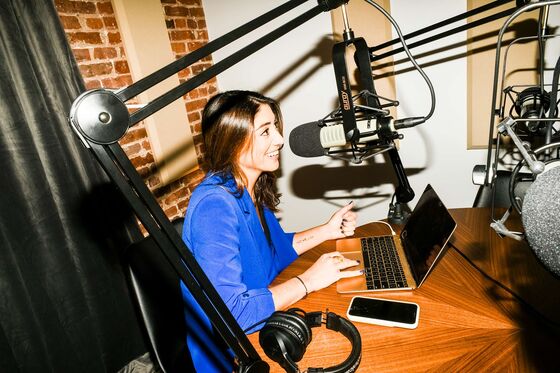 "The information ecosystem has changed," she said recently in the bustling hipster-corporate WeWork office that houses Acronym's headquarters in Washington. McGowan is hyperintense and talks about Democratic politics in a tone of alarmed disbelief, as if she's the only person at a party who realizes the house is on fire. "We live in a distributed, digital media environment. There's no regulations. Misinformation not only runs rampant but is now being condoned by the most powerful social media platform in the world."
Coming out of the 2016 election, the question she wrestled with was how Democrats can defeat the huge right-wing echo chamber. The answer she's landed on is that they don't need to. Hillary Clinton lost because Trump beat her by fewer than 80,000 votes in three critical swing states: Michigan, Pennsylvania, and Wisconsin. Ousting him in 2020 would probably come down to a similar sliver of voters—so Democrats wouldn't have to drown out all of the conservatives' efforts on social media, but only capture and persuade a small portion of strategically situated swing-state voters, to avoid the same fate.
To McGowan, whose professional expertise lies in reaching voters online, the rise of misinformation coincides dangerously with another trend: the death of local news. Since 2004 more than 2,000 newspapers have shuttered, leaving millions of people without a trusted local news source. Many turn to Facebook and are inundated by conservative propaganda outlets whose stories consistently rank atop the platform's most-shared material. This affects how people think—and vote. The $28 million Trump and the RNC have spent on Facebook and Google since last year's midterm election isn't just drowning out Democrats, who are being badly outspent. It's also filling a news void with partisan information.
"As local news dies, we're seeing civic engagement and participation decrease," says McGowan. "It's all interconnected. You can't build an informed electorate that you can count on for votes if they can't get good information. Amid all these fake news and misinformation channels, we're just not reaching people with the facts."
In response, McGowan is spearheading what may be the most audacious project this election cycle. She's raising $25 million from a host of wealthy liberals to establish a for-profit media company, Courier Newsroom, that has already started rolling out digital newspapers with local reporters and editors in six key swing states—Arizona, Michigan, North Carolina, Pennsylvania, Virginia, and Wisconsin—to fill the news deserts, deliver the facts favorable to Democrats that she thinks voters are missing, and counter right-wing spin.
While the articles she publishes are based on facts, nothing alerts readers that Courier publications aren't actually traditional hometown newspapers but political instruments designed to get them to vote for Democrats. And although the articles are made to resemble ordinary news, their purpose isn't primarily to build a readership for the website: It's for the pieces to travel individually through social media, amplifying their influence with persuadable voters.
To make this happen, McGowan is doing something else small newspapers don't: she's using her sizable war chest and digital advertising savvy to pay to have her articles placed into the Facebook feeds of swing-state users she's identified as most likely to respond to them, then using that feedback to find more people like them. In digital advertising, this is known as "building a custom audience." Applied to politics, it's more like finding and activating the 80,000 swing-state voters Clinton was missing, who could potentially put Democrats over the top in next year's election. "This is the most interesting, and potentially important, thing happening on our side right now," says one unaffiliated Democratic organizer. "If it works, it will change the whole ballgame of how we reach and motivate our people."
Several months ago, without fanfare, McGowan launched the first of her newspapers, the Virginia Dogwood ("Your source for Virginia news"). The next, Arizona's Copper Courier, followed in early October, and the rest are scheduled to make their debuts sometime around year's end. For all its ambition, the Dogwood appears quite modest. A spartan web page offers an assortment of Virginia politics and policy stories juxtaposed with gauzy "local news" features like the "Dogwood Dog of the Week"—on this particular week, it's Cambridge, a 2-year-old black terrier who "loves to go for walks and explore" and awaits adoption at the Animal Welfare League.
To McGowan, emulating the homespun, hyperlocal style of the fast-vanishing small-town newspaper is important for building familiarity and trust. Survey research has found that American adults consistently rate local news as the most trustworthy source of information.
Here's how the whole thing is supposed to work: Political campaigns are always constrained by the cost of winning new voters. TV ads are expensive and diffuse, and most people don't watch them anymore. Digital ads are cheaper and targeted, but few people click on them. "People's brains shut off when they see an ad," says Kyle Tharp, Acronym's communications director.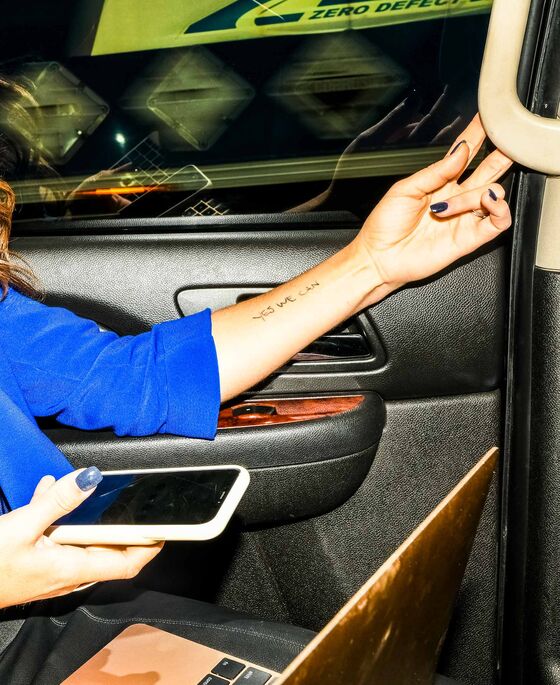 But it's clear that voters read and share news stories. Some of the more digitally sophisticated Democratic presidential candidates, including Pete Buttigieg, Kamala Harris, and Elizabeth Warren, have already paid Facebook to amplify local news articles in New Hampshire and Iowa that reflect well on them. McGowan's plan is essentially to bring that idea in-house and franchise it to individual swing states as a cheap, hypertargeted, more efficient way of acquiring new voters.
Instead of boosting a news article on Facebook as a one-off promotion, as the presidential candidates are doing, McGowan and Courier will continually gather data on interested readers, which Facebook—for a price—will use to find more of them. "Everybody who clicks on, likes, or shares an article," says McGowan, "we get that data back to create a lookalike audience to find other people with similar attributes in the same area. So we continually grow our ability to find people." What's more, it's suddenly clear that targeting voters through the guise of a media company could provide an important edge over other methods. Last week, Google imposed tight restrictions on microtargeting political ads, and Facebook is weighing similar measures. But because Courier Newsroom is a for-profit media company, McGowan says those restrictions wouldn't apply.
McGowan—a former journalist herself, who worked at 60 Minutes and CBS News—says she sees Courier Newsroom as a continuation of that work. Despite her obvious political motivations, she says that her newspapers will supply objective, fact-based reporting no different from what appears in mainstream outlets. That claim will almost certainly inflame those on the right and left who already believe that much of what passes for news, especially on social media, is driven by political agendas intended to manipulate unwitting readers.
McGowan forcefully rejects this criticism. "A lot of people I respect will see this media company as an affront to journalistic integrity because it won't, in their eyes, be balanced," she says. "What I say to them is, Balance does not exist anymore." In her view, there are only facts and lies. She cites Trump's impeachment narrative as an example—and as a justification for what she's embarked on with Courier. "Without new innovative models for journalism at scale," she says, "we're losing the information war to verified liars pouring millions of dollars into Facebook."
Her pitch has resonated with a certain breed of liberal donor: younger, tech-centric, and drawn into politics out of horror at Trump's victory and a suspicion that Democrats have no clue what they're doing in the online world. Investors in her company include Dollar Shave Club founder Michael Dubin; SoulCycle ex-co-Chief Executive Officer Elizabeth Cutler; and Carley Roney, co-founder of the Knot. Other investors have chosen to remain anonymous.
McGowan has also won the support of a celebrated Democratic strategist: David Plouffe, who managed Barack Obama's 2008 presidential campaign and recently joined Acronym's board. "There's a lot of truth to Tara's critique," says Plouffe, who laments that during Obama's rise Democrats had the technological advantage in politics—and they've since lost it. "Strategy-wise, we're still stuck in the last decade. So many of the problems in our country I trace back to the strength of the conservative distribution network—on TV, but especially, as Trump showed, online. Democrats have never been able to get velocity there."
The idea for Courier Newsroom grew out of a 2017 white paper McGowan wrote after studying the reasons her party was blindsided by Trump the year before. Her conclusion is embedded in the paper's title, "Rethinking Investing in Media to Build Political Power." Surveying the wreckage, McGowan saw that Trump had been a far more effective communicator than Democrats realized, reaching underserved populations—often through Facebook and Twitter—with a constant, self-reinforcing message.
Her own party, by contrast, had lost sight of these people and therefore failed to develop the methods and message to persuade them. Where Republicans had built channels from Fox News to Facebook to Sinclair Broadcast Group that supplied a consistent, around-the-clock message, Democrats still approached elections much as they had decades earlier, opening up communication with voters in the few months before an election by flooding television airwaves with ads that research shows have only a fleeting effect on voter sentiment. "Democrats," McGowan wrote, "are losing politically because they have invested in reaching the wrong audiences through the wrong mediums and formats at the wrong times."
One reason for the steep Democratic falloff in 2016, she argued, had to do with the disappearance of mainstream news outlets, particularly smaller ones. "The 'liberal' media that we know of today is built largely to serve a relatively homogenous segment of white educated people in urban areas," she wrote. "It is not incentivized to create content for or try to reach the disengaged and disenfranchised audiences that Democrats need to capture to win elections." Trump's pronounced strength in rural areas underscored the electoral cost of a media landscape evolving away from Democrats. It also, McGowan felt, illuminated an obvious path forward. "If Democrats have any chance of catching up," she wrote, "we need to change our mindset and turn to creating smart, sustainable, [and] trusted, always-on channels to reach these constituencies."
To make that happen, she left her job as digital director for Priorities USA, the Democratic super PAC, and hit the road. Traveling the country, she found that her message connected with two distinct groups of Democrats: longtime donors grown frustrated by the party's inability to evolve, and new donors, many from Silicon Valley, to whom the TV-centric method of Democratic politicking seemed bafflingly outmoded. "What I noticed is that the best messaging and most innovative work is coming from outside the party," says Cutler, the co-founder of SoulCycle. "What was most disturbing to me about 2016 was the poisoning of the system, the attacks on 'fake news,' and the dismissal of real facts for alternative ones. We all have to do our part as citizens to counter that."
One thing that set McGowan's pitch apart from other Trump-era efforts to revive progressivism was that it could be tested and measured. She knows exactly how many people are reading and sharing her content, where they live, and what it cost to engage them.
"That's the beauty of digital that I really nerd out on," she says. To a degree most outsiders can't fathom, political consulting is built on blind faith that the person you're writing a big check to knows how to effectively deploy it the service of winning an election. McGowan says that's bunk. Trump's victory, after he was outspent by Clinton, shattered much of that donor trust and opened a door for McGowan to get Courier off the ground. "The common denominator for all of them was Trump," she says of her investors. "How he won was so unorthodox, and countered all the conventional wisdom they'd been told on how you win an election, that they were looking for new models. I didn't have to convince them that the world has changed."
As she began building plans to staff up her newsrooms, McGowan found that her project—particularly the underlying digital targeting—also appealed to another group worried about the evolving digital landscape: people desperate to preserve and revive local news outlets. "Journalism has collapsed faster than the steel industry in the United States," says Nicco Mele, the former director of the Shorenstein Center on Media, Politics and Public Policy at Harvard University's Kennedy School of Government, who joined the Courier Newsroom advisory board. Mele's interest in the project is more about journalism than politics. A former executive at the Los Angeles Times, he believes McGowan's tactics for identifying and reaching readers could potentially work outside politics, helping traditional news organizations survive. "It's a four-alarm fire for the future of democracy in this country," he says. "We're at a stage where we have to try everything."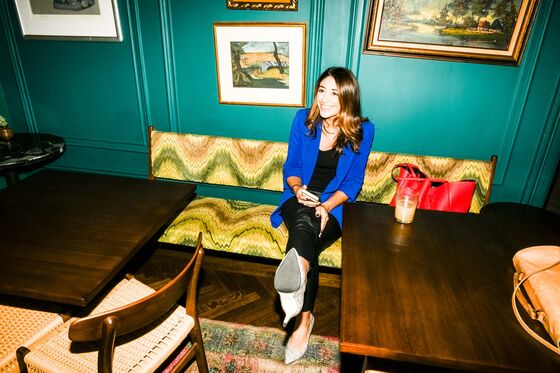 On Nov. 5, Virginia held a statewide election that gave McGowan's project something of a trial run. In recent years, Virginia has been rapidly trending from red to blue as diverse, college-educated suburbanites in the northern part of the state and outside Richmond abandon the GOP in droves. In the last statewide election, in 2017, Democrats made large gains, nearly winning back the state Senate and House of Delegates from Republicans in one of the earliest signs of the Trump backlash that would shape national elections a year later.
In the months leading up to this year's election, the Dogwood published a series of articles spotlighting what was at stake for many of the demographic groups that Democrats are eager to get to the polls, including African-Americans, working mothers, LGBTQ people, students, and ex-felons. It localized major policy issues driving the Democratic upsurge, such as gun control, policing, and impeachment. And it focused heavily on directing readers' attention to the state elections, running articles on how to volunteer for local campaigns and an easily sharable voter guide to facilitate everything from registration to mailing absentee ballots, with automatic iPhone and Google calendar reminders of key deadlines.
"Our goal was to speak to readers in an ongoing, sustainable way with a focus on the long term," says Lindsay Schrupp, editor in chief of Courier Newsroom, who was recently hired from Vice News, "not to parachute in a couple weeks before the election and then pack up when it's over."
While story selection may have tilted toward a progressive readership, none of these articles or the voter guide would have seemed out of place in a local paper. ("A record number of Virginia college students are expected to participate in the Nov. 5, 2019 elections," read one representative example that ran shortly before the election. "Nearly 11,000 students have applied for absentee ballots this year, according to the Virginia Department of Elections, more than double the number of absentee ballots received in 2015, the last time all 140 seats were up for reelection in the Virginia General Assembly.")
The big differentiator was that McGowan paid to ensure that these articles wound up in the feeds of Virginians whom her audience development team believed were likely to share and act on them. According to Facebook, the Dogwood spent about $275,000 on Facebook ads through election week.
On Election Day, Virginia Democrats won in a rout, gaining majorities in both houses of the General Assembly and taking unified control of state government for the first time in a generation. While the Dogwood, in its digital infancy, probably didn't play a decisive role, its articles trended on Election Day, were shared by a number of Democratic elected officials, and made their way into the feeds of thousands of Virginians, both organically and through paid promotions.
That process of finding and reaching out to potential new voters is what McGowan and her allies think Democrats need to do much more of. "Where my urgency comes from," says Plouffe, "is that there's probably 50,000 voters in Wisconsin we should be talking to today about tariffs, another 150,000 in Arizona we'd want to be talking to about Mitch McConnell saying the next president will probably have to cut Social Security and Medicare. We need to be in these states talking to persuadable voters, talking to third-party flight-risk voters, because the campaign is happening right now."
It won't be easy. As she sifted through the rubble after Clinton's loss, McGowan says, "it became clear that a very small group of people had an unbelievable amount of power and control over keeping things the way they are in terms of preserving this broken, outdated model of turning polling and research into script lines for high-production-quality 30-second television ads." Democrats were trapped in the past. But for all the anger that followed the 2016 collapse, there's been no broad-scale repudiation of the system that produced it or a top-down rethinking of party strategy that McGowan believes is necessary to revive a Democratic Party that's fallen behind. "The stranglehold of consultants who have cultivated power, influence, and money," she says, "has affected our ability to stay nimble and evolve with the new media landscape."
While Courier intends to help tip statehouse races and electoral votes to Democrats, McGowan's broader hope is that this approach and other Acronym projects, including a $75 million digitally focused super PAC she's starting with Plouffe, prove effective enough to force change on a Democratic consulting cartel that's been reluctant to adapt. "That's the war within the war," says one Democratic strategist, who is intrigued, though not yet fully persuaded, by McGowan's approach.
Building a digital media network that mitigates Trump's Facebook advantage and helps deliver the states Democrats need to capture the White House would go a long way toward shifting the gravitational center of Democratic strategy from TV to digital. "This is the moonshot moment," McGowan says, before hurrying off to the airport for another fundraising swing. "We'll try it, see if we can make it work, and hopefully become a permanent piece of the new infrastructure."
 
Read more: Google, Facebook at Center of Rising Political-Ad Tensions
To contact the editor responsible for this story: Wes Kosova at wkosova@bloomberg.net, Jillian Goodman