New Swing State Georgia Could Decide Control of the Senate
Places like Johns Creek, says Mark Rountree, a Republican political consultant, are leading a shift in the state's politics.
(Bloomberg Businessweek) -- The residents of the once reliably Republican Atlanta suburb of Johns Creek signaled in 2018 that their politics were changing, along with the world beyond their manor homes and undulating country club fairways. In an excruciatingly close gubernatorial race between Democrat Stacey Abrams and Republican Brian Kemp, voters in Johns Creek precincts favored Abrams by 51% to 48% (she lost the election). This came two years after Johns Creek had voted for Donald Trump, and it chose John McCain over Barack Obama by a margin of 2 to 1 in 2008.
Now, President Trump's bid to rile up suburban voters with warnings about crime and low-income housing that critics have called racial dog whistles doesn't seem to be resonating in Johns Creek. "I'm afraid he's a little too late," says Brian Weaver, a Black 62-year-old elected last year to the city council. Johns Creek, he says, is "one of the most diverse cities in the country." The town is still majority White, but barely, at 53%. Earlier this month, the city's White police chief was forced to resign for criticizing the Black Lives Matter movement on social media.
Places like Johns Creek, says Mark Rountree, a Republican political consultant in Georgia, are leading a shift in the state's politics. "That was a lily White suburb in the far north," Rountree says. "It's gone very Democratic."
Georgia is the only state with two U.S. Senate seats up for grabs in November, and both contests are competitive. One of the races is a special election that pits all candidates against each other, regardless of party; 20-odd candidates are vying for the seat vacated by Republican Johnny Isakson when he retired last year. The seat has been held since January by Kemp appointee Kelly Loeffler, who is running to keep it. Because of state election rules, at least one seat, and possibly both, could remain undecided until a runoff next January, raising the possibility of Georgia belatedly deciding control of the Senate.
Two Republican victories would have been a given a few cycles ago, but that no longer holds. "The demographics are changing so quickly," says Seth Bringman, a spokesman for Fair Fight, a Georgia-based voting rights organization led by Abrams. "A very red state is rapidly becoming more and more blue."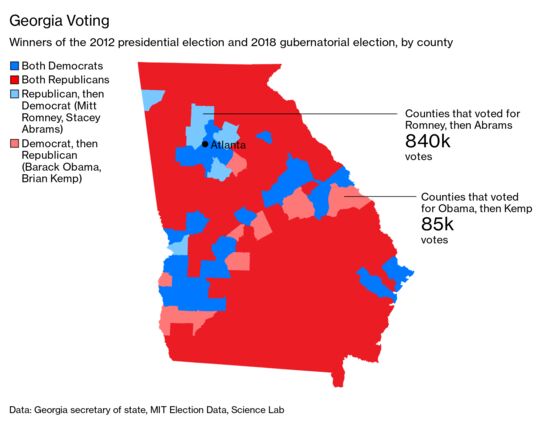 Georgia has been one of the main arenas for the social and cultural struggles that have played out nationally in 2020, with huge street protests demanding police reform and racial justice, the frightening spread of Covid-19, and a fierce debate over reopening schools and businesses. The killings of two Black Georgians, Rayshard Brooks and Ahmaud Arbery, in separate incidents earlier this year sparked outrage, with videos of their death going viral. And the pandemic has twisted itself around state politics, pitting the mayor of Atlanta, Democrat Keisha Lance Bottoms, against Governor Kemp in battles over mask mandates and reopenings. Georgia reported the fourth-highest number of new coronavirus cases in the country in the seven days that ended on Aug. 24.
"There are all these scenarios out there now that just make Georgia more competitive," says Jessica Taylor, a Senate analyst at the Cook Political Report, which rates the special election as "Lean Republican" and the other race as a toss-up. There's "the whole Ahmaud Arbery story, the Rayshard Brooks story, the suburbs that have become so diverse, and Trump," Taylor says.
"All of these issues have risen in prominence over the last few months for obvious reasons," says Matt Lieberman, a candidate in the special election and the son of the former Connecticut senator and presidential candidate Joe Lieberman. A Harvard-educated 48-year-old former elementary school principal, he's a Democrat running on gun control, protecting Roe v. Wade, and cleaning up Washington. "I think there's going to be record turnout in Georgia this fall," he says. Lieberman has faced calls to drop out following allegations of a racist character portrayal in a novel he published in 2018. He's said criticism of the book is political and he won't withdraw.
Also vying for Isakson's former seat is Raphael Warnock, 50, the senior pastor of Atlanta's famed Ebenezer Baptist Church, where Martin Luther King Jr. once served as co-pastor. Warnock is the choice of state Democratic Party leaders, including Abrams. His platform includes expanding Medicaid, addressing income inequality, and protecting the right to vote, and he has almost $3 million in his war chest, according to the Center for Responsive Politics. But Warnock has received negative press around his recent separation from his wife, who accused him of running over her foot with a car during an argument, an allegation Warnock denies.
In addition to competing against each other, Lieberman and Warnock are trying to best their Republican rivals, Loeffler and U.S. Representative Doug Collins. Loeffler has been the front-runner in polls, with Collins and Warnock contending for second place. A candidate would have to top 50% to avoid a runoff, so the special election will almost certainly go to a two-way runoff on Jan. 5.
Loeffler, 49, is co-owner of the Atlanta Dream, the city's Women's NBA team, and also married to Jeffrey Sprecher, the owner of the New York Stock Exchange. Loeffler and her husband drew scrutiny this spring for stock trades made after she was privy to a confidential Senate pandemic briefing. She denied wrong­doing and an ethics watchdog cleared her of alleged insider trading, but it was catnip to her critics, especially Collins.
Kemp reportedly appointed Loeffler to appeal to more moderate suburban women. But that strategy crumbled when Trump stalwart Collins, 54, got into the race, prompting the Loeffler campaign to move further to the right. After Loeffler criticized the WNBA's support of the Black Lives Matter movement (which she has called "Marxist"), her own players called for her removal as owner. They also donned T-shirts emblazoned with "Vote Warnock." (Loeffler and Warnock did not respond to requests for comment.)
Collins is running as Trump's favorite, though the president has yet to endorse anyone. In the same July week that Warnock presided over a memorial service for Brooks, who was fatally shot by an Atlanta police officer, Collins accused the longtime Fulton County district attorney of charging his killer for political reasons. The DA, who was also implicated in an ethics controversy, lost a runoff on Aug. 11. Voters "are tired of the attacks on police," Collins says. Supporting law enforcement and veterans is a plank of his campaign.
Loeffler has amassed and spent far more money than any of her rivals, but Trump's supporters are behind Collins, says Debbie Dooley, an early organizer for the Tea Party movement in Atlanta. "The grassroots doesn't like Kelly," Dooley says. "She was supposed to appeal to moderates. Now that's out the window."
In the other, less crowded race, Republican first-term senator David Perdue Jr., 70, is being challenged by Democrat Jon Ossoff, a 33-year-old documentary filmmaker who gained national attention a few years ago for a close but unsuccessful bid to claim a long-held Republican congressional seat. Libertarian Shane Hazel is also in the race. Perdue is running to protect conservative values and small business; Ossoff's priorities include adding a public option to the Affordable Care Act and investing in clean energy. Recent polls have Perdue and Ossoff neck and neck.
In July, Perdue drew a swift rebuke from Democrats when his campaign ran a social media ad with a doctored photo showing Ossoff's nose enlarged. Ossoff, who is Jewish, called the ad the "least original anti-Semitic trope in history." Perdue's campaign removed the ad and blamed an outside vendor for altering the photo.
The political shift in Georgia is largely limited to cities and their outskirts. In suburban Gwinnett County, Obama lost by almost 28,000 votes in 2012. Six years later, Abrams won Gwinnett by more than 45,000 votes. Cobb, Henry, and other metro Atlanta counties have followed a similar pattern.
Incorporated in 2006, Johns Creek is one of a number of affluent, once overwhelmingly White and conservative municipalities that broke away from the region's majority-Black counties in the 2000s in the name of local control. The years since have brought an influx of young and professional Asian, Black, and Hispanic residents. A third of the population is now foreign-born, a shift that is even changing the city's recreation options: In its newest public park, Johns Creek is installing cricket facilities.
Democrats "have been predicting an imminent blue wave since 2014," says Charles Bullock, a political science professor at the University of Georgia. It hasn't arrived yet and may not this year, but it eventually will, he says. "It reminds me of 20 to 25 years ago, but in reverse: Back then the Republicans were always saying they were about to take the legislature, year after year," Bullock says. "And finally they did."
 
Read next: A Bernie Democrat Will Again Try to Flip Texas' 10th District