Cruise Ship Companies Are Finding It Hard to Quit Carbon
Cruise Ship Companies Are Finding It Hard to Quit Carbon
(Bloomberg Businessweek) -- After a 13-deck cruise liner crashed into a quay in Venice this summer, residents took to the canals and bridges chanting, "No grandi navi," or "No big ships," and local officials vowed to bar large vessels from the city center. Concerned about overtourism and pollution from smoke-belching liners, Barcelona—Europe's most popular cruise destination—and the Croatian city of Dubrovnik, where much of Game of Thrones was filmed, are planning limits on the number of ships that can visit. Southampton, Britain's top passenger port, wants liners to run on shoreline electricity so they can turn off their engines while docked. "Communities find it difficult to see the benefits of these big cruise ships," says Christopher Hammond, leader of the Southampton City Council. "It's a very visible thing: a big funnel chucking out black soot and smoke. People think, I'm breathing all that in."
With their brochures and websites brimming with photos of pristine blue waters and unsullied shorelines, cruise companies are profoundly aware of the importance of a spotless image. The biggest players—Carnival, Royal Caribbean International, and Norwegian Cruise Line—say they've made sustainability improvements such as banning some single-use plastics and increasing use of locally sourced foods, but cutting emissions is more complicated. Most ships burn a thick, sulfurous mix of the goo that's left over after gasoline and other higher-value fuels are refined. Although some smaller boats can run on electricity, batteries can't yet fully power a cruise liner that might spend several days at sea.
So far, the most popular alternative is liquefied natural gas, which can reduce sulfur oxide and nitrogen oxide emissions by 90% and carbon dioxide output by 20%. Carnival, the industry leader, launched the first LNG liner this year, and about three dozen more are being built, according to shipping auditor DNV GL. But environmentalists say those engines can leak methane, a far more harmful greenhouse gas, and because a ship's life span is measured in decades, it's unwise to depend too heavily on the technology. "They're walking into being committed to LNG for the next 30 or more years," says Marcie Keever, oceans and vessels director at Friends of the Earth. "We don't have that much time to deal with the issues facing our climate."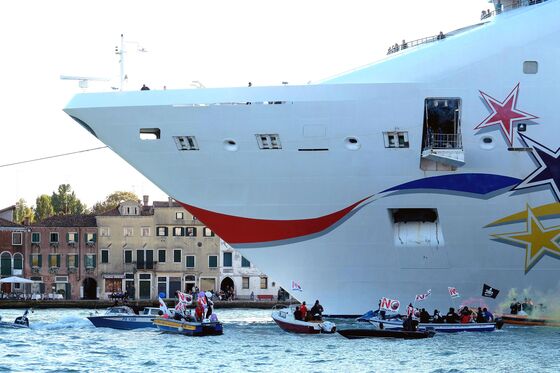 To clean up their current fleet, cruise lines are adding scrubbers that capture sulfur fumes from ship smokestacks. About half of the 268 vessels operated by members of the Cruise Lines International Association have installed such filters as they seek to comply with global rules taking effect next year aimed at cutting sulfur emissions by 85%. Yet environmentalists aren't fans of those devices because they produce acidic water that gets dumped into the ocean. "Scrubbers effectively turn air pollution into water pollution," says Kendra Ulrich, senior shipping campaigner at Stand.earth, an environmental group that researches maritime issues. Dozens of cities, including Singapore and all of China's ports, have banned vessels with the technology.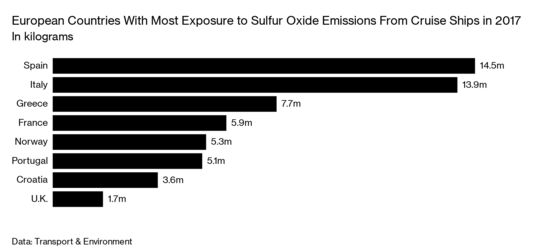 Over the past few decades, the big players have been fined tens of millions of dollars for polluting. In June, Carnival agreed to pay $20 million to settle charges in the U.S. that it had dumped plastic into waters in the Bahamas and concealed environmental violations. These broke a probation agreement from 2016, when the company was hit with a $40 million penalty after admitting to illegally discharging oil-contaminated waste into the sea. Mike Kaczmarek, Carnival's marine technology chief, says the two cases and the company's environmental record haven't affected bookings. He cites the industry's investment in scrubbers as evidence of its commitment to cleaning up the seas, and calls bans on the technology unfair. Opponents "can't point to any particular science," he says. "It's just a reaction to some of the noise they hear in the marketplace."
Norway has already imposed sulfur rules that are far more stringent than the new global guidelines. The country has pledged to make the fjords zero-emission zones by 2026, leaving those waters open only to electric vessels. In March the Norwegian Maritime Authority fined a Greek fleet owner almost $80,000 for violating sulfur regulations.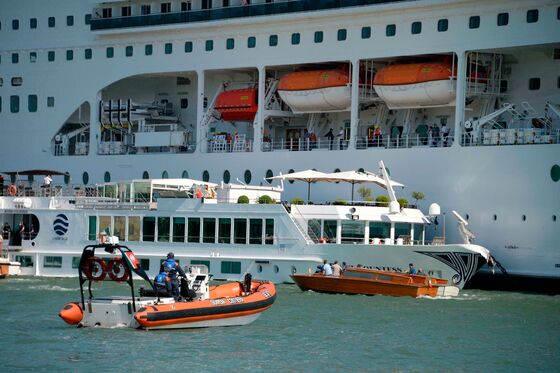 Norwegian cruise company Hurtigruten says it can point the way to the future with ships such as the MS Roald Amundsen, which in July set out on its maiden voyage from Tromso, Norway, 200 miles north of the Arctic Circle. Hurtigruten says the 530-passenger vessel is the world's first hybrid ship, running on batteries with an LNG engine for backup, so it emits 20% less carbon dioxide. The company plans to convert 11 of its 16 ships to hybrid power in the next two years.
That's possible because Hurtigruten's ships are relatively small, topping out at just over 500 beds. It would be much more difficult to use hybrid technology on many of Carnival's vessels, which can accommodate more than 5,000 passengers. Bigger ships need more power per ton of displacement than smaller ships do, and Carnival says the batteries required for one of its giant liners would leave little room on board for anything else.
Hurtigruten Chief Executive Officer Daniel Skjeldam says the simplest way to cut the environmental footprint of cruises is to end the "megalomania" of ever-larger ships. "The industry needs to focus more on getting the total emissions from a cruise unit down to a sustainable level," he says. As more consumers, and even investors, start demanding greener vessels, "companies that don't take sustainability seriously, that don't change and don't invest in technology, I don't think they'll be around in a decade."
To contact the editor responsible for this story: Rebecca Penty at rpenty@bloomberg.net, David Rocks