Meet the New Pakistan, a Lot Like the Old Pakistan
Imran Khan claims a fresh vision, but he's backed by established power brokers. 
(Bloomberg Businessweek) -- "We will run Pakistan like it has never been run before," said Imran Khan during his first televised address after his party's decisive election win on July 25. He did so below a picture of a young Muhammad Ali Jinnah, the nation's revered founder when it won independence from the British Raj in 1947.
Khan outlined a blueprint for a "New Pakistan" modeled on Jinnah's vision. Malnourished kids would have enough food. Poor farmers would get more cash. The rich would pay taxes. Corruption would end. Terrorism would stop. Minorities would feel safe. And Pakistan would get along with everybody—even archrival India.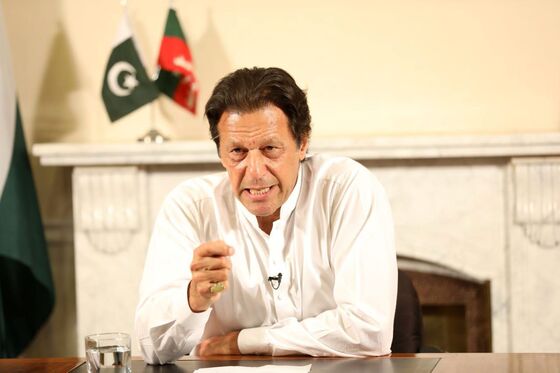 For Pakistan and the world, it's an inspiring message with the potential to reshape global politics. The country has around 200 million people, more than Saudi Arabia and Iran combined, about a third of whom are impoverished. It's a crucial supply route for U.S. forces fighting in Afghanistan and a strategic pathway for China to key shipping lanes in the Indian Ocean. It's a hotbed of Islamic extremism. And it has nuclear weapons.
In one sense, the 65-year-old Khan looks like the kind of charismatic leader who can shake up Pakistan. The Oxford graduate rose to fame as a cricket superstar, becoming a household name across the British Commonwealth when he led Pakistan to its first and only Cricket World Cup victory in 1992. He built a reputation as a playboy who hung out at London's posh nightclubs with the likes of Mick Jagger and Sting. His first wife, Jemima Goldsmith, was friends with Princess Diana.
Khan leveraged his popularity to start a political career, winning his first election to parliament in 2002. This year his party won nearly twice as many seats as its closest rival. That followed a populist campaign in which he railed against a corrupt elite that enriched itself at the expense of the masses.
His clipped English, tall, athletic frame, and personal charm helped him win over a cross section of Pakistanis on election day, from slum dwellers to wealthy expatriates who flew back just to vote for Khan. He also galvanized young voters. 
Yet there's another side to Khan that has observers worried. Of late he's become increasingly close to the military and more of a religious conservative—so much so that detractors have dubbed  him "Taliban Khan." In the past he's vowed to shoot down U.S. drones and cut off NATO supply routes. 
His party's regional government funded an Islamist seminary known as the "University of Jihad" that taught leaders of the Taliban in Afghanistan. He's defended Pakistan's strict blasphemy laws, which mandate the death penalty for any "imputation, insinuation, or innuendo" against the prophet Muhammad. This year the twice-divorced Khan married a veiled spiritual adviser. Critics have dismissed him as a figurehead installed by the army in a rigged election.
Khan's competing personas make him an embodiment of Pakistan's identity crisis. On one side is a country with an increasingly urban middle class that buys designer handbags and good whiskey while engaging in social media debates about democracy and human rights. The other is a nation where the risk of terrorism is constant, the Islamic State has a foothold, and the all-powerful army uses radical groups to destabilize Afghanistan and India.
Khan's first challenge will be averting a financial crisis: Dwindling foreign reserves and a ballooning current account deficit, fueled by imports of heavy machinery from China to build a $60 billion investment corridor, have forced the central bank to devalue the currency four times since December. Unless China or Saudi Arabia writes him a check, Khan will almost assuredly need help from the International Monetary Fund, which has bailed out Pakistan 12 times since the late 1980s. "The new government may go first to Saudi Arabia, then China, and ultimately to the fund," says Nadeem Ul Haque, a former deputy chairman of Pakistan's Planning Commission, who used to be a senior economist at the IMF. "There is no way out." 
Skeptics doubt Khan will reduce the military's dominant influence, stamp out corruption, or overhaul the curriculum at thousands of Islamic schools, known as madrassas, some of which have helped fuel an insurgency that has claimed the lives of more than 60,000 Pakistanis since Sept. 11, 2001. "Khan as prime minister is unlikely to challenge the army's authority on policies including national security, defense, and relations with India, Afghanistan, and the U.S.," says Shailesh Kumar, Asia director with Eurasia Group.
Pakistan's shift from its founder's more secular vision to a sectarian, less tolerant society is decades in the making. In the late 1970s, whiskey-drinking Prime Minister Zulfikar Ali Bhutto banned alcohol and nightclubs to appease the religious right. Then came a flood of cash from the CIA and Saudi Arabia to recruit and arm jihadis—as well as to radicalize the population—to fight the Soviet occupation of Afghanistan. One of those fighters was Osama bin Laden, the mastermind of Sept. 11, who would be killed in 2011 at a safe house just miles from Pakistan's top military academy.
Khan says he doesn't share the Taliban's interpretation of Sharia law, but he calls the U.S. military presence in the region the main cause of instability. In January he blasted Donald Trump as "ignorant and ungrateful" after the U.S. president said Pakistan delivered nothing but "lies and deceit" in the fight against terrorism. Khan called for Pakistan to cut ties with the U.S. and work with China, Russia, and Iran to bring peace to Afghanistan.
Khan has repeatedly called for peace talks with Taliban militants, who have launched numerous terrorist attacks in the country and claimed responsibility for a suicide attack in Peshawar about two weeks before the election. His view received some vindication when U.S. diplomats met with Taliban representatives in late July without Afghan government officials, the New York Times reported, a policy shift aimed at ending a 17-year war.
Both observers and party insiders say his Pakistan Tehreek-e-Insaf political organization is essentially a one-man show—and a personality cult. Khan's also inexperienced in governing: He's ridiculed the parliamentary process and barely attended National Assembly sessions during his years as a lawmaker. On the campaign trail, he tended to avoid detailed policy discussions, often dodging questions about how he will pay for his "Islamic welfare state," instead criticizing predecessors for racking up sky-high debts.
Nor will fighting graft be easy. Ahead of the election, Khan aligned with many feudal landlords who maintain power in rural areas through patronage. To form a majority in parliament without the two major dynastic parties—the Pakistan Muslim League-Nawaz, controlled by the Sharif family, and the Pakistan Peoples Party, run by the Bhutto Zardari family—he needs to win over smaller parties and independents, most of whom are eager to reap the spoils of government.
Moreover, to have credibility as a corruption fighter, Khan must go after the Pakistani military's top brass, which has conducted numerous coups since the country's founding. The military retains tremendous sway over national security and foreign policy—even when an elected government is in power—and commands a hefty chunk of the national budget. Pakistan spends more on defense as a percentage of its economy than any other country in Asia.
The winner of the last election, Nawaz Sharif, stood up to the military and lost. The three-time prime minister's five-year term was cut short in July 2017 because of a corruption case filed by Khan and is now in jail awaiting an appeal. In May, Sharif said the army-backed establishment wanted him out for pursuing a treason case against former military ruler Pervez Musharraf, who ousted him in a 1999 coup. Musharraf—Pakistan's only former army chief to have faced charges—welcomed Khan's victory.
Khan has dismissed all allegations that he's close to the military, just as the army has denied that it meddled in the election, intimidated journalists, or had anything to do with Sharif's trial. Last year Khan told Bloomberg that any notion that he's an army stooge was a "bizarre conspiracy."
In his victory speech, Khan made headlines by calling for peace talks with India, including discussion on the disputed state of Muslim-majority Kashmir. India responded with skepticism. In separate interviews over the past year, Khan told Bloomberg that Indian Prime Minister Narendra Modi was an "anti-Muslim politician," and better ties between the nations were unlikely while he was in power.
The world will soon see if the flamboyant leader's "New Pakistan" vision is anything more than an empty slogan.
To contact the editor responsible for this story: Brian Bremner at bbremner@bloomberg.net