Employers Embrace Apps That Let Them Pay Daily
Employers Embrace Apps That Let Them Pay Daily
(Bloomberg Businessweek) -- For Shaahir Liles, it's like having payday every day. An assistant manager at a Wendy's in Towne Lake, Ga., Liles says he's less stressed out since his employer started offering workers a new perk—a financial app he can tap as often as he wants to get money. "I signed up, and I've loved it ever since," he says of Instant Financial, a mobile-based service that allows him access, free of charge, to half of his prior day's earnings to cover expenses between paydays, or even to get extra dollars for a night out. "It gives you the freedom to cash that money out, just in case."
Employers looking to attract and retain hourly workers have to get creative as the labor market tightens. One way to reduce churn is to reduce the wait between paychecks. The benefit was being rolled out at the Hoover Foods Inc.-run franchise when Liles began working there in February. By June, 24 of 30 employees at that location were using it, he says.
A conundrum of the current expansion is that, while unemployment is almost the lowest it's been since 1969, many Americans face income and job instability or are routinely cash-strapped. The monthly job numbers "present a much more positive picture than a closer inspection of the labor market would suggest," says Jonathan Morduch, professor of public policy and economics at New York University and co-author of The Financial Diaries: How American Families Cope in a World of Uncertainty, published last year. "The big story is, a lot of workers are facing liquidity problems because wages haven't been rising" fast enough, he says.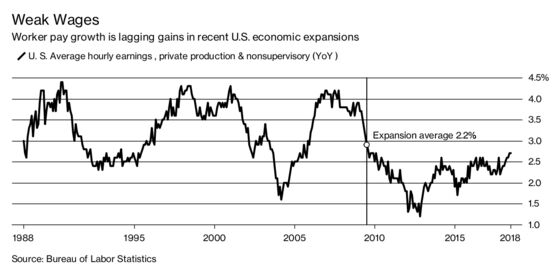 Two in five American adults lack enough savings to cover a $400 emergency expense, and 1 in 4 don't think they're "at least doing OK" financially, according to the results of a late 2017 Federal Reserve survey, released in May. More than 1 in 5 respondents said they were unable to pay the current month's bills in full, and more than 1 in 4 skipped necessary medical care last year because they couldn't afford it.
Wage earners, especially in retail and service industries, continue to struggle with uncertain or fluctuating schedules, variable earnings and overtime, and dependence on tips and commissions. Employers are increasingly focusing on nonwage benefits rather than salary hikes, while workers' bargaining power has softened amid waning labor union membership. The increasing dominance of large companies in certain economic sectors is another factor holding down pay. Morduch's own research also showed the average household experiences volatility in income and spending almost half the year. This instability "is creating a lot of economic insecurity and anxiety," he says.
Credit card companies or payday lenders have, of course, targeted customers facing a cash crunch. But unlike those businesses, the instant-pay financial apps gaining popularity involve no interest charges or penalty for withdrawing earnings early. On New York-based DailyPay, which launched its service in August 2015 and claims 500,000 users, workers pay a fee of $1.25 to $2.99 per use, depending on whether they want their funds to clear the next day or immediately.
Atlanta-based Instant Financial says it's accumulated more than 250,000 users since its U.S. debut in early 2017. The company doesn't disclose the monthly fees it charges corporate clients that sign up to offer the service to their workers (they include franchisees of McDonald's Corp. and Outback Steakhouse). Workers have a three- to four-hour window daily to transfer, for free, as much as 50 percent of their previous shift's wages onto a debit card.
Tonya Childs, a worker at a call center in Lewiston, Maine, operated by Argo Contact Centers, has come to rely on the Instant Financial app. "It helps to hold you over until you get the next paycheck," she says—otherwise, "those 14 days can really drag."
Employee turnover has diminished since Hoover Foods introduced the Instant Financial app at the Wendy's franchise where Liles works. Most of the crew is still around from the time he joined, and they've added two workers instead of "swapping people every other month," he says. "It can change the way people hire."
But there can be unintended consequences for users of such apps. Getting hooked on the almost constant money flow could prompt some people to overspend in the current pay cycle and end up with less money for savings or for bigger end-of-the month expenses.
Another downside is that some workers may settle for lower-paying work just because it comes with faster access to their pay and forgo a slightly better-paid position. The Fed survey showed that, when faced with a hypothetical choice, workers mostly preferred month-to-month income stability over higher compensation. More than 50 percent chose the stable-income job despite giving up a little or somewhat more money. Even when the variable-income job paid a lot more, only 3 of 5 respondents picked it.
Kayla Oliver, 22, says she enjoys the freedom of being able to text DailyPay an emoji—each one is worth $20—every time she needs a cash infusion, and she doesn't mind the charges. The certified nurse aide from Heritage Health of Normal, Ill., says she wishes the app had been available when she suddenly faced "car repair troubles" for her 2002 Toyota Camry a few years ago. "This would've come in handy."
To contact the editor responsible for this story: Cristina Lindblad at mlindblad1@bloomberg.net, Scott Lanman
Get Your
Daily Newsletter
Get market moving news, top news & compelling perspectives
---