Facebook Makes Moves on Instagram's Users
Facebook is playing for attention from the photo-sharing app's 1 billion younger users.
(Bloomberg Businessweek) -- In late June, Spencer Chen got an unusual notification from Instagram. The app prompted him to check out a friend's new photo—on Facebook. Chen grabbed a screenshot and posted the notification on the internet, calling it a cry for attention by the older social network. It felt like a cheap trick, he says, like "placating big brother in the Facebook building."
Chen is one of the tens of millions of people who used Instagram before Facebook Inc. acquired the photo-sharing app in 2012. Ever since, he says, he has anticipated the day when Facebook would start messing with the photo app to suit its needs. That day, he says, has come.
There's no denying the power dynamic between Facebook and Instagram is shifting. Instagram has 1 billion users, more than Facebook had at the time of the acquisition. The property is worth more than $100 billion, according to a recent analysis by Bloomberg Intelligence. And Instagram keeps growing among a younger set of users who are critical to Facebook's growth. Also, Facebook users have been flocking to Instagram's photo- and video-based app as an escape, tired of the political bickering and privacy scandals that plague the parent company. Users averaged 53 minutes a day on Instagram in June, just five minutes less than on Facebook, according to Android data from analytics company SimilarWeb. As growth of its user base slows, Facebook's future is more certain with Instagram than without it.
"We would not be this confident in Facebook's future if it wasn't for Instagram," says Rich Greenfield, an analyst at investment bank BTIG. "They've done a really good job with the cross-pollination." That's a big change from the years right after the $715 million acquisition, when Instagram depended on Facebook for advertiser relationships and the infrastructure needed to grow.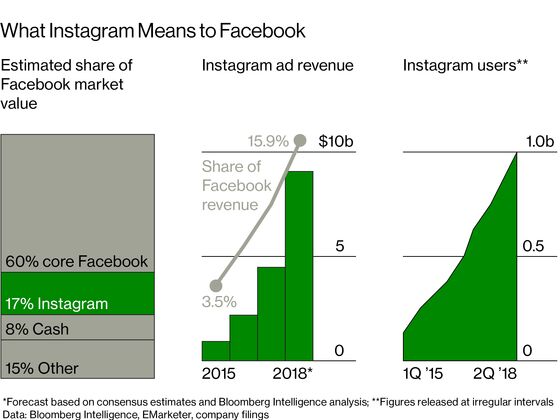 Instagram says what Chen experienced was a product test with a small contingent of users. Still, Instagram feeds Facebook in other ways. Last year, Facebook launched its own version of an Instagram tool called Stories, which lets people post videos that disappear within 24 hours. (The feature was initially copied from Snap Inc., a competitor.) Greenfield noticed the Facebook version became more popular once it became possible for Instagram users to post their stories in both places with the click of a button.
Instagram Stories' 400 million users present a significant opportunity for Facebook's advertising business, according to Ken Sena, an analyst at Wells Fargo Securities. Instagram is on track to provide Facebook with $20 billion in revenue by 2020, about a quarter of Facebook's total, he wrote to investors. And cross-posting could help Facebook's video ambitions. The company recently launched Facebook Watch, a television-like platform that it's spent hundreds of millions of dollars on, mostly for content. That was followed by the rollout of Instagram's IGTV, an app that allows anyone to produce and post longer-form videos. Instagram has a more natural relationship with influencers, who have built up huge followings on the platform, so it hasn't had to pay for them to use the new feature. Any of them can decide to cross-post their videos to Facebook. "Maybe that becomes a driver for Facebook Watch over time," Greenfield says.
So far the company hasn't taken advantage of that opportunity, according to Krishna Subramanian, who works with top digital celebrities at Captiv8, a firm that measures influencer marketing. While "it does seem like Facebook is continuing to test notifications within Instagram," he says, "from what we see on our side, it still looks like Facebook and Instagram are very separate products."
What could lead to closer ties in the short term are some executive moves that went into effect in May. As part of the shuffle, the biggest in Facebook's history, Chris Cox, its chief product officer, took charge of Instagram, WhatsApp, and Messenger, in addition to the main app. Adam Mosseri, the former head of Facebook's news feed, was named vice president for product at Instagram, reporting to Instagram co-founder and CEO Kevin Systrom. Mosseri has been at the company 10 years and has deep relationships with Cox and Chief Executive Officer Mark Zuckerberg. "Adam has personally helped build a lot of the Facebook experience you use on your phone today," Zuckerberg wrote about Mosseri on his Facebook page this week.
The company often talks to advertisers about all its products collectively. According to a person familiar with the matter, Facebook recently started an incentive campaign with some brands that covered three products at once: ads on Instagram Stories, on Facebook Messenger, and in the middle of Facebook videos. The person, who declined to be named for fear of losing the Facebook relationship, says it was the first time his client had received such an offer.
"The promo you heard about is not unique," Instagram said in a statement. "We are continuously working with advertisers to help them find and discover the best formats for ads across the Facebook Inc. family."
To contact the editor responsible for this story: Dimitra Kessenides at dkessenides1@bloomberg.net