The New Startup South
The New Startup South
(Bloomberg Businessweek) -- When Scott Pancoast was crisscrossing the Carolinas raising money for his health-care startup earlier this year, one of the most important stops was a country club in his hometown of Greenville, S.C. His presentation drew almost 50 angel investors, twice the number that showed up when he pitched to potential funders in Charleston, S.C., and Charlotte, N.C. 
"It was a very, very strong showing," Pancoast says. "Having that kind of inclination to support local entrepreneurial activities was stunning to me."
Startups such as Pancoast's have pride of place in Greenville, whose downtown is sprinkled with young businesses the way coffee shops now dominate the main drag in other cities. Zylö Therapeutics LLC's office is in a co-working space on Main Street that houses about a dozen other fledgling companies. ChartSpan Medical Technologies Inc., a digital medical records startup with 120 local employees, is nearby.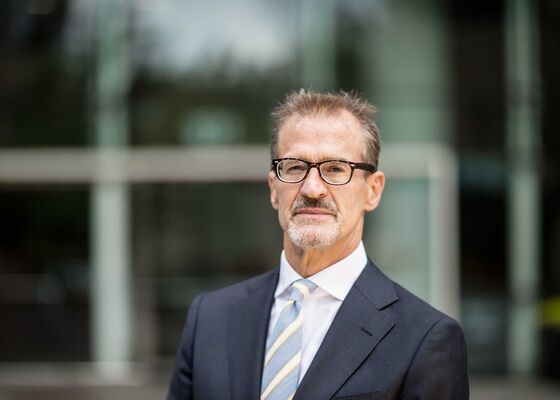 This city of 670,000, a onetime hub for textile and apparel production, seems to have found the answer to the question confounding the U.S. right now: How do you revive postindustrial towns and make them part of the knowledge economy?
Displaced factory workers were receptive to Donald Trump's "Make America Great Again" message during the 2016 election campaign. Yet the president's policy prescription of lower taxes, higher tariffs, and fewer immigrants is untested, while Greenville's leaders can rightly claim they have a success on their hands. In per capita terms, the city's rate of new business creation approaches that of Boston, one of the country's hotbeds of innovation. Here's another marker of economic dynamism: Greenville's population grew almost 20 percent from 2000 to 2016.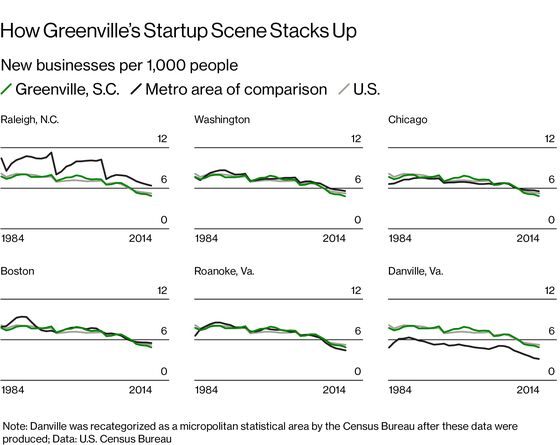 Some elements of Greenville's transformation aren't easy to replicate, including decades of political commitment to creating a community that's appealing to college graduates and high-skilled workers. The city also has access to technology and research talent from nearby Clemson University and state-of-the-art manufacturing plants turning out Michelin tires and BMWs.
But Greenville's culture of risk-taking and its network of investors who fund early stage businesses are within the reach of places like Danville, Va., where tobacco warehouses and textile mills—some abandoned—attest to the difficulties the city faces in transcending its economic past.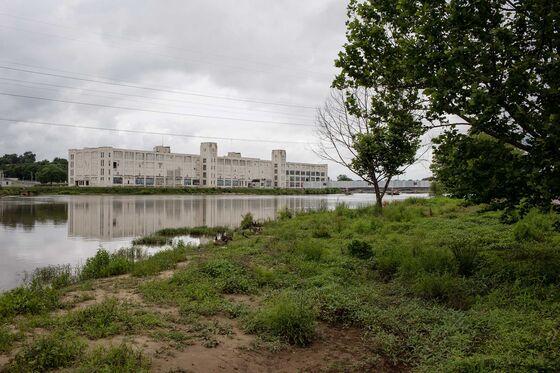 "We look at Greenville as where we want to be—what they created downtown and all the startups," says Eva Doss, chief executive officer of the Launch Place, a company that provides consulting services and seed capital to companies that create high-paying local jobs. One recent win for Danville: Panaceutics Inc., whose headquarters are near Raleigh, N.C., plans to open a production lab to blend medications and supplements into customized drinks. The operation will employ 70 people. 
In his 2012 book The New Geography of Jobs, economist Enrico Moretti described the rise of superstar cities and the decline of the rest as "the great divergence" that affects "cultural identity, health, family stability and even politics." To grasp the size of the chasm, consider just one metric: The mean net worth of urban families in the U.S.  exceeded that of nonmetro families by $475,000 in 2016; in 1989 the disparity was $123,700, according to Federal Reserve research. 
The most important driver of the phenomenon Moretti describes is the shift from manufacturing jobs to conceptual work. In the late 1970s, 22 percent of nonfarm employees toiled to transform raw materials into a product, compared with less than 10 percent now. 
Meanwhile, the share of workers in high-skill service industries has grown. But these knowledge workers aren't evenly dispersed throughout the country. They're clustered in cities such as New York, Boston, and San Francisco that are magnets for college graduates, ideas, and money, all of which are integral to any ecosystem that supports startups. Twenty percent of young businesses were based in nonmetropolitan areas in the early 1980s. That figure has dwindled to less than 13 percent.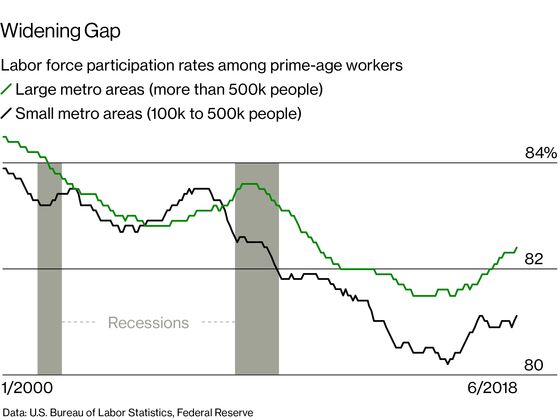 "We tell these communities, 'Don't worry: The entrepreneurs are going to put you back to work,' " says Edward Conard, who led Bain Capital's industrial group and is now an adjunct fellow at the American Enterprise Institute, a Washington think tank. "But they aren't coming." Regional economies "are falling further off the technological frontier because companies like Google and Facebook are going to scarf that talent up."
Greenville has managed to buck the trend. It had almost 5 young businesses per 1,000 people in 2014, the latest year for which data are available—close to the national total of 5.2, Boston's 5.5, and Chicago's 5.6. Danville's total, meanwhile, was 3 per 1,000 people. (None of these cities has been immune to the overall decline in U.S. startups since the 2007-09 recession.)
While pundits focus on the importance of upgrading workforce skills, kick-starting a cycle of wealth-building by attracting and retaining new businesses is a multipronged effort.
Greenville has excelled at creating an appealing—and walkable—commercial district. The scenic riverfront features a park bordered by a mixed-use development, a waterfall, and a pedestrian bridge. "Twenty years ago, you didn't want to go downtown," says David Condrey, who started a data management and security software business with his wife, Mary, in 1998. Now "we have people that live downtown and walk to work."
The couple, both Clemson graduates, bought a building one block from North Main Street and turned it into a Silicon-Valley-style workspace with exposed brick and beams. Most of Condrey Corp.'s customers are outside South Carolina, with many in Europe and the Asia-Pacific region.
State and local entities have been willing to encourage such efforts, with the goal of creating what economists call innovation clusters. Take Kiyatec Inc., a nine-year-old company that analyzes tumor cells to predict the most effective therapies for treating a patient's cancer. Greenville Health System, a regional nonprofit, provided lab space on the same floor as its flagship hospital's cancer institute, while South Carolina Research Authority, a state-chartered nonprofit, has provided more than $500,000 in grants and equity investments. While Kiyatec will never be a labor-intensive manufacturing giant, most of its 20 employees are highly compensated.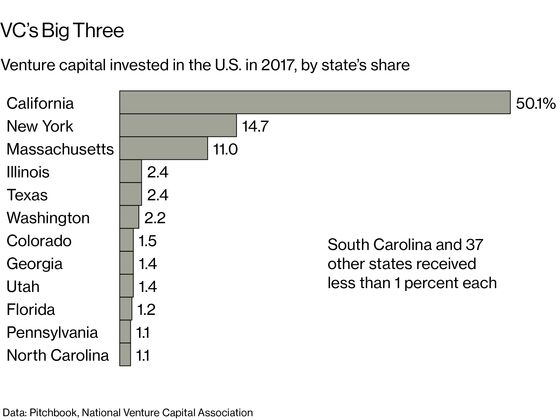 Early stage companies in Greenville can also seek funding from VentureSouth, the local group Pancoast spoke to at the country club. Its 230 angel investors in North and South Carolina have funneled $28 million to 61 companies.
Pancoast moved to the city partly for family reasons and has been "surprised" by the budding infrastructure available to startups. His company is developing nanotechnology that delivers medicines and therapeutic agents through the skin. He says the city is "rich" in bioengineering and chemical engineering talent.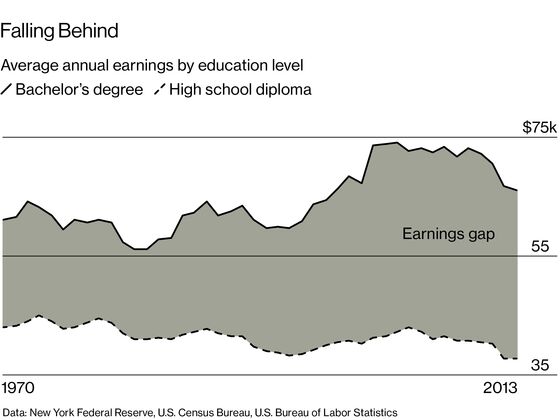 Jon-Michial Carter, ChartSpan's co-founder and CEO, has tapped larger venture capital pools outside Greenville in raising $22 million to scale up his electronic health records operation. Still, the early vote of confidence he got from the city has kept him loyal. He recalls that after making a pitch to almost 600 local investors, he got a message from Greenville's Office of Economic Development requesting a meeting. After talking, the agency helped him secure 100,000 square feet of office space. "Nobody in Silicon Valley would help me like this," says Carter, which is why if a potential investor tells him he needs to relocate to New York or California, "it is a short conversation."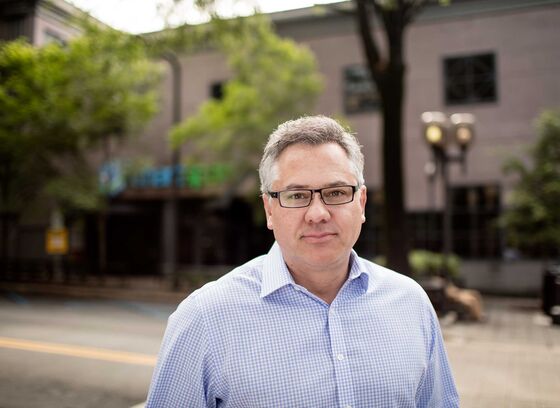 ChartSpan's revenue grew 334 percent last year and will expand 110 percent this year, Carter predicts, adding he's been able to recruit staff from the largest metro areas, "people who share our view of fatigue of working in a big city." 
Danville—where the median income was $33,721 in 2016, compared with Greenville's $51,595—is following the Greenville playbook closely. Authorities there have spiffed up the River District, while downtown tobacco warehouses have been remade into residential and retail space, some on cobbled streets. But nearby are boarded-up houses and abandoned relics of departed industries, which give the whole place the feel of an empty movie set. Indeed, it's too soon to tell whether the recent improvements have helped arrest a slide in the local population, which shrank 5 percent, to 105,000, from 2000 to 2016.
"We are trying to do two hard things simultaneously: We are trying to create a new economy and create a new culture," says Karl Stauber, CEO of the Danville Regional Foundation. The foundation was created in 2005 with proceeds from the sale of a local health-care system. It has a $230 million endowment and has given $96 million in grants since 2006.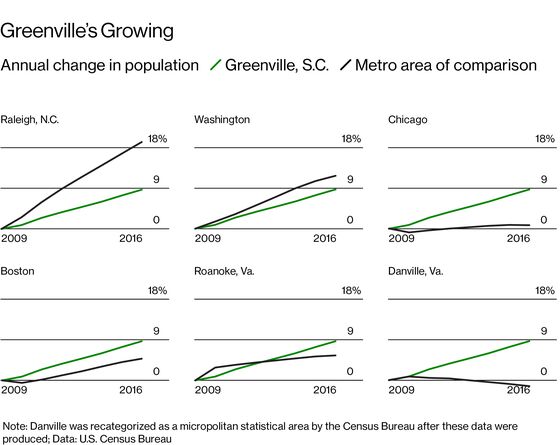 Danville put together a package of incentives to attract Panaceutics, including an investment in its parent company by the Launch Place, grants from the state's Commonwealth Opportunity Fund and Tobacco Region Opportunity Fund, tax exemptions, and support for employee training.
Inducements also lured Japanese manufacturer Kyocera Corp., which is building a facility that will employ 35 people making precision cutting tools. Jason Wells, president of Kyocera SGS Tech Hub, says the Virginia city beat three other contenders in Ohio, South Carolina, and Alabama, partly because Kyocera already has a major customer in the state. The final choice was also influenced by a work-based engineering technology degree offered by Danville Community College that replicates modern manufacturing challenges, from team building to conflict resolution to process control. Troy Simpson, the college's director of advanced manufacturing, says word of the program has spread and officials from Tennessee and Arkansas have come calling.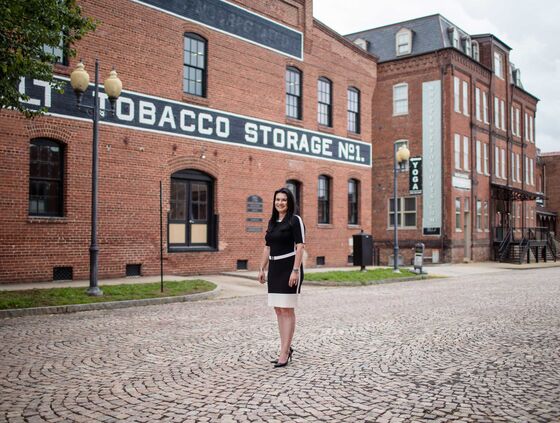 There's a sense of urgency in Simpson's voice echoing that of Danville's leaders when they describe the need to change the city's culture. He says he took a class to visit the Schoolfield plant, one of many sites that formed part of Dan River Mills, a Danville-based company that once figured among the largest textile manufacturers in the South. Simpson knows it well. His aunt came off the farm when she was 13 and worked there until age 63. Now, all that's left are cold smokestacks and piles of brick rubble.
"If a company cannot remain globally competitive, they will leave," he told the class, with the mill remains as a backdrop. "The deciding factor will be how productive and skilled you are as a workforce. You have to be willing to change and embrace continuous improvement." —With assistance from Chloe Whiteaker

Methodology: In "How Greenville's Startup Scene Stacks Up," the per capita rate was calculated using the Census' 2014 Business Dynamics Statistics for firms aged 0 to 5 years in each metropolitan statistical area, divided by the MSA's population. Population figures were adjusted to conform to 2009 MSA delineations. Population figures, and all other MSA-related data, were adjusted to conform to 2009 MSA delineations.
To contact the editor responsible for this story: Melinda Grenier at mgrenier1@bloomberg.net, Cristina Lindblad
Get Your
Daily Newsletter
Get market moving news, top news & compelling perspectives
---