Trump Refuses to Release Data on Immigration Crackdown
For the past 18 months, U.S. authorities have refused to share information of enforcement activities on immigrants.
(Bloomberg Businessweek) -- Five days into his presidency, Donald Trump took aim at illegal immigration with executive orders signaling a new era of heavy enforcement. Not only did he threaten to go after undocumented immigrants, many of whom he labeled violent criminals, he also vowed to crack down on so-called sanctuary cities that thwart the federal government's attempts to round up people who are in the U.S. illegally. The U.S. Department of Homeland Security promised to put out weekly updates that would include information on localities that release immigration violators and the criminal records of those released.
The first reports were filled with inaccuracies and in several instances called out counties for not cooperating with detainer, or detention, requests that were actually sent to other places with similar names. The U.S. Immigration and Customs Enforcement agency had to issue a list of corrections, and soon it simply stopped putting out the reports. For the past 18 months, ICE has also refused to release other key data about its enforcement activity that had been routinely available.
This disappearing data is at the heart of two lawsuits brought against ICE by the Transactional Records Access Clearinghouse (TRAC), a small research group at Syracuse University. As of January 2017, ICE stopped handing over records it had provided under the Freedom of Information Act for years, including any details about how effective Trump's crackdown has been. If ICE prevails in court, it could give other agencies a legal rationale to deny public access to the vast cache of government data now kept in electronic databases.
At a time when U.S. authorities are separating children from their parents at the border—and then losing track of them—and the president continues to assert that many immigrants are violent criminals, the lack of basic data on government enforcement has created a fog of uncertainty over an already charged issue. TRAC was founded in 1989 by co-directors Susan Long, a statistician, and David Burnham, an investigative journalist, specifically to cut through this sort of political rhetoric by amassing data on federal policy. It uses FOIA requests to pull in 250 million records from various agencies each month, and its website offers tools to help analyze the data. TRAC had long requested and received information on detainers, as well as deportations aimed at removing undocumented immigrants with criminal records. After ICE abruptly stopped providing the information last year, Long and Burnham sued it in federal court in New York to regain access to the detainer data, and then in the District of Columbia over the missing deportation records.
"We have this huge political debate going on in the country over secure communities and sanctuary cities and all the claims that the government is making about how essential this is, and the very data that would allow you to evaluate the program, they're withholding," Long says. ICE argues that many of the records TRAC has asked for don't exist in the form requested and says producing responses would require searching its database, a process the agency claims amounts to creating new records, which isn't required under FOIA. ICE didn't reply to a list of questions and a request for comment.
"If they're going to court to try to keep information hidden about the detainer policy, they're probably hiding something," says Peter Boogaard, a former DHS press secretary in the Obama administration. More broadly, transparency has become a function of political convenience, Boogaard says. "They're happy to say that immigration is causing huge problems, but at the same point, they are not sharing information."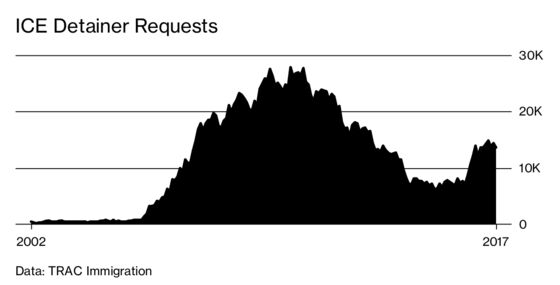 It's still possible to track the overall number of detainers ICE issues—about 14,000 a month on average through November 2017. That's up from the last months under Obama, but much lower than the peak of close to 28,000 in 2011. Left out are details on whether ICE takes custody—or the criminal records of those targeted. Under Obama, TRAC found that even when local law enforcement held an individual under a detainer, more than half the time ICE agents didn't show up to take custody—and that few ICE detainers targeted serious criminals. That sort of analysis is now impossible to do. "It's really frustrating to not be able to get a holistic picture of what's happening," says Emily Ryo, an associate professor of law and sociology at the University of Southern California, who's tried with TRAC to get data on detentions. "It really is an important moment for the public to understand what's happening and for researchers to be able to document what is going on."
In place of detailed reports, ICE issues press releases describing raids and arrests, citing criminal records of detainees, and complaining about the lack of cooperation from sanctuary cities. "I don't want bullet-pointed press releases that say some large numbers of people were apprehended over the weekend and here are five examples of how dangerous these individuals were," says César Cuauhtémoc García Hernández, an associate professor of law at the University of Denver. "I want to know details about the large number of people. I want percentages. I want actual numbers about what kinds of crimes."
The data García Hernández has been able to cobble together show a reality at least partly at odds with Trump's rhetoric. In fiscal 2017, a period that covers the end of the Obama administration and the beginning of the current one, the average daily population held in immigration detention centers rose by 3,730 people, an 11 percent increase from fiscal 2016. The average length of stay has also risen, to 43.7 days, up from fewer than 35 the previous year.
The number of prosecutions for immigration crimes fell by more than 10,000, or 15 percent, over the same period. That's striking given the emphasis the Trump administration has put on prosecuting undocumented immigrants. It's an incredibly complex system that's shifting all the time, making accurate data more important than ever. Data from this year that TRAC got using another FOIA request show a jump in prosecutions of border crossers. And the detention system may be nearing its limit: This month, authorities are transferring 1,600 detainees to federal prisons while they await civil court hearings.
The inaccuracies in ICE's statements about enforcement actions have caused a furor within the agency in recent months. James Schwab, a spokesman for ICE in San Francisco, resigned in March over misleading statements from agency leaders about an ICE raid in Oakland. The bigger implication is how agencies are allowed to draw the line when it comes to producing electronic records, and the distinction between creating a record and just extracting one from a database, according to Sean Sherman, a lawyer at Public Citizen Litigation Group who's representing TRAC in Washington. "ICE is saying that by basically searching for these electronic records, that constitutes creating new records," he says. "That just can't be right, because that's basically true of all government records right now." Meanwhile, ICE is withholding data in many more of TRAC's FOIA requests. Says Long: "We could file a new suit every week, if we were going to aggressively litigate this."
To contact the editor responsible for this story: Matthew Philips at mphilips3@bloomberg.net
Get Your
Daily Newsletter
Get market moving news, top news & compelling perspectives
---