The U.S.-China Rivalry Is Just Getting Started
(Bloomberg Businessweek) -- British historian Niall Ferguson and German economist Moritz Schularick coined the term "Chimerica" over lunch in a Chinese restaurant in London one day in 2006. Their mashup of "China" and "America" caught on because it crystallized what everyone could see: Despite, or rather because of, their many differences, these two giant nations were locked in an economic embrace. China shipped tons of merchandise to the U.S., creating manufacturing jobs that lifted millions from poverty. The U.S. got cheap goods and paid for them with quintessentially American products such as passenger jets, movies, and U.S. Treasury bonds—essentially, borrowed money.
Now Chimerica is coming apart. The latest sign is the blowup over ZTE Corp., the Chinese telecommunications equipment manufacturer that violated the terms of a 2017 sanctions settlement, then lied about it. As punishment, the U.S. in April cut off ZTE's access to critical U.S. components from companies such as Intel Corp. and Qualcomm Inc. for seven years. The virtual death sentence for ZTE infuriated Chinese leaders, potentially jeopardizing Beijing's cooperation on a host of other Trump agenda items, including plans to negotiate a reduction in the U.S.-China trade deficit and to denuclearize the Korean Peninsula. In a Sunday morning tweet on May 13, President Trump said he and President Xi Jinping were working together to give ZTE "a way to get back into business, fast." That came days before Xi's top economic adviser, Liu He, was due to arrive in Washington for talks with Secretary of the Treasury Steven Mnuchin.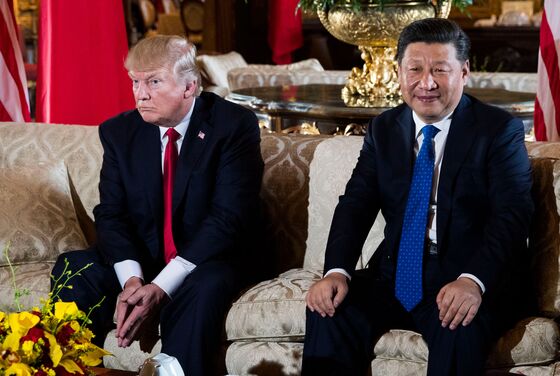 Even if the two sides work out a deal on trade, the clear evidence that the U.S. is capable of shutting down one of China's most important tech companies practically overnight has almost certainly made the Chinese more determined than ever to build up their domestic capabilities. "China's sense of encirclement is elevated," Jeremy Stevens, a Beijing-based economist at Standard Bank Group Ltd., wrote in a May 10 note. "China's sense of urgency in developing core technologies is now more urgent." Bo Zhuang, chief China economist in Beijing at research firm TS Lombard, puts it even more bluntly in an email: "We are heading towards a technological arms race between China and the West."
The gradual disintegration of the Chimerica symbiosis is likely to be the world's biggest business story for the next several years, if not decades. Even if the U.S. and China don't come to blows, their deepening economic rivalry creates a headache for multinational companies that have spent decades constructing global supply chains. "This will over time lead to more, but less efficient, investment in technology globally, likely downward price pressure in sectors such as semiconductors and potentially even separate spheres of technology standards and origin," Louis Kuijs, chief Asia economist at Oxford Economics in Hong Kong and a former International Monetary Fund researcher, wrote in a note to clients on April 26.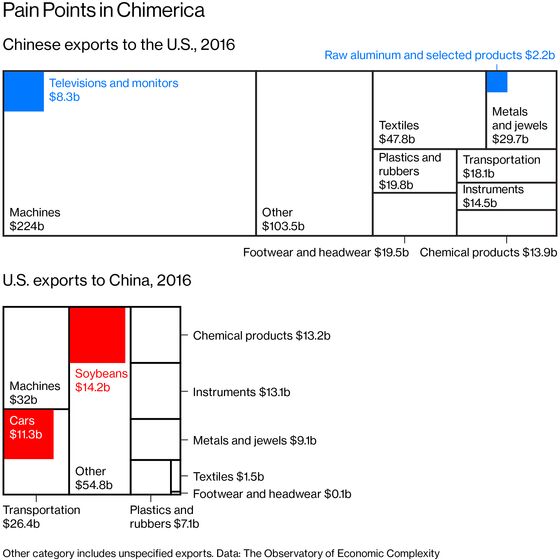 What went wrong with Chimerica? There were problems even when the countries were close. The influx of cheap products from China wiped out millions of well-paying manufacturing jobs in the U.S. By loading up on U.S. debt to keep its currency cheap and its products competitive, China helped suppress U.S. interest rates. That fueled the housing bubble, whose bursting was a key factor in the 2007-09 recession and global financial crisis.
The countries aren't so close anymore, largely because they're becoming economically more alike. China is no longer content to make toys and other low-margin products. It wants to compete with America's and the world's most prestigious, successful companies. With "Made in China 2025," a policy blueprint unveiled three years ago, Beijing announced that it aspired to global leadership in cutting-edge industries including robotics, new-energy vehicles, biotechnology, aerospace, new-generation information technology, and software.
To achieve their goals, the Chinese are subsidizing national champions while sometimes limiting the role U.S. and other foreign companies can play in China's vast domestic market or requiring them to license their key technologies to Chinese partners in return for market access.
The other big change is that China, which was inwardly focused for decades, is asserting itself diplomatically and militarily. Its "One Belt, One Road" initiative, connecting the country to the rest of Asia as well as Europe and Africa, is the world's largest infrastructure project. China's share of world military expenditure rose from about 6 percent in 2008 to 13 percent in 2017, according to the Stockholm International Peace Research Institute. Beijing claims sovereignty over the South China Sea and is militarizing rocky islets to back its claim. China recently began sea trials of its first home-built aircraft carrier. It opened a base in the East African nation of Djibouti last year, and the U.S. Air Force says Chinese there are using military-grade lasers to interfere with American fighter pilots.
A decade or so ago, the conventional wisdom was that as China grew wealthier, it would become more democratic and Western-oriented. Those hopes have faded, especially since Xi took office in 2013. In March, China's legislature struck down presidential term limits, paving the way for him to remain in power beyond the end of his second term in 2023.
As long as the U.S. and China had complementary strengths and needs, the relationship between them was a net plus for both sides. As they gradually shift from partners to competitors, anything that's good for one begins to be perceived as bad for the other. The tit-for-tat over tariffs is emblematic. In the most recent volley, the U.S. has proposed hiking duties on $50 billion worth of Chinese products, including televisions and cars; Beijing has counter-threatened U.S. airplanes, soybeans, and motor vehicles.
American companies that produce in China or import from there are caught in the crossfire. "The tariffs proposed by President Trump would cripple my business," says Mary Buchzeiger, chief executive officer of auto parts maker Lucerne International, alluding to the 25 percent levy the administration plans to impose on imports of motor vehicle hinges made of steel and aluminum. The company's headquarters are in Auburn Hills, Mich., but it has plants in China.
The Trump administration seems confused about how to cope with a more assertive China, vacillating between tough talk and conciliation. The "bad cops" in the administration—including U.S. Trade Representative Robert Lighthizer and National Trade Council Director Peter Navarro—seemed to have the upper hand in early May. They were part of an American delegation to Beijing that presented a list of demands that included dismantling Made in China 2025 and narrowing the trade gap by $100 billion, a figure later raised to $200 billion. "The U.S. has gone off the deep end by asking for too much," says Brian Jackson, China director at Medley Global Advisors LLC, which gives policy guidance to institutional investors.
Trump himself, despite his bluster, often plays the good cop. On May 3, even as his team was in Beijing pressing its demands, Trump tweeted, "I look forward to being with President Xi in the not too distant future. We will always have a good (great) relationship!" His eagerness to make nice with China was on display when he ordered the U.S. Department of Commerce to lighten up on ZTE. "Too many jobs in China lost," he wrote in a tweet that Democratic lawmakers gleefully seized on. "How about helping some American companies first?" Senate Minority Leader Charles Schumer tweeted.
China isn't bending over backward to please U.S. negotiators. It has stepped up inspections of American imports of fruit and cars, threatened to match U.S. tariffs one for one, and slow-walked its antitrust clearance for a big acquisition by Qualcomm.
China has also been more strategic than the U.S. in finessing the Chimerica breakup. Beijing may make some concessions on trade issues, but it's not about to abandon its long-term goal of technological equality or superiority. "Advanced technology is the sharp weapon of the modern state. An important reason that Western countries were able to hold sway over the world in modern times was that they held the advanced technology," Xi said in a 2013 speech. (His top-down approach to innovation could fail, of course. For example, a recent study published by Oxford University's Future of Humanity Institute found that China trails the U.S. in artificial intelligence on most fronts despite heavy investment.)
In contrast, the Trump administration has been more focused on achieving immediate wins. The president and his counselors are seeking a rapid reduction of the U.S.'s merchandise trade deficit with China, which was $375 billion in 2017. Some U.S. trade experts worry that Beijing could assuage Trump by ramping up imports of nonstrategic American goods—like agricultural products, oil, and gas—or temporarily curtailing exports to the U.S., without fixing its anticompetitive practices. "Beware of shiny objects. History should teach us not to be distracted by Chinese promises of commercial deals and strategic purposes," Scott Paul, president of the Alliance for American Manufacturing, said in an emailed statement.
This isn't the way things were supposed to turn out. Says Schularick, who helped coin Chimerica: "While the economic entanglement remains, obviously, that original idea of the symbiotic relationship has clearly broken down."
To contact the editor responsible for this story: Cristina Lindblad at mlindblad1@bloomberg.net