The MAGA ETF Has Only One Strategy
The MAGA ETF Has Only One Strategy
(Bloomberg Businessweek) -- Building buzz about a new exchange-traded fund often just means buying newspaper ads. Hal Lambert has a different approach: He's hitting right-wing talk shows and roaming conservative conferences in a familiar-looking red cap.
That's because his fund is different, too. Sure, it has an investment thesis, but it's also a badge for the political identity its stock ticker evokes: MAGA. As in "Make America Great Again." The ETF not only markets to people loyal to the U.S. president, it also invests in companies that are loyal to his party. Not necessarily the most profitable companies, or the fastest-growing, or the ones with the most attractive price-earnings ratios—or any of a number of metrics a typical investor would use. Instead, it selects companies based on public information about donations to Republican candidates by their employees and political action committees.
Lambert has spent two decades managing other people's money and helped fellow Texans Ted Cruz and Rick Perry on their runs for president. He says combining investing and politics came to him while watching the morning news. It was April 2016, and Target Corp. had just announced that it would allow transgender shoppers to use their preferred restrooms and fitting rooms. Lambert expected the move to trigger conservative boycotts that would hurt Target stock. He sold his shares and started pondering how conservative outrage could be the basis for a fund.
Nine months later, Donald Trump became president. Lambert sees the MAGA fund, which started trading last September, as a mirror image of funds that use environmental, social, or governance criteria (known as ESG) in their stockpicking. "This is a way for people to invest based on their political ideology," he says. "It's like the opposite of ESG. Most of the ESG is left—it's socially responsible, it's 'let's not have energy'—and there's nothing on the right."
In fact, MAGA, or as it's formally known, the Point Bridge GOP Stock Tracker ETF, is one of a handful of funds with a conservative tilt. For example, there are also "biblically responsible" ETFs, which shun companies that support or are involved in activities their managers deem immoral. The vast majority of funds with political or social criteria remain focused on combating climate change or avoiding arms dealers, tobacco growers, oil producers, and the like. Assets in socially screened ETFs have tripled to more than $6 billion over the past 10 years.
Meir Statman, a professor at Santa Clara University who specializes in behavioral finance, says many investors are willing to accept the risk of lower returns to align their money and their values. That's no more irrational than preferring a certain brand of car. "It's like waving a banner that says, 'I am a member of this tribe,' " he says. "You lose utilitarian benefits, but you gain expressive and emotional ones."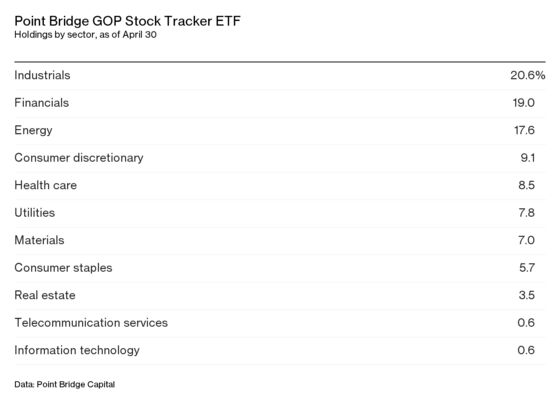 Some asset managers have created ESG funds that focus on the best actors across industries, rather than shunning entire sectors. Highly focused funds like MAGA, however, ignore large chunks of the market. Since MAGA effectively boycotts any company whose employees and PACs give more to Democrats than Republicans, it ends up with 0.6 percent of its assets in technology stocks, as of April 30, compared with about 25 percent for the S&P 500. The fund had 38 percent of its assets in energy and industrial stocks, compared with 16 percent for the S&P. In the short time it's been running, it's returned a little more than 11 percent, about the same as the S&P. It has a 0.72 percent expense ratio. A simple S&P 500 tracker charges 0.04 percent, while an energy or industrial fund can be bought for 0.08 percent.
Lambert believes that over the long haul Republican-leaning companies will do better because they put shareholder returns ahead of other priorities. Liberal companies will struggle, he says, particularly if managers invite boycotts. "You've got these CEOs who are actively making statements that have nothing to do with their companies," he says. "It's one thing to be politically active if it benefits your company, but it's offending parts of the population and affecting the stock price." In a polarized country, this cuts both ways—partisans on the other side might avoid companies identified with Republicans. Lambert acknowledges this, but says there's more "virtue signaling" by companies in favor of the left.
Corporate donations don't necessarily track with the hot-button political issues that dominate campaigns and cable news debates. Bank of America Corp., for example, is a MAGA holding that recently said it will stop lending to certain gunmakers. Ideology doesn't motivate corporate giving so much as the desire to gain access to powerful people, says Michael Useem, a management professor at University of Pennsylvania's Wharton School. "Companies have become very strategic in how they give," he says. "Most top executive money has long gone to the Republican Party, no surprise there, but there are periods where more than half of the PAC money over which they preside actually goes to Democrats."
MAGA manages about $39 million, and Lambert is looking for more, appealing to cashed-up conservatives away from the investing mainstream. His website walks newcomers through opening a brokerage account and parsing the difference between ETFs and mutual funds. He's advertised with conservative talk show hosts Hugh Hewitt and Mike Gallagher, is a sponsor at the libertarian-inspired FreedomFest this summer, and is mulling sponsorship opportunities at Heritage Foundation events and Republican Party conventions. (He deemed the audience at February's Conservative Political Action Conference too young this year.)
You may be able to spot him in a convention hall thanks to that tomato-red cap, emblazoned with the phrase "MAGA ETF"—modeled on the hats worn by Trump supporters at campaign events. Lambert never made it to those rallies. Nor does he own one of the original MAGA hats. "I'm not a big slogan guy," he says.
To contact the editor responsible for this story: Pat Regnier at pregnier3@bloomberg.net