Your Hot Wheels Collection May Fetch You A Fortune
A growing club of Indian hobbyists now see investment potential in their collections of toys to wines.
Nitin Bayal had a Tata Blue Line Bus miniature on display above the television at his home—an exact 1:43 replica of the buses notorious for dangerous driving till they were pulled off Delhi roads a decade ago. Sourced from France for nearly Rs 4,000, the diecast model was broken by a child visiting his home. Away pursuing his Master's degree at the time, Bayal wasn't happy when he found out.
"'It's just a toy and you can get another one from the market,'" Bayal said his mother told him. It took him a year to find that same bus again, this time for Rs 6,000.
Bayal, a 35-year-old senior project associate at Council of Scientific and Industrial Research, collected diecast models as a child and hasn't grown out of his love for them. But from a hobby, it has now evolved into a serious investment. He is among a tiny but growing club of Indian hobbyists who see investment potential in their collections.
In mature markets with higher disposable incomes, collecting toys and high-end sneakers to luxury watches and expensive wines is already an alternative asset class. The global toy collectibles market alone was estimated at nearly $12.5 billion in 2021, according to a report by Market Decipher. And it's forecasted to reach $35.3 billion by 2032, growing at a CAGR of 10.1%. In India, it's largely unorganised with no estimated size available. Still, the returns have been as high as twenty-fold in 20 years.
Still, investment is not always the primary goal for building diecast car collections. There is a "nostalgic factor".
Affording a Hot Wheels model in the 1990s and even early 2000s was considered a luxury even among India's middle class families, according to Manish Lalwani, wealth manager with Deutsche Bank. Parents could afford to buy one or two cars infrequently for their children.
Once those children turned adults, they are indulging themselves, Lalwani said. Walking past a store with diecast cars on display brings back childhood memories of inability to acquire as many as they would have liked, he said. He equates it with "adult regression".
Movies also contribute to the demand for certain models. The Ford GT40, featured in the Christian Bale and Matt Damon-starrer Ford Vs Ferrari, saw an increase in sales of the car's diecast model after the movie was released, Bayal said.
Internet and digital content are driving the market growth for toy collectibles, according to the report by Market Decipher. "The number of toys associated with movies and TV shows is predicted to grow enormously in the near future through offline and online distribution channels."
Online sites have also made them available at ease. Bidding to derive value is common on social media and websites like Ebay. And then, there are physical meet-ups every few months, often as part of social media groups, for "trading" in diecast models.
Collectors mostly prefer to sell to each other. "It should remain a collector-driven market" rather than a "business-driven" market to "ensure quality", according to Ankur Jain, an IT professional who has been collecting such models for the last 13 years. This, he said, will also help get a "reasonable price point" for collectors.
Higher resale value of diecast scale vehicles is anticipated to boost the demand for toys worldwide in the next few years, according to a report by Transparency Market Research.
"Whenever I go out to a shop and know that a model is from the last decade or may have a value increase in the next few years, I will buy that," Bayal said. "It gives you quick money and the margin is very high."
Jain also collects not only for his "passion" but with the intention of selling at a higher value. "I will maybe sell it to a collector only." He is yet to make a sale from his collection.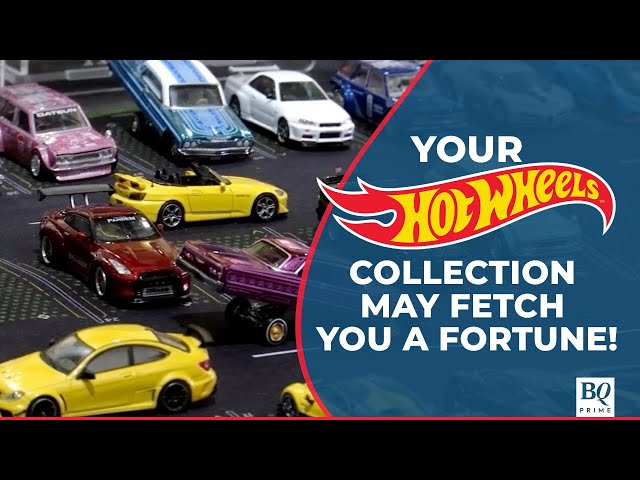 Not Easy To Find
New norms issued by the Bureau of Indian Standards mandates toymakers to conform to specified safety norms and top toymakers are required to get a certificate from the bureau.
The bureau grants licences to toy manufacturing units based on an assessment of their manufacturing and testing capability through factory visit as well as testing of toys in a BIS-recognised lab as per Indian standards, according to a statement by the Ministry of Consumer Affairs, Food and Public Distribution. "No person is permitted to manufacture, import, sell or distribute, store, hire, lease or exhibit for sale toys which do not conform to the Indian Standard and do not bear BIS Standard Mark i.e. "ISI Mark" under a licence from BIS."
Toys labelled as '14+ or above' are not covered.
Mattel, one of the largest toy manufacturers in the world, has relied on factories in China, Malaysia and Vietnam. However, BIS's Director General Pramod Kumar Tiwari, in January 2023 said that no Chinese toymaker has been granted BIS license in the past two years.
The delay in getting licences, coupled with Covid restrictions, has made Hot Wheels cars scarce in the Indian market. A few models, however, are slowly getting back on shelves and are being put up for sale on social media groups.
Still, supply hurdles persist. The budget for 2023-24 raised customs duty on imported toys and components to 70% in a bid to boost domestic production. Collectors also complain about sloppy handling by the customs authorities when they import directly.
"Even a crease on the packaging of these models can lead to a drop in their value," said Abbas Dhinojwala, a collector since 2013.
A Hot Wheels diecast model. (Photo: Alex Farkas/Unsplash)
Misselling Practices
As demand rises, collectors are not alone in looking to profit. Several merchants on Amazon and other e-commerce websites are offering these cars above their maximum retail price.
"This is a common malpractice by sellers on Amazon," Dhinojwala said. "They buy these cars for cheap, then put their own MRP tags on the cars."
Moreover, not every diecast model is going to appreciate in value.
People getting into the hobby should be realistic and hook up with other international groups. "Get in touch with other admins and other genuine collectors to assess the value of a model," said Vineet Singh Bakshi, a 50-year-old creative director and the owner of over 5,000 diecast car models. "…And then, you know what the actual street value of something is as opposed to the internet value."
According to Bakshi, the "monetary value is defined by the emotional value and the emotional value defines the desirability which, in turn, amplifies the value". "[But] Just because it's limited, does not make it desirable," he said. "It also has something special about it."
Bayal is betting on exponential gains, though. Last year, he sold 12 minted Ferrari diecast models from the late 1990s that he bought for Rs 49 apiece for Rs 1,000 each. Three- to four-year-old diecast scale models can fetch at least 30-40% higher than its original price, he said.
He even sees it as a hobby to help generate funds post-retirement. While that may sound like an exaggeration, investment potential of Hot Wheels' models is undisputed.