Yen's Slide to 2018 Low Has Analysts Forecasting Steeper Decline
(Bloomberg) -- The yen dropped to a three-year low against the dollar, with analysts forecasting more weakness ahead as the nation's yield differentials widen.
The currency slipped as much as 0.5% to 112.75 per dollar on Monday, the weakest since December 2018, with Sumitomo Mitsui Banking Corp. and Credit Agricole CIB predicting that the yen could drop all the way to 115, a level last seen in March 2017.
Leveraged funds are adding to short positions against the currency, which has already lost more than 8% this year, as the Bank of Japan increasingly stands as the one major central bank that isn't moving toward policy normalization. A weaker yen though could entice foreign purchases of the nation's stocks while boosting its exports.
"Japanese consumers and corporations tend to believe the domestic economy does much better with a weaker yen, so personal consumption should rebound faster than expected, while corporate spending should too," said Nikko Asset Management Chief Global Strategist John Vail.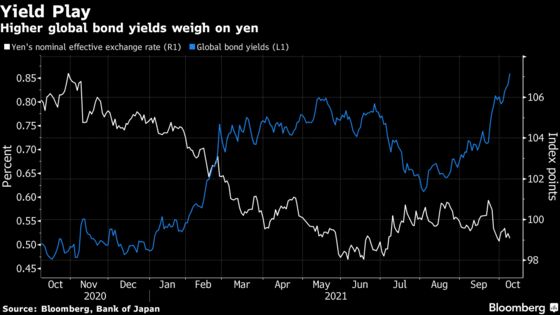 Japanese shares were among the biggest gainers in Asia on Monday. The yen's inverse correlation with the Topix index had been rising since June, suggesting a weaker yen typically coincided with higher equities.
As Treasury yields advance and other central banks talk about policy normalization, the yen has become the worst performer among Group-of-10 currencies this year.
The yield premiums that Treasury 10-year notes offer over similar-tenor debt in Japan have widened more than 60 basis points to 152 basis points from a low in January as the Federal Reserve moves toward tapering asset purchases. Bank of Japan Governor Haruhiko Kuroda is still trying to revive the economy, and has said he won't hesitate to add stimulus if needed.
"With inflation encouraging other central banks to begin withdrawing stimulus, the yield gap between Japan and the rest of the Group-of-10 that was present before the pandemic is returning," said David Forrester, a senior FX strategist at Credit Agricole CIB in Hong Kong. He sees yen declining to 115 per dollar by end 2021.
Leveraged funds increased their short positions on the yen to the highest since July, data from the Commodity Futures Trading Commission showed. 
"While there's talk of an exit strategy from accommodative monetary policy in other countries, there's nothing like that in Japan," said Daisuke Uno, chief strategist at Sumitomo Mitsui Banking Corp. in Tokyo.
The yen was also weighed by selling against the dollar and the British pound as oil prices climbed, according to Asia-based currency traders who asked not to be identified because they aren't authorized to speak publicly. Oil surged past $80 a barrel amid the global power crunch.