Worker Wages Loom, Money Manager Avoids Bonds: Evergrande Update
(Bloomberg) -- China's property firms are set for a difficult January as authorities in Beijing pressure the industry to pay millions of workers on time.
On top of increasing offshore bond bills, developers and their contractors need to pay 1.1 trillion yuan ($173 billion) in deferred wages to migrant construction workers by the end of the Lunar Year, according to Nomura International (Hong Kong) Ltd. estimates. That falls on Jan. 31 next year.
Earlier this month, Premier Li Keqiang urged the timely payment of workers' salaries. Defaulter China Evergrande Group is prioritizing payments to migrant workers and suppliers, Bloomberg reported last week, as regulators demand that the developer head off risk of social unrest. State-owned developers may be forced to take over some Evergrande projects next year to ensure homes are delivered to their buyers, according to Bloomberg Intelligence.
A Bloomberg index of Chinese property shares rose 1.5% on Thursday, with Evergrande closing 2.1% higher after the company said its risk committee was actively engaging with creditors.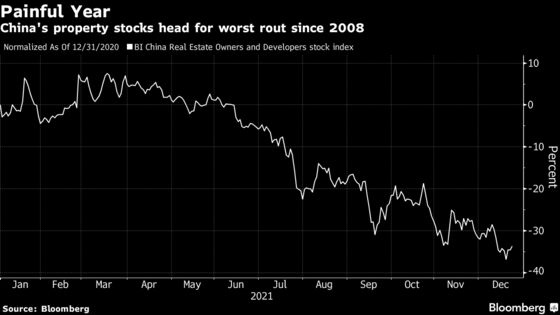 Developers Face Greatest Pain Next Month: What to Watch in China
Defaulter Sinic Says Unlikely to Repay January Bonds, Coupon
Evergrande Says Risk Committee to Actively Engage With Creditors
Developer Stocks Close Higher (4:15 p.m HK)
Shares of China South City Holdings Ltd. surged 12% on volume that was about nine times greater than the average of the past three months. The company has a $18.8 million coupon due Dec. 26, a Sunday. Shares of Seazen Group Ltd. rose 6.2% on volume that was more than twice the average of the past three months.
Beware Evergrande Bonds (9:58 a.m. HK)
Zhang Zhijun, chairman of private fund manager Beijing DingNuo Investment Management Co., said his firm shunned Evergrande bonds since May -- when its previous holdings matured. A credit fund run by the distressed debt investor returned 84.7% as of Dec. 17, according to financial-data provider Simuwang.com.
Social Instability Risk (9:10 a.m. HK)
About 52 million migrant workers earn their living in the construction sector, according to Nomura calculations. Most will join an annual ritual of family reunion that centers around the new year celebrations, making what's often their only trip home each year. Paying workers before China's most important holiday is a top priority given the premium Xi Jinping's government puts on social stability. 
"Of all types of debt, developers and their construction partners are especially under pressure for repaying deferred wages, because failing to do so could trigger social instability," wrote Nomura economists Ting Lu and Jing Wang in a note dated Tuesday.
Sluggish Sentiment (9:09 a.m. HK)
Homebuyer sentiment in China may not improve until the second quarter of next year, according to Daiwa Capital Markets Hong Kong Ltd. Not all developers will benefit from looser credit conditions, wrote analysts including Cynthia Chan, who kept their neutral view on Chinese property shares.
State Takeover of Evergrande Projects (8:49 a.m. HK)
Evergrande may have failed to boost its contracted sales to sustain construction activities, according to Bloomberg Intelligence analyst Lisa Zhou. In order to prevent social instability and ensure homes are delivered, some state-owned developers may take over Evergrande's projects, Zhou wrote.