World-Beating Rally Pushes India's Sensex to Record 60,000
(Bloomberg) -- India's main stock indexes surged to unprecedented levels on optimism that speedier vaccinations will improve demand for businesses in Asia's third-largest economy, even as concerns mount over whether valuations have become too rich.
The S&P BSE Sensex rose 0.3% to close above the 60,000-level for the first time on Friday and the NSE Nifty 50 Index neared the 18,000-mark. The Sensex has more than doubled from its pandemic lows hit March 2020, to become one of the best performers among major markets during the period. 
The world-beating stock rally is fueled by millions of first-time investors, willing to buy riskier assets as the central bank's record-low policy rates reduce returns from traditional saving avenues like bank deposits. Global funds are riding the wave, having poured nearly $9 billion into Indian stocks, set for a third straight year of net inflows. That compares with outflows from countries like South Korea and Malaysia.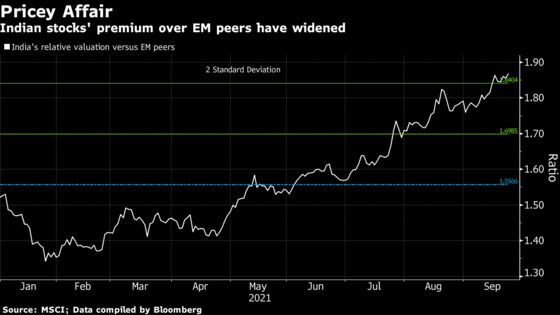 "Investors have to be a little selective now," said Gurmeet Chadha, who co-founded wealth management firm Complete Circle Consultants Pvt. With key equity gauges trading above their long-term averages and Indian stocks' valuation reaching 1.3 times the country's GDP, "clearly some caution is warranted," he added.
Bulls point to an easing pandemic that could fuel even greater gains. New infections in India have held steady since about July, with the bulk of cases coming from just two states. The pace of vaccinations has picked up, with almost 45% of people in the world's second-most-populous country having received at least one dose and 15% fully vaccinated. 
Most states have lifted lockdown curbs, improving prospects for businesses' demand and profits ahead of the key festival season starting next month. Earnings for India's top 50 companies are estimated to rise 27% in the current financial year.
More cautious investors note that the Nifty is trading at close to 23 times its estimated 12-month earnings, well above its five-year average of about 18 times, and much higher than the MSCI Emerging Market Index's multiple of 13.
On Friday, the Sensex failed to hold initial gains of as much as 0.8%. The broader market was mixed with 12 out of the 19 sector sub-indexes compiled by BSE Ltd. declining, led by a gauge of metal companies. For the week, the Sensex and Nifty's gains stood at 1.8% and 1.5%, respectively.
Risks are also rising for the economy; a retreat for the Nifty 50 Index would reduce gross domestic product by 1.4% in the same quarter of the shock and by 3.8% over the following year, Ankur Shukla, an economist with Bloomberg Economics, wrote in a recent note. 
UBS Group AG's wealth management arm is downgrading Indian equities to neutral from most preferred as "the country's fast macro and earnings recoveries are largely priced into the market's very rich valuation," Adrian Zuercher, head of global asset allocation, wrote in a report. 
The markets may face a test as early as next month if the Reserve Bank of India is hawkish in its statements or actions following a monetary policy review. Traders are seeing hints that the authority is seeking to drain record liquidity from the banking system, another sign that the global flood of pandemic-era easy money may begin to ease. 
"The market cannot continue to go one way up," said A. Balasubramanian, CEO of Aditya Birla Sun Life AMC Ltd., which on Thursday announced pricing of its initial public offering. "Market will see some correction but longer term outlook for the equity market remains very positive."