Big Winter Storm Dropping Snow on New Jersey After Burying D.C.
Winter Storm to Dump Snow on Washington, Bring Flurries to NYC
(Bloomberg) -- A winter storm sweeping across the U.S. Mid-Atlantic left Washington, D.C., digging out from its biggest snowfall since 2019 as it headed north toward New Jersey.
After dumping as much as 8 inches (20 centimeters) of snow on the nation's capital, the storm is forecast to blanket parts of southern New Jersey with up to a foot, according to the National Weather Service. 
"It was definitely the biggest storm we've had in the D.C. metro area in several years," said Chris Strong, a warning coordination meteorologist with the National Weather Service. Road crews have to prioritize the primary roads when it's coming down that fast, he said. "Then they can get to the secondary streets and get the region back on its feet."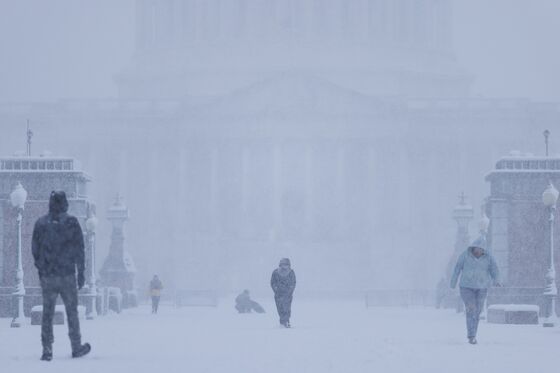 The National Weather Service also posted results for the deepest snowfall in each state, with Glendie, Virginia receiving almost 15 inches, Dunkirk, Maryland receiving 13 inches and Swiss, North Carolina receiving 11 inches. 
A winter storm warning is in effect from northeast Georgia to central New Jersey, and almost 350 flights out of Reagan National Airport have been cancelled, or 84% of the total, according to Flightaware.com. The storm Monday dropped the most snow on D.C. since January of 2019, when 10.3 inches fell at DCA airport, according to Strong.
As the sprawling system heads northeast, it has left more than 830,000 homes and businesses without electricity, primarily in North Carolina and Virgina, according to Poweroutage.us, which tracks outages from local utilities.
Also See: Winter Storms, Omicron Stretch Airline Cancellations Into 2022
Public schools and federal offices were closed for the day in D.C., with the reduced traffic making it easier for work crews to keep roads clear, according to Strong. City bus service was also suspended. 
"If you don't have to travel, it's best to stay put for the rest of the morning and wait for the plow trucks to do their job," said Nicole LoBiondo, a meteorologist at AccuWeather Inc. Conditions will improve in the afternoon, she said. 
New York City, just north of the storm's path, had a chance of light snow Monday afternoon or evening, the weather service said. Long Island could face heavier snow since it's east of the city, with the bulk of the storm passing south of New York City out in the open ocean, Strong said. The city also faces a potential mix of rain and snow on Wednesday.