When Does the Windy City Lose Wind Power? During a Polar Vortex
When Does the Windy City Lose Wind Power? During a Polar Vortex
(Bloomberg) -- The wind farms erected across the central U.S. over the past decade were supposed to provide cheap power during the blustery winter months. But they were never designed for cold like this.
As a life-threatening freeze brought temperatures that may reach all-time record lows in the Chicago area Thursday morning, heating demand surged and power suppliers were forced to start up older coal and natural gas facilities that only operate on an as-needed basis. One of the reasons why is that wind-power generation has plummeted.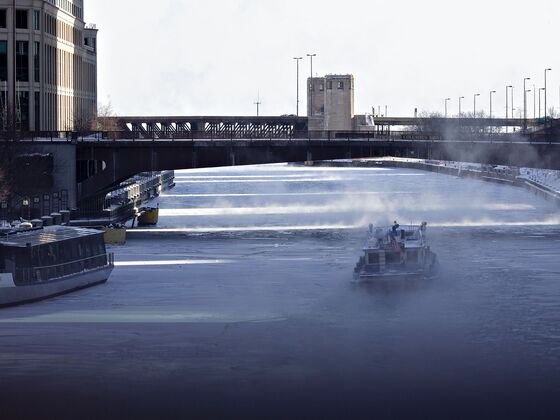 "It's just too cold for a lot of wind farms," Adam Jordan, director of power analytics at Genscape Inc., said in an interview. "They can get damaged in weather like this."
With a deep freeze like this one, wind-farm operators may have to hit the brakes as ice builds up on blades and to prevent lubricated bearings from seizing up and stiffened fiberglass blades from cracking. The National Weather Service warned that records may topple from the upper Midwest through the Ohio Valley by Thursday, and the Chicago area may see wind chills as low as minus-50 degrees Fahrenheit (minus-46 Celsius).
The situation highlights a weakness of renewable power, the fastest-growing part of the U.S. generation mix. Renewables are expected to supply 31 percent of U.S. power by 2050, the government forecast last week, up from 18 percent in 2018. Most of the new-capacity growth is projected to come from solar and wind and at the expense of coal and nuclear power.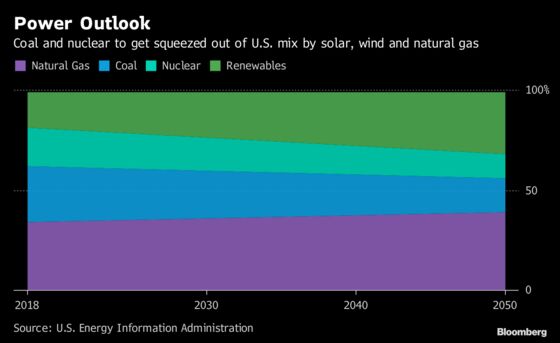 For now, coal is temporarily supplying about half the electricity needs in the two grids that serve most of the affected region -- the Southwest Power Pool and Midcontinent Independent System Operator. Normally, coal and wind supply roughly the same amount, about a third of the total power mix.
Two companies -- DTE Energy Co. in Detroit and Minneapolis-based Xcel Energy Inc. -- have asked customers to turn down their thermostats to take pressure off systems struggling to meet demand.
Xcel, which gets almost a fifth of the energy on its system from wind, didn't immediately respond to a request for comment about its wind-farm operations. NextEra Energy Inc., the largest U.S. renewable-energy provider, and Invenergy LLC, a Chicago-based independent power producer with wind farms in the region, also didn't immediately respond to requests for comment after regular business hours.
Wind generation on Wednesday afternoon was less than half its annual average in the Southwest Power Pool, the grid operator from North Dakota to Oklahoma.
--With assistance from Brian K. Sullivan and Naureen S. Malik.
To contact the reporter on this story: Christopher Martin in New York at cmartin11@bloomberg.net
To contact the editors responsible for this story: Lynn Doan at ldoan6@bloomberg.net, Margot Habiby, Will Wade