Wells Fargo CEO 'Bullish' on U.S. Economy in Second Half of Year
(Bloomberg) -- Wells Fargo & Co. Chief Executive Officer Charlie Scharf said he sees the U.S. economy coming back from the coronavirus pandemic in a strong way in the second half of the year.
"Consumer demand is extremely high -- over the last couple of weeks we, like others, have seen material increases in consumer spend, and that's before the stimulus checks have arrived," Scharf said in an interview Wednesday on Bloomberg Television. Stimulus deposits are arriving in Americans' bank accounts starting today. "We're really bullish in terms of what the third and fourth quarters could look like."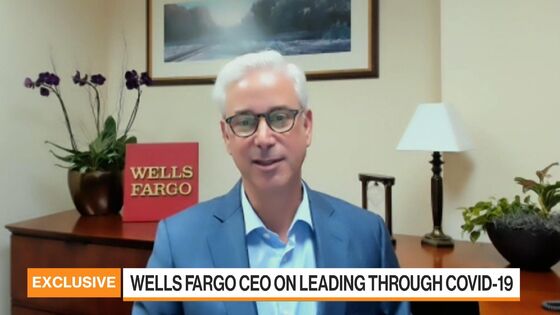 As more Americans get the Covid-19 vaccine and the economy reopens, consumer spending over the next two quarters is likely to be the strongest such period in at least 70 years, according to economists at Wells Fargo. Americans have amassed a stockpile of excess savings of about $1.7 trillion from the beginning of the pandemic through January, an amount that will be bolstered by the new round of stimulus payments.
Gross domestic product could grow "6%, 6.5%, for sure," Scharf said. "Ultimately that's good for the entire country as long as the recovery is even, and all benefit -- not some industries and not some segments of the population."