Watchdog Crackdown Casts Shadow Over Boom in Mergers and Acquisitions 
(Bloomberg) -- Cash-rich private equity firms and cheap debt are set to extend this year's boom in mergers and acquisitions in the fourth quarter, but regulatory pushback has sent a ripple of unease into the market.
A survey of 16 U.S. based merger-arbitrage desks, traders, analysts and fund managers revealed mounting concern about heightened U.S. antitrust regulations after authorities challenged recent deals and a leadership change at the Federal Trade Commission may lead to more deadlocks. Merger arbitrage spreads have widened recently, reflecting the risk around deals closing.
"With continued low interest rates and investors' unrelenting appetite for high yield debt, we think private equity and strategic deals will keep coming in Q4, " according to Frederic Boucher, a risk arbitrage analyst at Susquehanna International Group, citing financial, tech, biotech and media industries as popular areas for potential deals.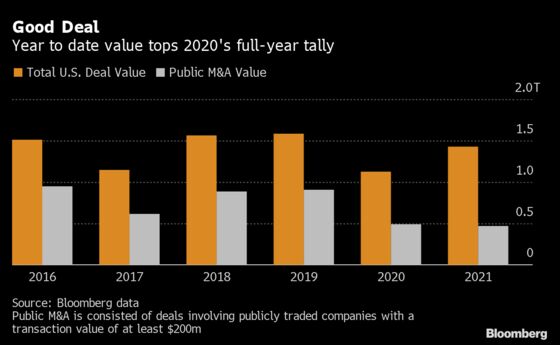 Driven by an economic rebound from the depths of the Covid-19 downturn, the total value of U.S. deals announced so far in 2021 -- pending and completed -- has already reached more than $1.4 trillion, surpassing the full-year tally of $1.1 trillion in 2020, Bloomberg data show. Among those, nearly $461 billion are deals involving publicly traded companies with a transaction value of at least $200 million -- the main area usually tracked by merger investors.
While companies are still in play, merger investors have become wary about paths to completion after stepped up regulatory scrutiny.
The U.S. Department of Justice sued to block Aon Plc's $30 billion deal with Willis Towers Watson, opposing the proposed combination between the world's second and third largest insurance brokers on antitrust concerns.
"People knew it was becoming a more difficult regulatory environment and that was a confirmation," said Harris Arch, a portfolio manager at DuPont Capital focused on merger arbitrage strategy. That prompted arbitrage traders to either trim or sell positions on some pending transactions, he said.
Read more: FTC May Be Headed Into Deadlock, Delaying Big Deals
Merger investors are also keeping a close watch on the FTC after its new chair, Lina Khan, said in August that antitrust enforcers should more frequently move to block mergers that threaten competition rather than relying on traditional remedies to fix deals.
Further complicating the situation is the departure of Commissioner Rohit Chopra, leaving a window with 2-2 split between Democrat and Republican commissioners at the panel until a third is seated. Enforcement, including blocking a deal, requires a majority.
In recent months, the merger arbitrage spreads of certain U.S. deals -- the gap between the trading prices and offer prices of acquisition targets -- have widened. The move indicates traders and investors either see a higher risk of a deal falling apart or that it will take longer to close.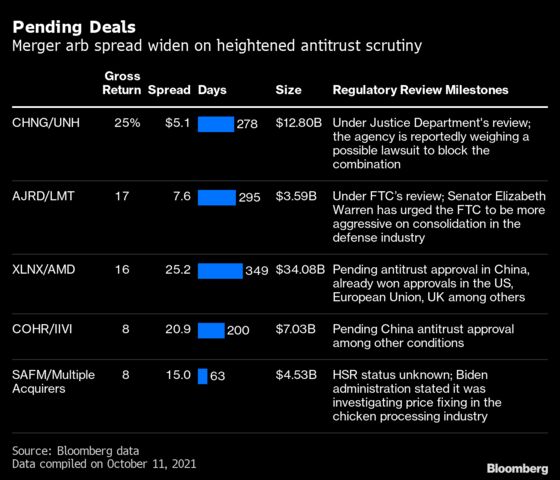 Deals expected to close by year end, but trading with outsized spreads include Lockheed Martin Corp.'s proposed acquisition of Aerojet Rocketdyne Holdings Inc. The $3.59 billion aerospace deal currently has around $7.6 spread and a gross return of 17%, which indicates investors are nervous about the outcome. The FTC has been reviewing the deal -- and Elizabeth Warren has urged the commission to be more aggressive regarding consolidation in the defense industry. 
United Health Group's deal with Change Healthcare Inc., being reviewed by Justice Department, is following a similar trading pattern. The agency is reportedly weighing a possible lawsuit to block the combination. United Health said on an earnings call on Thursday that it continues to "work diligently to satisfy regulatory requests" but that it now expects closing in the first part of 2022 instead of still this year according to the deal's announcement in January. 
The spread in Sanderson Farms' takeover by Cargill and Continental Grain has increased significantly after the Biden administration stated in early September it was investigating price fixing in the chicken processing industry. The deal would create the nation's third largest chicken producer.
While regulatory overhang might put big tech or pharmaceutical companies on the sidelines or deter mega consolidations, some survey respondents expect transactions in old-school sectors like chemical companies and financial services.
"It also means opportunities for private equity buyers, who are less likely to draw antitrust scrutiny," Susquehanna's Boucher said.
Click here for information on expected upcoming deals