Virus Still Rages Unchecked in Ecuador After Port City Disaster
Virus Still Rages Unchecked in Ecuador After Guayaquil Disaster
(Bloomberg) -- Four months after Ecuador's port city of Guayaquil was ravaged by the coronavirus, the rest of the nation is faring nearly as poorly. Although you wouldn't know it from the official figures.
The cash-strapped country -- which is trying to claw its way back from a default -- has been unable to boost testing fast enough, pay medical staff on time or install enough hospital beds to deal with the fallout. Ecuador has managed just 15,200 tests per million residents, less than a fifth of the per-capita tests being carried out in Chile, a nation with a slightly larger population, according to a paper published by Ecuadorian epidemiologist Andrea Gomez at the Universidad de Chile.
Ecuador became the Latin American face of the disease early in the pandemic when Guayaquil was hit so hard and so fast that bodies were sometimes abandoned on sidewalks. The virus is now concentrated in the capital Quito, where the municipal waste collection company says some 300 corpses have also been picked up from homes since early April with dozens more found in the streets.
Total Covid-19 infections in the Andean nation top 115,000, with more than 6,600 deaths, according to the government. But cases are likely closer to 2.1 million among Ecuador's 16.7 million people, estimates Esteban Ortiz, a doctor and public health care specialist at the Universidad de las Americas in Quito. He also points to excess deaths as a better metric. Almost 32,400 more people died between January and August than the same period a year earlier.
Via email, the health ministry said 340,207 Covid-19 tests have been carried out so far, but it didn't respond to a request for an estimate of total infections.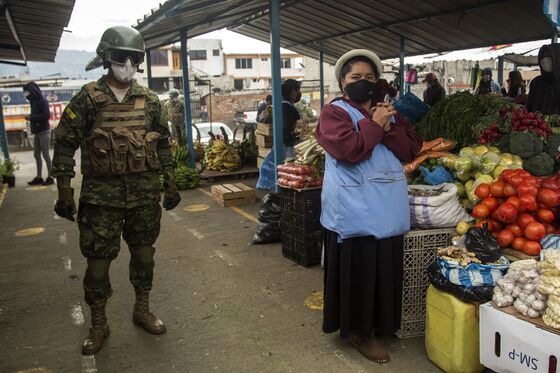 In Latin America, no other country has as many deaths with so few cases. The virus has also run rampant in neighboring Peru and Colombia.
Health Minister Juan Carlos Zevallos on Aug. 25 acknowledged the high number of excess deaths in 2020 but has insisted that the situation has been under control outside of the Guayaquil outbreak. He is currently traveling in Europe to seek support to tackle the pandemic.
The pandemic and the ensuing drop in oil prices hit Ecuador's already fragile public finances prompting the government to suspend bond payments and seek a renegotiation with the International Monetary Fund. While the government has managed to restructure its debt and strike a new $6.5 billion deal with the IMF, the country's foreign reserves stand at just $3 billion and the dollarized economy can't use monetary stimulus to fight the crisis. Presidential elections in early 2021 are also unnerving investors.
The economy will likely contract 8.2% this year, according to the median forecast of economists in a Bloomberg survey.
The government, aided by private donors and foreign governments, can claim some victories. It's boosted the number of hospital beds to 2,105 from 1,019 since mid-March, with intensive care units jumping to 513 from 145.
Additional investments in equipment, testing and medicine have totaled $219 million, according to a government statement. But some of that spending wound up in the pockets of corrupt officials, with investigations by the comptroller's office and prosecutors showing tens of thousands of useless tests were purchased along with an uptick in the sale of medicine stolen from hospitals.
Elsewhere in Latin America:
Brazil infections are poised to top the 4 million mark on Thursday. The infection count has doubled in two months as large parts of Brazil's 215 million people emerge from isolation.
Argentina relaxed some quarantine measures, allowing construction work and outdoor dining at restaurants to resume in Buenos Aires, according to two decrees in the local gazette.
Mexico Deputy Health Minister Hugo Lopez Gatell on Wednesday told doctors to stop prescribing hydroxychloroquine, tocilizumab, Ivermectin and Remdesivir because they lack scientific evidence that they work. "We have emphatically highlighted these four because of the frequent perception that they could be efficient or effective," he said.
| try | Cases | Deaths |
| --- | --- | --- |
| Brazil | 3,997,865 | 123,780 |
| Peru | 657,129 | 29,068 |
| Colombia | 633,321 | 20,345 |
| Mexico | 610,957 | 65,816 |
| Argentina | 439,172 | 9,118 |
| Chile | 416,501 | 11,422 |
| Bolivia | 117,928 | 5,203 |
| Ecuador | 115,457 | 6,619 |
| Dominican Republic | 95,627 | 1,765 |
| Panama | 94,084 | 2,030 |
| Guatemala | 75,644 | 2,790 |
| Honduras | 62,526 | 1,924 |
| Venezuela | 48,883 | 398 |
| Costa Rica | 43,305 | 453 |
| El Salvador | 25,904 | 739 |