UniCredit Declines as Possible Russian Deal Spurs Skepticism
UniCredit Russia Deal Would Face Skepticism, Jefferies Says
UniCredit SpA dropped for a second day as analysts flagged the risks of a potential deal to expand the Italian lender's presence in Russia. 
Shares fell as much as 3.5% on Wednesday, and closed 1.1% down Tuesday following a Bloomberg News report that the bank is interested in a takeover of rescued Russian lender Otkritie Bank FC. UniCredit is the worst performing stock on the Stoxx 600 Banks Index, which is 1% higher today.
News of a bid for Otkritie would be greeted with caution and skepticism by investors due to the complicated political situation and the size of the potential transaction, analysts at Jefferies International Ltd said.
"With loans of 24 billion euros ($27 billion), Otkritie appears to be around three times the size of UniCredit's existing Russian business and would be equivalent to about 5% of group assets," Benjie Creelan-Sandford and Marco Nicolai wrote in a note to clients. 
UniCredit already has more than 4,000 employees in Russia, and generated some 384 million euros in revenue last year through the third quarter. Yet the trend in recent years for foreign lenders such as Deutsche Bank AG has been to scale back their Russian presence as Western sanctions and compliance risks weighed on their business.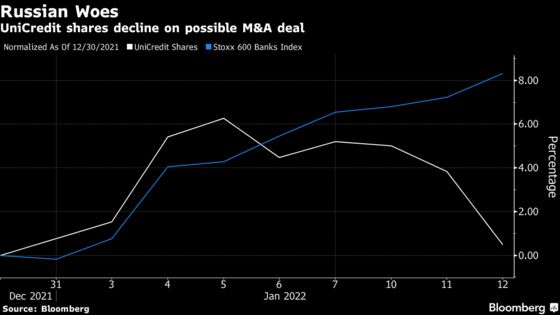 "This type of transaction is characterized by a non-negligible execution risk, as well as significantly increasing the exposure to a country with a high geo-political risk," Equita analyst Andrea Lisi said in note. Mediobanca Securities analyst Andrea Filtri said the deal would be unexpected and a full takeover would represent a large shift in business mix and risk profile.
UniCredit Chief Executive Officer Andrea Orcel is exploring other growth options after the mooted acquisition of Banca Monte dei Paschi di Siena SpA from the Italian state fell through in October. The executive nevertheless cheered investors last month by announcing a 16-billion-euro shareholder return by 2024, and pledging to consider other mergers provided they add shareholder value. 
"Given UniCredit's existing presence in Russia, Otkritie could fit that bill but it would likely be questioned by investors given scale of the business and current geopolitical climate," the Jefferies analysts wrote.
Otkritie is a systemically-important Russian bank that was nationalized in 2017 as part of the country's biggest-ever bailout after it collapsed under a pile of bad debt, much of it linked to its former owners.
Lenders including Goldman Sachs Group Inc., Morgan Stanley and Bank of America Corp. declined to help the Russian central bank prepare a privatization plan for Otkritie because of the risks associated with the project outweighed potential fees, people familiar with the discussions said in 2020.