Under Armour Stumbles on Path to Recovery With 2020 Warning
Under Armour Plunges on 2020 Warning, Low Fourth-Quarter Revenue
(Bloomberg) -- For the past few months, Under Armour Inc. executives have promised that 2020 would be the coming-out party of a brand-new company, a shift from defense to offense after a multiyear restructuring and a change in leadership.
Tuesday, they went back on the defensive. After revealing fourth-quarter results and 2020 projections that trailed analysts' expectations, the company issued a sobering set of expectations for investors.
Revenue in 2020 will trail the consensus estimate of $5.51 billion by a wide margin. The coronavirus could hurt sales by $60 million in the next few months, with more harm down the line. And the company is considering another restructuring, one that could cost as much as $425 million and could result in the company scrapping the opening of its flagship New York City store, for which it already has a long-term lease.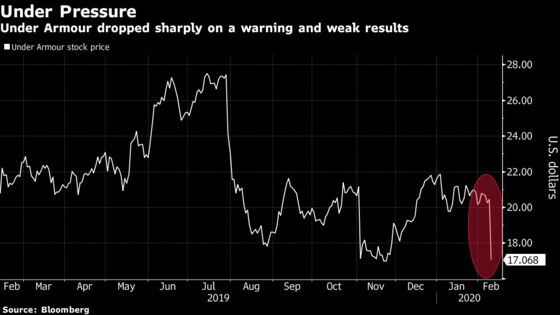 It's a step back for investors, and the stock plummeted as much as 17%, the most since November, to $16.92 in New York trading.
The coming changes will take place under new leadership. Patrik Frisk, who's been with the company for two years, became chief executive officer after company founder Kevin Plank stepped aside. While Frisk didn't initially promise any major changes, he recently promoted two people within the company and stands to lead this latest restructuring.
"I'm not satisfied with where we are today," Frisk said on an earnings conference call Tuesday.

Among Tuesday's disappointing results were domestic sales that trailed expectations. Under Armour does the bulk of its business in North America, and its sales in the region have been a critical measure of its success both in back-end organization and product design.
North American sales grew 1.9% in the fourth quarter, below expectations of 2.3% as compiled by Bloomberg. It wasn't the only region with results that lagged -- sales in Asia-Pacific and Latin America also trailed estimates.
Under Armour is just the latest global sportswear brand to discuss the impact that coronavirus would have on sales, joining brands like Nike Inc. and Adidas AG. The Baltimore-based company isn't dodging the virus woes despite doing a much smaller percentage of its business in China than its larger rivals, both in sales and in manufacturing.
Under Armour said its 2020 revenue would fall by a low-single-digit percentage and earnings for the year would be 10 cents to 13 cents a share, far below analysts' estimates as compiled by Bloomberg. Fourth-quarter revenue of $1.4 billion missed estimates as well.
To contact the reporter on this story: Eben Novy-Williams in New York at enovywilliam@bloomberg.net
To contact the editors responsible for this story: Nick Turner at nturner7@bloomberg.net, John J. Edwards III, Tony Robinson