Diesel Stockpiles Are at a 20-Year Low as U.S. Heads Into Winter
Diesel Stockpiles Are at a 20-Year Low as U.S. Head Into Winter
(Bloomberg) -- The U.S. may be heading into winter with the lowest stockpiles of heating oil to meet surging demand in more than two decades.
Inventories of distillates -- used as diesel for both transportation and heating oil -- are enough to meet 31.2 days of demand, according to the Energy Information Administration. That's the tightest it has been for this time of the year since 2000.
The dwindling supplies raise the specter of energy shortages and price spikes in the U.S. this winter -- at a time when the rest of the world has already been upended by fuel shortages and blackouts. They also underscore how the economic rebound from the Covid-19 pandemic, a surge in demand for virtually all goods and an ensuing trucking boom are now colliding with volatile energy markets, threatening to raise the cost of fuel for homeowners, farmers and truckers.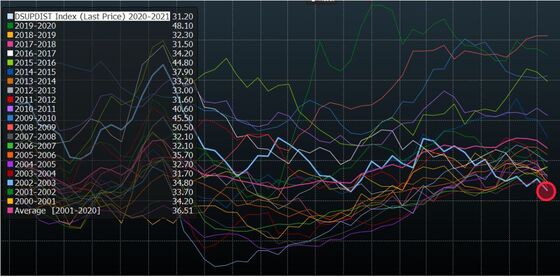 The diesel balance won't be as bad as the gas crisis in Europe, Suzanne Danforth, an analyst at Wood Mackenzie Ltd., said in a phone interview. "But it's going to be tight, very tight."
Nymex diesel futures are trading near $2.45 per gallon after jumping to a seven-year high earlier this week. 
The tightness is largely the result of the freeze in Texas in February that took down 18 refineries. As much as 5.5 million barrels a day of processing capacity were taken offline by the arctic temperatures, causing a drawdown of gasoline and diesel inventories. 
The squeeze may get worse before it gets better as truck drivers respond to a surge in online shopping and historic delays in the global supply chain. Midwest farmers are out with their tractors harvesting the second largest corn crop ever produced. The timing couldn't be worse, with many U.S. refineries typically shutting down production this time of year to conduct maintenance.  
In the Midwest, dry weather including severe drought in some parts of the Midwestern crop belt sped along harvests this year. For corn, the biggest American crop, harvesting was already 29% complete as of Sunday, the fastest pace in three years.
Some supply relief should come in November and December when refineries return from maintenance.
"Distillate margins are very attractive and refineries will return in full diesel mode when maintenance is over," Wood Mackenzie's Danforth said. And things will get better into 2022, with Gulf Coast refiners operating at an average of 88.2% of capacity, very similar to rates seen in 2019, before the pandemic hit, providing a bigger cushion, Danforth added. 
Even with heating oil prices trading as high as they are it may still make sense for some utilities in the Northeast to use it this winter instead of natural gas. January swaps for Algonquin Citygate gas, a proxy for New England, were trading near $22 per million British thermal units Thursday afternoon, according to data compiled by Bloomberg. That compares to about $13.90 for January diesel futures when converted to mmbtu.