U.S. Airlines Need More Bomb-Sniffing Dogs in a Hurry
(Bloomberg) -- The Transportation Security Administration has begun approving private explosive-detection canine firms to screen cargo flying from U.S. airports under a new program finalized last month. The change offers freight haulers a new option to inspect all of their cargo—something they need to accomplish within the next few years.
Bomb-detection canines have become standard for cargo companies in many parts of Europe and Asia. America, however, is just starting to catch up, said Steve Alterman, president of the Cargo Airline Association. A lot of that freight flying overhead right now hasn't been screened at all.
U.S. air cargo screening rules date to 2010, when Congress mandated that each item carried aboard passenger aircraft be inspected, following recommendations from the 9/11 Commission. Passenger airlines also ship cargo in their aircraft bellies, jamming commercial freight beside your suitcase.
In a major change aimed at tightening security, however, the International Civil Aviation Organization is requiring that all cargo be screened, removing the distinction between passenger and cargo air operations. That's a lot of freight, and screening must be in place by July 1, 2021. With that looming deadline, rising cargo loads and the prohibitive expense of buying a lot more detection equipment, Congress decided that more dogs may be the way to go. The TSA trains a limited number of bomb-sniffing dogs each year, and they're solely for the government's use.
Airlines may also expand their use of dogs to screen cargo, though the TSA handles passenger luggage directly. While the three largest U.S. airlines have seen their cargo sales increase as much as 20 percent this year from 2017, revenue for the service remains under $1 billion annually for each.
A lobbyist for the carriers' trade group, Airlines for America, supported increased use of cargo-screening dogs for passenger airlines in testimony last year before Congress. Ross Feinstein, a spokesman for American Airlines, the world's largest carrier, agreed. The TSA program "will help increase the pipeline of certified canines in the field to help strengthen aviation security and will allow aviation stakeholders to utilize canines for cargo-screening purposes," he said.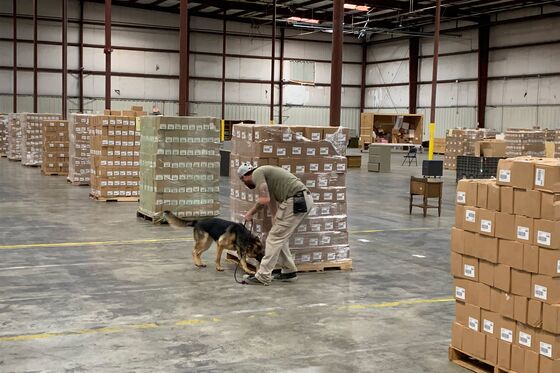 Under existing regulations, all cargo bound for the U.S. must be screened. As for cargo leaving the U.S., a matrix of different rules applies, often depending on the destination. For the cargo industry—which includes a variety of large players such as FedEx Corp., Atlas Air Worldwide Holdings Inc. and UPS Inc.—the arrival of more dogs at major U.S. cargo centers could increase screening efficiency, allowing greater volumes of traffic. Contracted canine-screening can also help shippers avoid some of the capital costs of using X-ray and other screening machines in some locations. That, in turn, could boost profits. 
"We want a more effective way of doing it—and we think the dogs do a heck of a job," Alterman said. It's going to change decision-making on "whether or not we have to spend millions of dollars on machines that don't do the job as well as we'd like them to do."
When trained to detect explosives, a canine's nose is a physiological marvel that gives it an olfactory sense far superior to that of humans, and many other animals. "No piece of technology has truly been able to match the sensitivity or reliability of man's best friend," Chris Daniels, vice president for corporate strategy at Global K9 Protection Group LLC, wrote in a 2018 article for the Airforwarders Association's quarterly journal.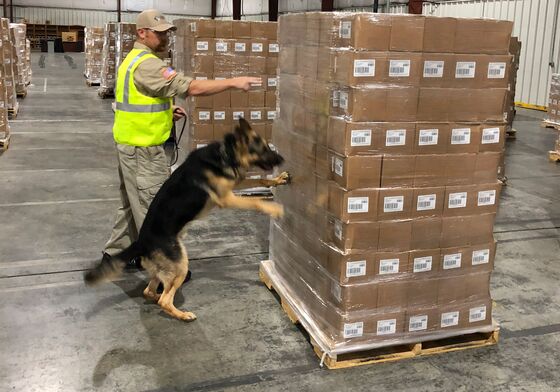 Dismantling a large pallet for X-ray screenings—and then reassembling it—can take as many as six workers 6 to 9 minutes per pallet, according to the Dec. 3 issue of Air Cargo Week, a trade journal. A dog, however, can perform the same screening in about 30 seconds without the freight needing to be unpacked.
"Dogs are more efficient at screening cargo," said Christopher Shelton, branch manager of the TSA's Canine Training Center at Joint Base San Antonio-Lackland in Texas, which oversees the certification standards for the program and will conduct spot audits. "A canine can screen cargo a lot faster and [be] just as effective as other technologies."
The TSA trains 300-350 dogs per year at its San Antonio training center to handle airport work. "I do think with the supply and demand issues, there will be an opportunity for new companies to come in" to the canine-screening industry, Shelton said.
The TSA's new third-party program will approve certification firms and assess each screening team; those teams (one human, one dog) will need to pass annual reviews to retain their certification in the program. For its part, the TSA will conduct random, "short-notice assessments."
Marc Murphy is director of air cargo and aviation for MSA Security, which calls itself the largest U.S. canine-screening firm. His company stands to benefit significantly from the change in TSA policy. Dog-screening demand in the cargo industry will grow, he predicts, because "they understand the efficiency and the speed of a properly trained explosive-detection canine."
MSA has 15 certified teams for the new program and plans to expand to 200 by the end of next year, depending on demand, Murphy said. He added that MSA is building dog-training facilities near six major U.S. airfreight centers: Chicago, Dallas-Fort Worth, Los Angeles, Miami, New York and San Francisco, along with a trio of cities where major U.S. cargo companies focus their air operations—Cincinnati; Louisville, Kentucky; and Memphis, Tennessee.
Rival screening company Global K9 Protection, based in Opelika, Alabama, said it plans to have 52 teams working by the end of next month at 27 locations. Training takes 12 weeks for each dog, followed by an additional two months with its human handler, Daniels said. "They have to train together and be certified together," he said.
To contact the editor responsible for this story: David Rovella at drovella@bloomberg.net