Cuts to No-Deal Brexit Tariffs Don't Go Far Enough, Truckers Say
Road hauliers said the U.K. government's decision to reduce the tariffs it plans to impose on imported trucks following a no-deal Brexit doesn't go far enough.
On Tuesday, the Department for International Trade said it will impose a 10% levy on imported heavy goods vehicles instead of the 22% it had initially planned.
The announcement came as part of a wider overhaul of duties that will see higher charges imposed on bio-ethanol as well as new ones on clothing to protect domestic producers if Britain crashes out of the European Union.
"There should be no additional financial penalty on buying new vehicles," James Hookham, deputy chief executive officer of the Freight Transport Association, said in an e-mailed statement. "Operators need incentives to replace trucks quicker, not penalties to hinder their purchase."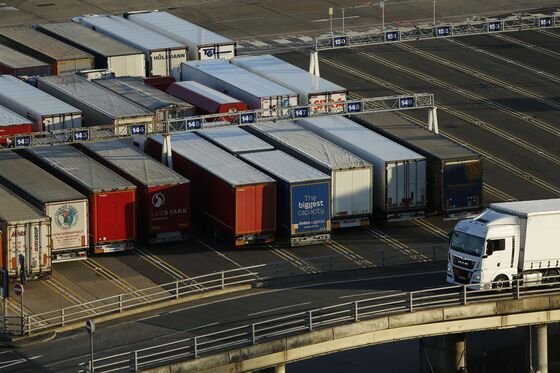 Prime Minister Boris Johnson has promised the U.K. will leave the EU on Oct. 31 without a divorce agreement if necessary -- triggering the biggest upheaval in the country's trading arrangements in a generation. A hard Brexit would subject Britain to the import duties the EU imposes on non-members, so the government is readying its own temporary levies to level the playing field with competitors in the bloc.
A breakthrough in the talks, due to continue in Brussels on Tuesday, looks increasingly unlikely. The U.K. government is preparing for the negotiations to collapse, a move for which it will blame Ireland and EU leaders, according to a text message from one of the prime minister's officials reported by the Spectator magazine.
The levies cover hundreds of products ranging from food to fertilizer that currently enter Britain tariff-free. According to the Department for International Trade, 88% of total imports by value will still be able to enter the U.K. without being subject to duties. The department said it will start a review of the levies on Brexit day, allowing it to make changes to them in future.
"Our temporary tariff regime will support the U.K. economy as a whole, helping British businesses to trade and opening up opportunities for business to import the best goods from around the world at the best prices for British consumers," Trade Minister Conor Burns said.
--With assistance from Jeremy Diamond.
To contact the reporter on this story: Jessica Shankleman in London at jshankleman@bloomberg.net
To contact the editors responsible for this story: Tim Ross at tross54@bloomberg.net, Edward Evans