U.K. Releases 'Wartime' Funding to Save Economy from Virus
Ministers have pledged 330 billion pounds ($398 billion) worth of government-backed loans for struggling companies.
Boris Johnson's government announced a massive rescue package of loans and grants for businesses in a desperate attempt to stop the coronavirus pandemic wrecking the U.K. economy.
Ministers promised help with mortgage payments, and support for airlines, shops and the hospitality industry, with 350 billion pounds ($424 billion) worth of government-backed loans, grants and tax cuts for struggling companies.
In a coordinated move, the Bank of England said it will set up a new lending facility for affected businesses. The pound pared losses after the measures were unveiled.
"We must act like any wartime government and do whatever it takes to support our economy," Johnson said at a press conference in London.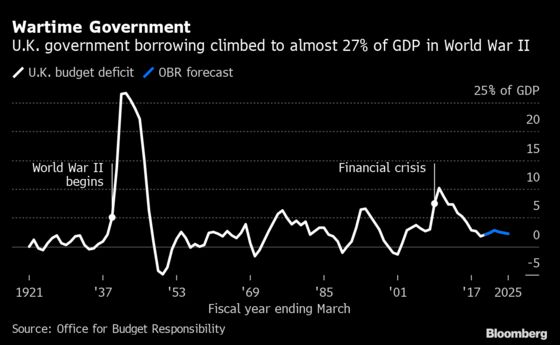 Tuesday's announcements marked yet another dramatic escalation in Johnson's response to the pandemic crisis. The premier has been battling criticism that he's failed to act quickly enough. Even though he urged sweeping restrictions on social contact and mass gatherings on Monday, Johnson has so far refused to close schools, unlike leaders of other countries.
The government's measures came after its own fiscal watchdog called for big spending to support companies. The Office for Budget Responsibility likened the threat to the economy to a world war, and said it was not the time to be "squeamish" about building up debt.
U.K. Chancellor of the Exchequer Rishi Sunak announced the huge package less than a week after delivering his budget, which included 12 billion pounds to help the National Health Service, businesses and individuals cope with the crisis. He described it as the "first step," promising further action to protect people's jobs and incomes in the coming days.
330 billion pounds of guaranteed loans -- equivalent to 15% of U.K. GDP -- for businesses that need cash to pay rent or suppliers. This loan funding will be increased if necessary
20 billion pounds of tax cuts and grants for businesses this financial year
A new lending facility for larger firms, agreed with the Bank of England
A three-month mortgage payment holiday for borrowers affected by the virus
Shops and restaurants will not have to pay business rates this year
Insurers will pay out to companies covered for pandemics
"The coronavirus pandemic is a health emergency but it is also an economic emergency," Sunak said. "We have never in peacetime faced an economic fight like this one."
What Bloomberg's Economists Say....

"The U.K. government continues to take steps in the right direction for supporting the economy. Quick and efficient delivery of these measures will be central to their success, as will further policies that directly support the income of cash strapped firms."

-- Dan Hanson

For more, click here
Britain is acting from a position of relative fiscal strength. A decade of austerity has cut the budget deficit to just 2% of gross domestic product from 10% in the aftermath of the financial crisis. Debt is also cheap, with the yield on 30-year gilts still little more than 1%, despite rising in recent days.
"The U.K. authorities are continuing to set the pace for innovative joint fiscal-monetary actions to cushion the virus shock," said Krishna Guha, head of central bank strategy at Evercore ISI.
The BOE's program looks more ambitious and more fine-tuned to address the specific virus shock than the plan launched by the U.S. Federal Reserve earlier Tuesday, Guha said.
On another day of fast-moving developments:
Ministers advised British citizens against non-essential travel worldwide for the next 30 days
The U.K.'s chief scientist warned the number of virus deaths would be "horrible" even in the best case -- with 20,000 fatalities representing "a good outcome"
Johnson said there were only a few weeks to make the thousands of ventilators needed
Ministers set out emergency powers to compel ports and airports to suspend operations; strengthen police quarantining and speed up burials.
Business groups welcomed the chancellor's pledges.
"What will be hugely important is that cash actually gets to the front line and gets there quickly," Adam Marshall, director general of the British Chambers of Commerce, told the BBC. Virgin Atlantic welcomed the "unprecedented level of support" for the airline industry.
Analysts, however, warned that the government will likely need to announce more steps to cushion the blow.
"Although the package is set to grow in the coming days as further measures are added, it is still likely to look small compared to the economic shock underway," said Allan Monks, an economist at JPMorgan in London.