U.K. Moves Ahead With Small Nuclear Reactor Pilot Program
U.K. Moves Ahead With Small Nuclear Reactor Pilot Program
(Bloomberg) -- The U.K. government has picked its preferred type of small nuclear reactor for a 170 million-pound ($236 million) demonstration program.
Britain's decision to explore advanced modular reactor technology comes days after plans for new, large-scale plants were thrown into doubt by its worsening relations with China. The government is looking to exclude China's state nuclear company from future power projects, a move that could imperil two proposed plants and make the U.K.'s low-carbon energy targets harder to achieve.
Government ministers consider high-temperature gas-cooled reactors as the "most promising model" for the pilot program. Alongside electricity, this type of reactor can produce clean hydrogen and heat, according to a government statement. The plans will now be consulted on with a demonstration project slated for the early 2030s.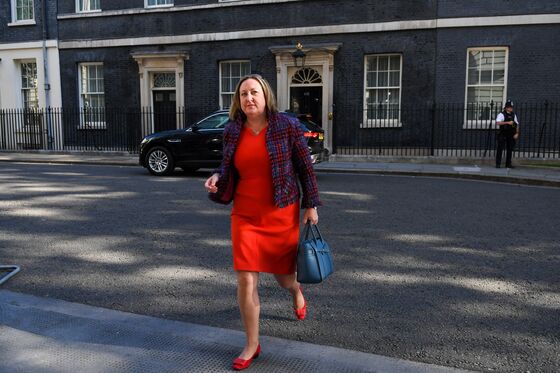 "While renewables like wind and solar will become an integral part of where our electricity will come from by 2050, they will always require a stable low-carbon baseload from nuclear," said Anne Marie Trevelyan, minister of state for energy. "Advanced modular reactors are the next level of modern nuclear technology and have the potential to play a crucial role not only in tackling carbon emissions, but also in powering industry."
Small modular reactors and advanced modular reactors are cheaper and quicker to build than big conventional stations such as the Hinkley Point project Electricite de France SA has underway in southwest England. While bigger reactors have been in use for decades, the smaller ones are being promoted as an alternative that may be quicker to deploy. Until now, commercial development has been in SMRs like the project that a a group of companies led by Rolls Royce Holdings Plc is working on.
The government says it plans to press ahead with the Sizewell C nuclear project being developed by EDF even without a 20% stake provided by state-owned China General Nuclear Power Corp. Smaller reactors could help plug the gap in low carbon generation if a further station at Bradwell doesn't go ahead.
"Alongside negotiations with the developers of Sizewell C in Suffolk, we are pressing ahead with harnessing new and exciting advanced nuclear technology," Trevelyan said.