Arcadia Rescue Deepens U.K. Landlords' Retail Crisis
Faced with the choice of accepting rent cuts or hunting for new retailers to fill hundreds of stores, U.K. mall owners are swallowing their medicine.
Some of Britain's biggest commercial landlords including Hammerson Plc and British Land Co., voted in favor of a rescue plan for billionaire Philip Green's Arcadia Group that meant having to accept dozens of store closures and rent cuts of at least 25% at almost 200 sites.
But their approval for the so-called Company Voluntary Arrangement was grudging and highlights how much pressure they are under from the pain inflicted on retailers by consumers choosing to shop online rather than in department stores.
Land Securities Group Plc, Standard Life Aberdeen Plc and the Crown Estate had intended to vote against Arcadia's proposals and switched at the 11th hour, according to people familiar with their plans who asked not to be named discussing information that isn't public. One landlord, Intu Properties Plc, voted against, calling the deal unfair to tenants that pay full rent.
"It really is like being stuck between a rock and a hard place," said Daniel Swimer, property litigation partner at law firm Joelson. "Landlords could have rent reductions forced upon them or, if the CVA doesn't get passed, they're left with a large retailer failing in the current retail climate."
The fact the deal was approved is likely to put further pressure on mall rents and values, and raises the possibility that commercial property owners could be tipped into a crisis similar to that faced by the retailers who make up some of their biggest tenants.
The cost of insuring Land Securities' debt against default saw the biggest daily rise since December on the day after the Arcadia vote, according to ICE Data Services. Moody's Investors Service warned of possible damage to the creditworthiness of retail property owners that already face "weak operating performance, with declining footfall and retail sales, and downward pressure on rents."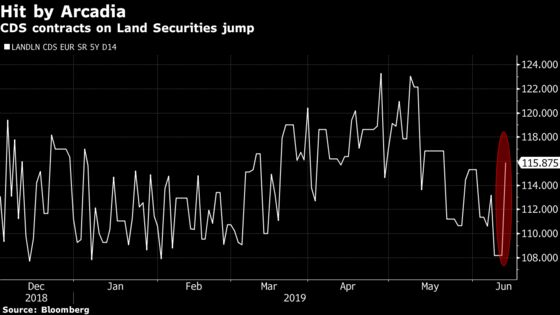 The landlords came under pressure from Arcadia to back the deal or put about 18,000 jobs at risk if the company was forced into administration, people with knowledge of the negotiations said. Several were told they would be shirking their social responsibilities and be blamed for job losses, an accusation they resented, some of the people said, asking not to be identified as the talks were private.
Arcadia representatives declined to comment.
Ultimately the decision to back the CVA came down to the best commercial interests of the landlords, given that they could be left with empty sites if Arcadia fell into administration, two of the people said.
Spokesmen for Land Securities, the Crown Estate and Standard Life Aberdeen confirmed they had backed the plans but declined to comment on the detail of the negotiations. Representatives of Hammerson and British Land declined to comment.
While many companies have preceded Arcadia's CVA, few have been so large and many secured less generous rent cuts. The risk is that following Arcadia, other retailers now demand the same, even those that have previously undertaken rent cuts.
"There's nothing to stop companies coming back for a second bite," Andrew Hughes, head of European general retail at UBS said at a media briefing last month.
Intu has previously highlighted the likely impact of Arcadia's CVA, saying last month that store closures are worse than expected and it sees net rents falling 4% to 6% this year. The company, which owns eight of the top 20 malls in the U.K., is under pressure itself to sell assets to cut debt and CVAs are hampering those efforts.
Intu said in February that a further 10% fall in the value of its properties would cost 1 million pounds in extra expenditures in order to avoid a breach of loan covenants. U.K. Retail property values fell 10.25 percent in the year through May, according to data compiled by broker CBRE Group Inc.
Some landlords are pushing back on department store chain Debenhams' outlet closures which won creditor approval in May. Sports Direct International Plc has grouped together with landlords to challenge the CVA and property investor M&G Investments has launched another challenge, a spokeswoman for the asset manager confirmed.
But it will be hard for landlords to stop the trend. Consumers' shift to online shopping shows little signs of abating and insolvencies have jumped by more than a fifth since 2016, with more than 1,200 retailers collapsing last year.
"What is 100% certain is that retailers can't carry on paying the rents they have historically," said Richard Hyman, an independent retail consultant. "There's less money in the pot to fund it and the pain has to be shared by the landlord as well as by the retailer."
--With assistance from Antonio Vanuzzo.
To contact the reporters on this story: Katie Linsell in London at klinsell@bloomberg.net;Jack Sidders in London at jsidders@bloomberg.net
To contact the editors responsible for this story: Vivianne Rodrigues at vrodrigues3@bloomberg.net, Chris Vellacott, Shelley Robinson