U.K. Developer Turns to Urban Mining to Slash Carbon Footprint
U.K. Developer Turns to Urban Mining to Slash Carbon Footprint
(Bloomberg) -- When old office blocks are demolished, their steel frames are typically smelted down to be recycled, emitting thousands of tonnes of carbon in the process. 
But at One Broadgate, the steel beams that once framed the London headquarters of inter-dealer broker TP Icap Plc will instead be salvaged from the site and recycled by developer Fabrix. Chief Executive Officer Clive Nichol says the example proves it's possible to "apply the circular economy to structural elements of buildings."
Real estate and construction account for as much as 40% of global carbon emissions, making the area a priority for governments trying to meet environmental targets. But while progress has been made on reducing emissions from the operation of buildings, the industry has scarcely scratched the surface in tackling the massive embodied carbon emissions of energy intensive materials like steel, concrete and glass.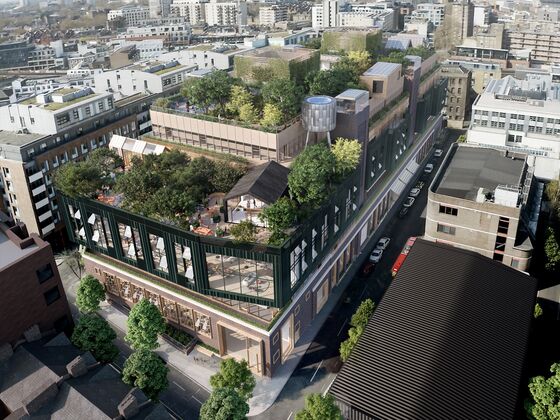 The U.K. is now attempting to encourage the practice of urban mining, whereby construction materials with large carbon footprints can be resold through a marketplace akin to an eBay of metals. The British Constructional Steelwork Association is currently drafting guidelines for the purchase of reused steel so that other developers can follow suit.
The move also coincides with spiraling construction inflation, which threatens to erode developers' profit margins. Prices for U.K. steel flat products like those used in One Broadgate rose 18% from the start of 2020 through September last year, according to a report published by construction consultancy Linesight. Steel rebar prices have jumped by 45% in the same period, the report said. 
Fabrix has bought 139 tonnes of steel from the demolition contractor responsible for leveling One Broadgate and plans to reuse it at its 55 Great Suffolk Street and Blackfriars Crown Court projects, both in London's Southwark district. Engineering consultant AKT II estimates that reused steel could reduce the carbon impact of a building by up to 80%. 
"As an industry we need to be considering all possible innovations to reduce the environmental impact of our work," Nichol said in an emailed statement.