Twilio to Buy Customer Data Startup Segment for $3.2 Billion
(Bloomberg) -- Twilio Inc. is buying customer data company Segment Inc. for about $3.2 billion in stock, after a boom in demand for online communications tools.
Cloud-computing company Twilio has benefited during the pandemic as customers, such as retailers and health care providers, have increasingly relied on online software to sell and communicate to customers. San Francisco startup Segment helps companies manage the streams of data they collect about their customers from various platforms. It was valued at $1.5 billion in its last private funding round, with investors including Thrive Capital, Accel, Alphabet Inc.'s GV.
The transaction will help Twilio compete in a total addressable market of $79 billion, the company said in a statement Monday. Twilio shares rose 2.4% to $313.49 at 9:57 a.m. in New York. The stock has tripled this year, valuing the company at $45.6 billion.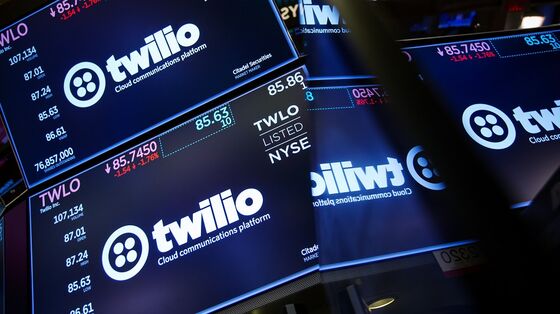 Derrick Wood, an anlyst at Cowen & Co., said the acquisition could be a "game changer" for Twilio, as well as its customers and the broader customer relationship management software industry. The deal also puts Twilio in direct competition with Salesforce.com Inc. and Adobe Inc., he said.
Segment, founded in 2011, is a cloud-based developer that helps companies such as Glossier Inc., International Business Machines Corp., Atlassian Corp. and Intuit Inc. provide better support and service by combining together all the different ways a company might collect data on a customer—in a store, through a mobile app, through email and more. It's become a leader in offering a new type of software known as CDP, or customer data platform.
Jeff Lawson, Twilio chief executive officer, said Segment helps companies "break down silos" of information across disparate systems to offer a complete picture of their customer. Combined with Twilio, the two can create a "more personalized, timely and impactful engagement across customer service, marketing, analytics, product and sales," he said.
Segment, led by CEO and co-founder Peter Reinhardt, will become a division of Twilio, according to the statement.
The transaction is expected to close during the fourth quarter. Morgan Stanley & Co. is serving as financial adviser to Twilio and Cooley LLP as legal adviser. Qatalyst Partners is serving as exclusive financial adviser to Segment and Goodwin Procter LLP as legal adviser.