Turkish Firm Warns Lebanon It May Cut Floating Power Plants
Turkish Firm Threatens to Cut Lebanon's Floating Power Plants
A Turkish company threatened to switch off two floating power plants that provide about a fifth of Lebanon's electricity, amid a dispute over corruption allegations and payments.
Istanbul-based Karpowership has urged the government in Beirut to engage in talks, serving a final notice that it will suspend its services, a spokesperson for the company said late Saturday. The Turkish firm's ships provide 400 megawatts of power and have been anchored off Lebanon's Mediterranean coast since 2013.
Lebanon's Financial Prosecutor asked for Karpowership's vessels to be seized pending an investigation into the renewal of power-supply contracts. Karpowership responded by denying any violation of its contract or the law.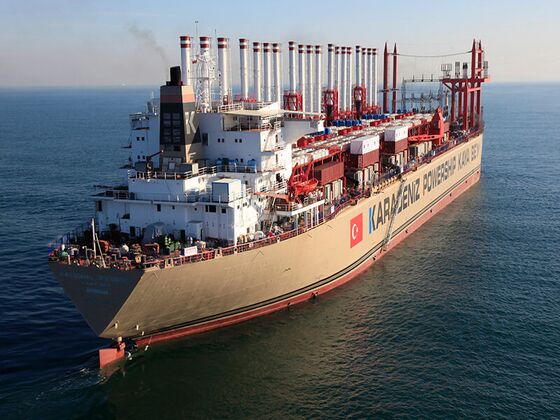 "We have consistently acted in good faith, continuing to supply electricity despite not receiving payment for the past 18 months," the company said in a statement relayed by a spokesperson.
Lebanon is struggling to pay suppliers amid a near collapse in its economy that's all but emptied government coffers. Karpowership was owed about $100 million by Lebanon in July last year, according to the country's energy minister, and the figure has since risen.
Karpowership's absence would increase the strain on state-owned Electricite du Liban to limit the outages that beset the country. The utility is struggling to run plants at full capacity because it can't afford to import the fuel for them.
The Lebanese courts last year targeted Algerian state oil company Sonatrach along with local middlemen with accusations of shipping a cargo of low-quality fuel oil to Lebanon.
Karpowership is also mired in a dispute in South Africa. It won most of a government emergency-power tender to provide electricity for 20 years, but state utility Eskom Holdings SOC Ltd. is concerned about the cost and length of the contract.