Turkey's F-35 Role at Risk If It Buys From Russia, Pentagon Warns
Turkey's F-35 Role Risked If It Buys From Russia, Pentagon Warns
(Bloomberg) -- Turkey risks expulsion from the U.S.-led F-35 program, the world's costliest weapons project, if its government takes delivery of an advanced Russian anti-aircraft system, according to an unclassified summary of a Pentagon report sent to Congress.
Although Turkey "has been an important program partner," investing more than $1.25 billion in the stealthy F-35 jet since its development phase began in 2002, "the administration will reassess Turkey's continued participation as one of the eight partner nations should they continue their purchase of the S-400," according to the two-page summary of a classified report prepared for lawmakers.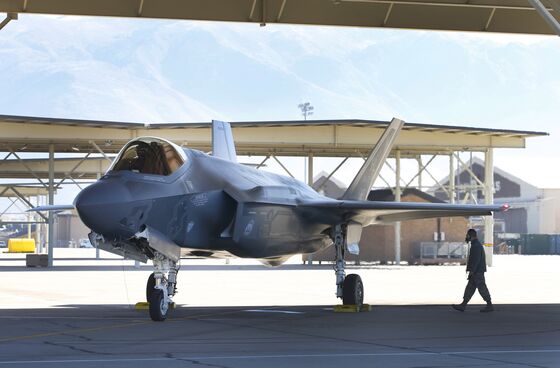 "The Turkish government has repeatedly and publicly stated that it has concluded an agreement to procure the S-400" with initial delivery "as early as" July 2019, according to the report seen by Bloomberg News.
In addition to Turkey buying the F-35 built by Lockheed Martin Corp., 10 Turkish companies have been set to produce about $12 billion in parts, including key components such as the center fuselage and some landing gear. For certain items, like the cockpit display, Turkey is the sole source.
"Turkish industry manufactures aircraft parts for all F-35 variants and customers," the Defense Department said.
A longer classified report examining U.S.-Turkish relations, including the F-35, was required in this year's defense policy bill at the insistence of Senators Thom Tillis, a North Carolina Republican, and Jeanne Shaheen, a New Hampshire Democrat. The legislation directed that no F-35 deliveries be made to Turkey until the report was delivered, which it was earlier this month.
Turkey, which the report calls "a critical NATO ally," remains about two years from receiving its first F-35s. It has already authorized purchase of 30 of a planned 100 fighters.
The Russian S-400 was designed to shoot down U.S. and coalition aircraft at greater ranges and altitudes than older systems. U.S. officials are concerned that sensitive F-35 technology designed to evade such a system could be compromised and used to improve the Russian air defense system if Turkey takes possession of both systems.
Speaking to reporters in Washington this month, Turkish Foreign Minister Mevlut Cavusoglu said his country had wanted to buy U.S.-made Patriot missiles but was never able to get a commitment from Washington. He said there was no going back on the S-400 deal but left the door open to buying U.S. hardware in the future.
"The current deal is a done deal -- I cannot cancel it," Cavusoglu said. "But I need more. I prefer to buy from my allies."
The summary sent to Congress acknowledged Turkey's position, saying the country has been "frustrated with its protracted, decade-long search for an air and missile defense system."
As the U.S. tries to dissuade Turkey from plans to buy the S-400, the administration "has developed an alternative package to provide Turkey with a strong, capable," NATO-compatible air and missile defense system that requires congressional support, according to the summary. The Pentagon said that's "essential to provide a real alternative that would encourage Turkey to walk away from a damaging S-400 acquisition," it said.
'Serious Vulnerabilities'
Shaheen said in a statement that she was "pleased by the timeliness and comprehensive nature" of the Pentagon's full, classified report, but she urged the Defense Department to "share this information with the American people."
"Limiting the availability of this report to a select group was not the intent of the law that Senator Tillis and I wrote," she said.
As lawmakers review what steps to take now, Shaheen said it's critical to keep in mind that the S-400 "poses serious vulnerabilities to NATO's airspace and will present additional intelligence issues for the United States and other NATO allies, including Turkey."
The Pentagon summary acknowledged Turkey's "unique geostrategic position on NATO's southeastern flank" and said it has a "credible plan" to increase its defense spending to 2 percent of gross domestic product by 2024 -- a key demand that President Donald Trump is making of partners in the North Atlantic Treaty Organization.
"Despite bilateral tensions, Turkey remains a productive military partner in many areas," with more than 2,000 U.S. troops and "dozens of air and radar assets" in the country, the Pentagon said.
In addition to potential expulsion from the F-35 program, acquisition of the S-400 could trigger U.S. sanctions and could affect Turkey's acquisition of other weapons including Boeing Co.'s CH-47F Chinook helicopter and Lockheed's F-16 fighter and UH-60 Black Hawk helicopters, it said.
--With assistance from Nick Wadhams.
To contact the reporter on this story: Tony Capaccio in Washington at acapaccio@bloomberg.net
To contact the editors responsible for this story: Bill Faries at wfaries@bloomberg.net, Larry Liebert