Turkey Says Russian Anger Won't Stop Arms Sales to Ukraine
Turkey Rules Out Freezing Ukraine Arms Sales to Please Russia
(Bloomberg) -- Turkey said it won't back down from clinching new defense deals with Ukraine, signing an agreement for the joint production of Turkish drones that have drawn Russia's ire.
Military cooperation between Ankara and Kyiv isn't intended to target Russia and won't be disrupted in order to please it, President Recep Tayyip Erdogan's communications director Fahrettin Altun said.
The remarks set the tone for Erdogan's visit to Ukraine on Thursday, when the drone deal was announced amid fears within NATO that Russia intends to attack its neighbor. Moscow denies it's planning an invasion. 
"We have signed an agreement today which will significantly expand production of unmanned aerial vehicles" designed by Turkish drone maker Bayraktar, Ukrainian President Volodymyr Zelenskiy said at a joint press conference with his Turkish counterpart. 
Ukrainian officials said land had been allocated for the project and that the next generation of the aircraft would use engines made in Ukraine.
Ukraine has bought dozens of the Bayraktar TB2 armed drones since 2019 and used it for the first time last year to destroy an artillery unit in the breakaway Donbas region.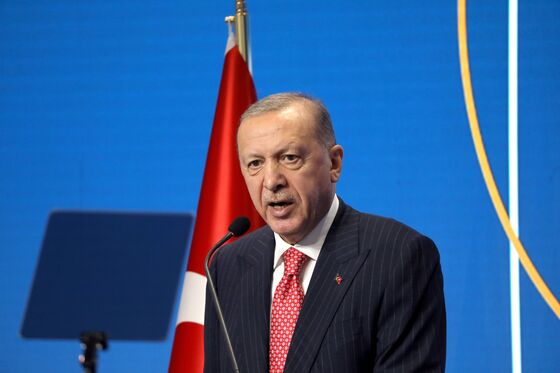 A NATO power, Turkey has emerged as a key supporter of Ukraine in recent years, drawing a rebuke from Russia. Turkey also remains a vocal critic of Russia's 2014 annexation of Crimea, where it is concerned about the fate of Turkish communities. Closer ties saw a boom in bilateral trade but Turkey sees further strategic value in an improved relationship with Ukraine, a possible source of technology and knowhow for its growing defense industry.
Turkey has sought to leverage its ties by offering to mediate between Russia and Ukraine to defuse the latest border crisis between the two. Turkey might host Putin following Erdogan's Ukraine visit but the date of such a summit has yet to be decided, Altun said.
Russia's military buildup to the east of Ukraine has increased concerns among NATO members that it could be preparing to invade. The Kremlin denies it has any such plans, but says it sees a rising risk that Ukraine will attack Russian-backed separatists in the country's east. 
Erdogan has also managed to maintain close enough ties with Russia's President Vladimir Putin to anger some of Turkey's NATO allies, including the U.S. 
Erdogan's decision in 2017 to purchase the S-400 air defense system from Russia resulted in U.S. sanctions targeting Turkey's defense industry, but didn't persuade it to back down.
Altun said deals with Ukraine wouldn't be any different.
"We're not signing agreements for collaboration to target another country. Russia is among the first states to know that," Altun told Bloomberg late Wednesday. "The deals we have made and the ones we'll clinch with Ukraine aren't directly linked to the current crisis."
Turkey's exports to Ukraine nearly doubled in five years to $2.6 billion last year, while imports rose to $4.4 billion from $2.8 billion during the same period. The two countries now want to increase trade volume to $10 billion a year. Turkish shipments to Ukraine last year were led by food textiles and machinery, including aircraft and land vehicles and steel and iron.
But there is more to the relationship than just exports. For Ukraine, the unmanned aircraft and the Turkish partnership are vital to defend its territory against Russia. Turkey, on the other hand, sees the possibility to co-produce space-launch rockets similar to Ukraine's Zenit-2 and transfer know-how on engine technology, a key bottleneck for the Turkish defense industry.