Ohio GM Workers Voted for Trump. Now They Want Him to 'Step Up'
Ohio GM Workers Voted for Trump. Now They Want Him to 'Step Up'
(Bloomberg) -- President Donald Trump said he expects General Motors to keep an Ohio assembly complex open after its production of the Chevrolet Cruze ends early next year. Bryan Keeley said he wants to believe it, but he's heard talk like that before.
Keeley is one of the thousands of workers at GM's Lordstown factory near Youngstown who learned that the plant is being idled in March, with no new production promised. He said he voted for Trump two years ago because of the Republican's vow to help American workers.
"I thought he was going to do miracles for us, so did a lot of other autoworkers,'' Keeley, 46, said outside Ross' Eatery and Pub near the plant. Keeley has worked for GM for 26 years but has been laid off since June. "He needs to step up to the plate and do what he said.''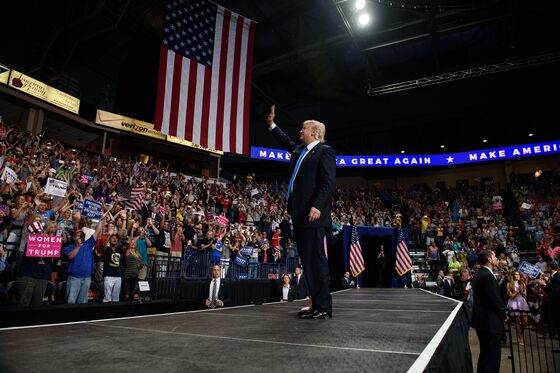 Trump reacted to GM's announcement Monday that it plans to lay off 14,000 workers and idle the Lordstown plant and six other factories by telling reporters he's spoken to GM Chief Executive Officer Mary Barra and is pressuring the company to keep jobs in Ohio.
"So I think you're going to see something else happen there,'' Trump said. "I have no doubt that in a not-too-distant future they'll put something else -- they better put something else in.''
The blue-collar Mahoning Valley region where the Lordstown plant is located has been a Democratic stronghold, but it has lost thousands of manufacturing jobs in the past three decades as its steel mills closed. The area backed Trump two years ago with his populist appeal, helping him carry the battleground state by more than 8 percentage points.
Republican Ohio Senator Rob Portman and other elected officials are vowing to push GM to keep the plant open. Democratic Ohio Senator Sherrod Brown, who won re-election earlier this month championing many of the same positions on trade as Trump, said the president has failed to act.
"More and more Trump voters are on to him," Brown, who has said he's considering a run for president in 2020, told MSNBC.
John Russo, former co-director of the Center for Working-Class Studies at Youngstown State University, said he's heard estimates from labor leaders that about 40 percent of United Auto Workers members at Lordstown cast ballots for Trump.
During a July 2017 rally in Youngstown, the president told supporters, "Don't sell your house'' because the jobs are "all coming back.'' Even before Monday's announcement, though, the Lordstown plant had already lost two shifts and 3,000 jobs, with 1,500 left.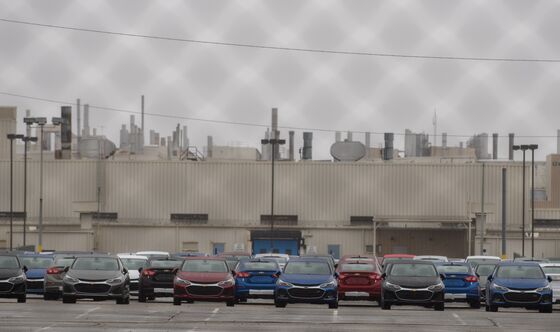 Asked whether he thinks Trump will deliver on his vow to keep the plant open, David Green, president of UAW Local 1112 in Lordstown, was blunt: "Your guess is as good as mine.''
"So far, I haven't been real hopeful that the president's going to have a desire or an ability to make any changes in this area,'' Green said in an interview at the union hall. He said there were tears and anger in the plant Monday when the news was announced.
William Binning, a former Republican Party chairman in Mahoning County and an emeritus political science professor at Youngstown State University, said Trump's re-election bid in Ohio would take a hit if the Lordstown plant closes and nothing replaces it.
"I don't see politically how he could come back here and face these people and say, 'Vote for me,''' Binning said.
Workers and Lordstown residents noted that GM didn't say the plant was being shuttered for good and held out hope a new vehicle would be added there or even another auto company would buy the hulking complex that has produced the Vega, Cobalt, Cavalier and other models during the past half century.
But they also lamented Monday's news after taxpayers bailed out GM and other automakers following the 2008 financial crisis, and the company benefited from Republican tax cuts last year that were meant to spur U.S. job creation.
"You give corporate America a whole bunch of money, they're going to do what's best for corporate America,'' said Michael Hodak, 66, of Lordstown, a real estate broker who owns the Subway sandwich shop in the village.
Lordstown Mayor Arno Hill was more forgiving. He said the problem was simply consumers' demand for larger vehicles as low gas prices have made fuel-efficient cars like the Cruze less attractive.
"You can't blame Trump, you can't blame anybody in elected office because we have the wrong product at the wrong time,'' Hill said.
The mayor said revenue connected with the Lordstown complex accounted for about half of his community's budget of $5 million when the plant had three shifts running. The village of 3,200 has only one gas station and a handful of businesses near the government offices.
Tommy Wolikow, a Lordstown resident who said he was laid off from the plant on the day Trump was inaugurated last year, has been attending his rallies with the Good Jobs Nation coalition to bring attention to the plight of workers. He said the first political rally he attended was the one last year in Youngstown where Trump told voters not to sell their homes.
Wolikow, 36, who had bought a house two miles from the Lordstown plant, resisted seeking a transfer to another GM facility because he didn't want to uproot his family and still had hopes of returning to work.
Now, unable to find another job and maxing out his credit cards, he's put in for a transfer and isn't sure he can trust Trump's assurances the plant will remain open.
"It's hard to keep on thinking that he's going to fight for us,'' Wolikow said.
To contact the reporter on this story: Mark Niquette in Columbus at mniquette@bloomberg.net
To contact the editors responsible for this story: Sara Forden at sforden@bloomberg.net, Flynn McRoberts