Trump Demands End to Maduro Regime in Broad Attack on Socialism
(Bloomberg) -- Donald Trump called on the Venezuelan military to drop its support for Nicolas Maduro in a Miami speech critical of socialism, previewing attacks he may deploy against Democrats in his re-election campaign.
"The twilight hour of socialism has arrived in our hemisphere and frankly in many, many places around the world," Trump said to an audience at Florida International University. "The days of socialism and communism are numbered, not only in Venezuela but in Nicaragua and in Cuba as well."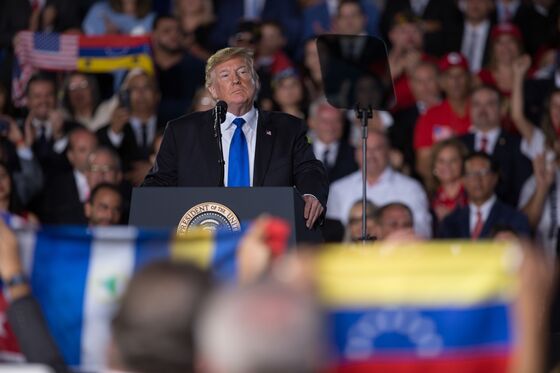 Republicans have portrayed Democratic proposals to expand government-run health insurance programs and combat climate change as socialist, and Trump used Maduro's example in his State of the Union speech earlier this month to caution against the perils of socialism and the policies of U.S. liberals. In his speech on Monday, Trump didn't directly link socialism to the Democratic party or any of its politicians, but he repeatedly vowed to keep the ideology from taking hold.
"This will never happen to us," Trump said. "Socialism is a sad and discredited ideology, rooted in the total ignorance of history and human nature, which is why socialism eventually must always give rise to tyranny, which it does."
The Western hemisphere, he said, "will become the first free hemisphere in all of human history," predicting the fall of Socialist regimes in Cuba and Nicaragua.
Trump's antipathy for socialists extends only so far. He will travel to Communist Vietnam next week to meet with another Communist, North Korean leader Kim Jong Un. Trump has said he and Kim have "a very good relationship" and that if they can secure a deal to eliminate Pyongyang's nuclear arsenal, Kim will make his country an "economic powerhouse."
Last month, the U.S. and more than 30 other countries recognized Venezuela's National Assembly leader Juan Guaido as the interim president of the country. The Trump administration has moved swiftly to try to shore up Guaido's government-in-waiting, but is struggling to move promised humanitarian aid into Venezuela with Maduro retaining control over the military.
Trump demanded that the Venezuelan military stop blocking the aid. "We seek a peaceful transition of power but all options are open," he warned.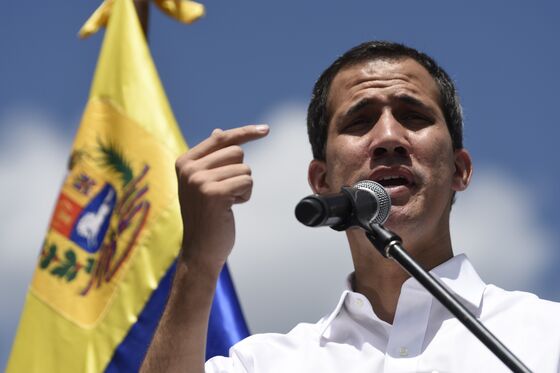 Guaido has asked the Venezuelan military to throw its support to him, and has called Maduro's 2018 re-election illegitimate. He spoke at the FIU event by video before Trump appeared and thanked the president "for his determination and clear leadership in support of democracy and just causes in response to what is happening now in Venezuela."
Maduro is clinging to power, even as Trump's envoy for Venezuela, Elliott Abrams, told Congress this month that the administration maintains "the current political and economic environment is unsustainable and he will not be able to weather it much longer."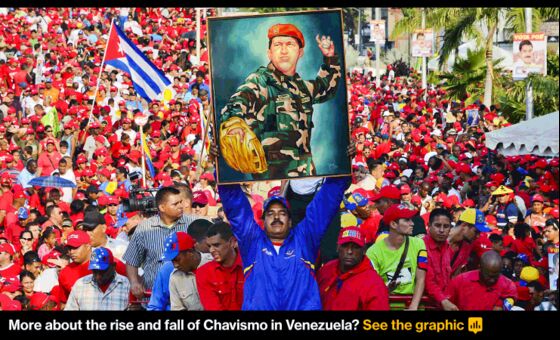 Trump warned Venezuelan military officials that "we know who they are and we know where they keep the billions of dollars that they have stolen.
"They are risking their lives and Venezuela's future for a man controlled by the Cuban government," Trump said. He urged the military to take Guaido's offer of amnesty.
Trump's speech in Miami capped a Presidents Day holiday weekend spent at his Mar-a-Lago resort in Palm Beach and his nearby golf club, in a swing state where the Latino vote, including Venezuelan expats, is a key bloc.
Democrats are also eyeing the Latino vote in Florida, especially the state's growing Puerto Rican population. Trump was heavily criticized for his administration's response to 2017's Hurricane Maria, and thousands of residents who fled the island after Maria now reside -- and can vote -- in Florida.
The Venezuelan-American vote may provide Republicans a counterweight given the economic and humanitarian crises under Maduro and Trump's eagerness to intervene.
Daniel Smith, chairman of political science at the University of Florida, said voter files from 2018 show that Venezuelan-American voters in Florida are a far smaller bloc than Cuban-American or Puerto Rican voters, but are a growing group with a high propensity to vote and whose loyalty is up for grabs.
Florida is a state where elections are often won or lost by the narrowest of margins. Of 14 million registered voters in Florida, about 36,000 self-identified as being born in Venezuela. Most live in Miami-Dade and Broward counties, and about 65 percent turn out to vote.
That compared with 340,000 self-identified Cuban-born voters and 210,000 U.S. voters who said they were born in Puerto Rico.
While the conservative-leaning Cuban-American vote has historically kept the margin of Latino support for Democrats tighter in Florida than other states, it was particularly close in 2018 -- just 54 percent in the governor's and U.S. Senate race, according to exit polling -- underscoring concerns for Democrats in 2020.
--With assistance from Saleha Mohsin, Nick Wadhams and Carolina Millan.
To contact the reporter on this story: Margaret Talev in Washington at mtalev@bloomberg.net
To contact the editors responsible for this story: Alex Wayne at awayne3@bloomberg.net, Elizabeth Wollman