TrueCar Founder's New Venture Will Get You a Tesla in 10 Minutes
TrueCar Founder's New Venture Will Get You a Tesla in 10 Minutes
(Bloomberg) -- For drivers who dream of cruising around in a Tesla Inc. but can't afford one -- or just have commitment issues -- there's a new option.
Entrepreneur Scott Painter, best known for founding auto-pricing company TrueCar Inc., has launched a Tesla subscription service giving customers a Model 3 sedan for a flat monthly fee. The new venture, called "Autonomy," has acquired about 100 of the vehicles from Tesla so far.
"We own the car, you're driving it. It's a simple contract and you can do all of this with a credit card," Painter said Thursday in an interview. "It's not a traditional lease or car loan."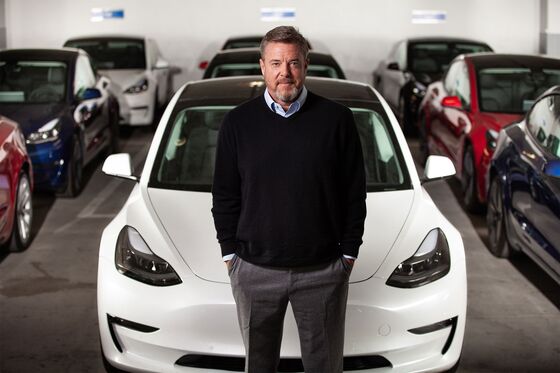 The new company, based in Santa Monica, California, aims to capitalize on rising consumer demand for electric vehicles, particularly among those who want to experience them before committing to a purchase. Autonomy is starting in its home state, with plans to expand to other states and eventually other electric vehicle brands.
The startup promises that users can order a vehicle in 10 minutes after providing a driver's license and payment. The cost of a subscription, which has a three-month minimum and then goes month-to-month, can vary, with one option being an initial fee of $5,500 and a monthly rate of $550. By comparison, a 36-month lease of a blue Model 3 Long Range vehicle requires an estimated $4,500 down with payments of $561 a month, according to Tesla's website.
Autonomy has been able to buy cars from Tesla by being flexible on things like color, configuration and wheel choice -- features that consumers who are buying cars often have strong feelings about. The company hopes to have 500 Tesla cars by the end of the first quarter and 10,000 by the end of the year. Customers will have access to Tesla's Supercharging network.
The venture is the latest from Painter, who founded TrueCar in 2005 and took the company public. He stepped down in late 2015 after angry dealers nearly bankrupted the company by withdrawing from the site over concerns it was squeezing them on pricing.
The name Autonomy is meant to imply freedom -- from fossil fuels and debt -- and shouldn't be confused with autonomous driving, Painter said. Tesla cars come equipped with a driver assistance feature known as Autopilot, and the company has rolled out a feature it calls "FSD," for Full Self Driving, to employees and early customers. 
"We are not trying to imply that this is about autonomous driving in any way," said Painter. 
Get Your
Daily Newsletter
Get market moving news, top news & compelling perspectives
---