Traders Bet BOE Will Raise Rates This Year Amid Hawkish Signals
Traders are preparing for the Bank of England to lift borrowing costs by the end of this year after two officials moved to reinforce signals of an imminent increase to curb inflation.
Money markets priced in at least 15 basis points of tightening by the BOE's December 2021 meeting on Monday, according to sterling overnight index swaps, which would take the key rate to 0.25%. The market was previously betting the first increase would be in February.
Michael Saunders, one of the most hawkish members of the Monetary Policy Committee, suggested in remarks published Saturday that investors were right to bring forward bets on rate hikes. Hours earlier, Governor Andrew Bailey warned of a potentially "very damaging" period of inflation unless policy makers take action.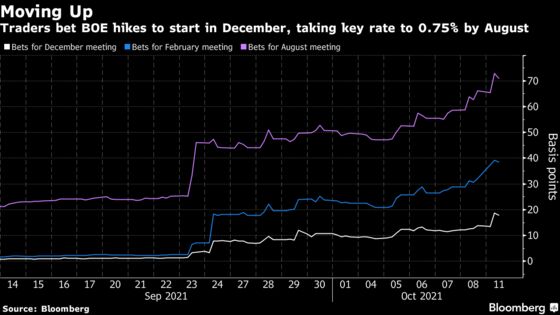 The repricing reflects mounting concern over the lasting impact of the latest surge in prices, with consumers facing higher costs for energy and goods, due in part to shortages that resulted from the nation's departure from the European Union. A market-based measure of inflation 10 years from now rose to more than 4% last week, double the BOE's target.
The BOE "appears concerned about inflation credibility," said Robert Wood, Bank of Amercia's U.K. economist, adding that policy makers will "hike early" to avoid more increases later. BofA expects a 15-basis-point increase in December, followed by another 25 basis points in February, in line with market bets.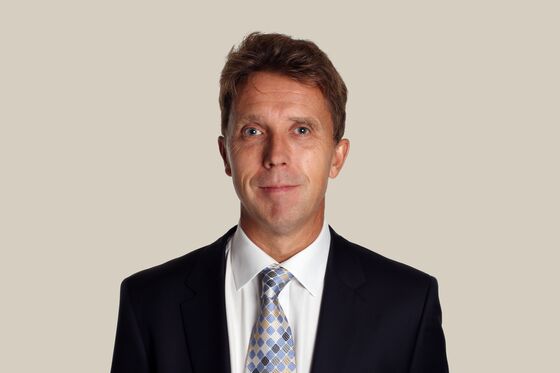 Money markets see an additional quarter-of-a-percentage point hike to take the key rate to 0.75% by August. That's even as some investors warn that higher interest rates risk undermining the U.K.'s fragile recovery from the pandemic.
"We see the BOE jawboning in a bid to ward off the threat of inflation expectations becoming entrenched," said Richard McGuire, head of rates strategy at Rabobank. "It seems remarkable to conceive of the BOE increasing borrowing costs as we head into Christmas." 
The moves reverberated across U.K. markets, with government bonds falling across the curve, sending benchmark 10-year yields to as high as 1.22%, a level last seen in May 2019. The pound gained to $1.3674, the strongest in two weeks before erasing its advance.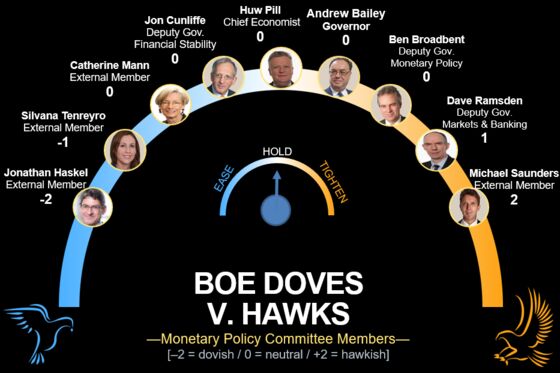 "Saunders is not quite representative of the entire MPC as he tends to be the most extreme," said Peter Schaffrik, global macro strategist at RBC Europe. "Bailey's comments are important as he seems to embrace tightening as well."
A combination of higher energy prices, supply chain disruptions and rising wages in some industries has undercut the BOE's original view that much of the jump in prices will prove transitory. The central bank last month said it expects inflation to exceed 4% in the last quarter.