Toyota to Buy Back $1.8 Billion in Shares as Profit Tops Estimates
200 billion yen share buyback in line with prior repurchases.
(Bloomberg) -- Toyota Motor Corp.'s quarterly profit topped analysts' estimates thanks to healthy sales of RAV4s in the U.S. and Corollas at home, keeping the Japanese automaker's business on track amid sputtering global demand for cars.
Operating income for the fiscal second quarter that ended in September was 662 billion yen, helped by cost controls that paved the way for a 200 billion yen ($1.8 billion) share buyback. Analysts had predicted, on average profit of 604 billion yen. The shares rose 1.1% after the results, leaving the stock up 21% this year.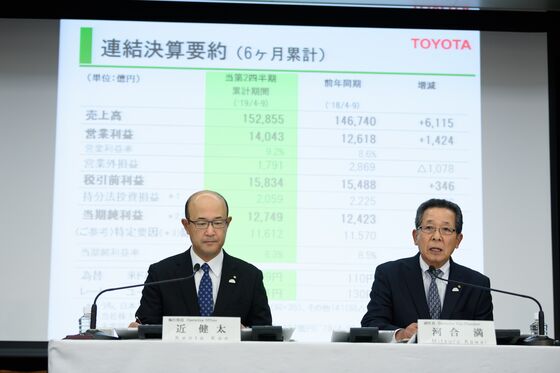 The maker of Prius hybrids and Tacoma trucks joins Tesla Inc., Ford Motor Co. and Volkswagen AG in reporting better-than-anticipated results, even as vehicle sales weaken across the globe. Toyota's results contrast with other Japanese automakers, which are being hurt by a stronger yen that's eroding income brought home. Cost controls have helped Toyota maintain profits ahead of analysts' projections, even while it invests heavily in an industry undergoing a tectonic shift to electrification and self-driving automobiles.
"Toyota's results leave a very good impression," said Koji Endo, an analyst at SBI Securities. "U.S. sales were intact, they were up in Japan although southeast Asia is a bit worrying. Overall, sales are solid."
Revenue for the latest quarter rose 4.5% to 7.64 trillion yen. North American vehicle sales climbed 5.6% from a year earlier, thanks to new models that helped to boost shipments even as incentives were cut back. Japan sales rose as well, to 585,000 units. Asia, usually an area of robust growth, grew just 3.3%.
Kenta Kon, Toyota's operating officer, said sales in China were doing well, with Corollas proving popular and hybrids being accepted by the market. "Our share isn't large but we're catching up," he said.
Toyota kept its annual outlook for profit and sales intact, at 2.4 trillion yen and 29.5 trillion yen. Even so, the automaker trimmed back its global sales target a tiny bit, by about 30,000 units to 10.7 million units. Toyota sold 10.6 million vehicles in the prior fiscal year.
The stock repurchase represents as much as 1.2% of the company's outstanding shares, and is in line with Toyota's past buybacks. In recent years, the automaker has typically announced a repurchase authorization of 200 billion yen to 300 billion yen twice a year, in May and November. Toyota's cash and equivalents remained the same from the prior quarter, at 6.2 trillion yen.
Janet Lewis, an analyst at Macquarie Capital, pointed to Toyota's improving margins. "Having an operating margin of 9.2% in the car industry is amazing."
As electric motors, autonomous capabilities and on-demand business models disrupt the industry, Toyota has been forging alliances, adding Suzuki Motor Corp., Mazda Motor Corp. and Subaru Corp. through partnerships and equity stakes. Alliances are becoming ever more critical in the global auto industry, as manufacturers seek to pool resources and save costs. Ford has teamed up with Volkswagen, while Honda Motor Co. and General Motors Co. are working together.
"The auto industry is facing a once-in-a-hundred changes and it's difficult to compete on its own," Kon said. "Our stance in making friends hasn't changed; we will continue to cooperate within our group, with other original equipment manufacturers and cooperate with companies outside our industry."
--With assistance from Tsuyoshi Inajima.
To contact the reporters on this story: Kae Inoue in Tokyo at kinoue@bloomberg.net;Shiho Takezawa in Tokyo at stakezawa2@bloomberg.net
To contact the editors responsible for this story: Young-Sam Cho at ycho2@bloomberg.net, Reed Stevenson, Ville Heiskanen