Toronto Home Sales Increase for the First Time in Six Months
Toronto Home Sales Increase for The First Time in Six Months
(Bloomberg) -- Toronto home sales posted their first increase in six months as the end-of-summer holidays finally brought buyers some new supply, though it still wasn't enough to alleviate a historically tight market or keep prices from continuing their upward march.
The number of Toronto homes changing hands climbed a seasonally adjusted 0.7% in September, the first rise from one month to another since March, according to data released Tuesday from the Toronto Regional Real Estate Board. The increase was driven by a boost to new listings, though the number of homes for sale was still down nearly 50% from the same month last year. The market remained skewed in favor of sellers and the average sale price climbed 1.8% to C$1.1 million.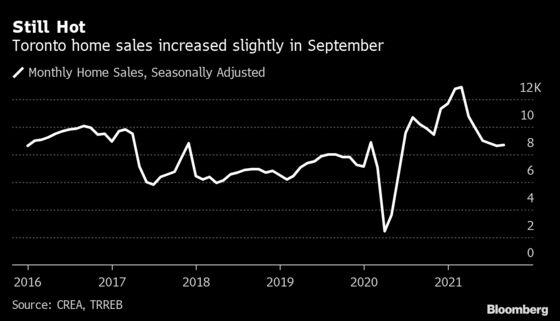 The cost of housing became an issue in last month's national election after rock-bottom mortgage rates and a desire for bigger living spaces helped push Canadian home prices to records through the pandemic. Prime Minister Justin Trudeau was returned to power, promising policies to address housing affordability. But new homes take time to build, and much of the power to approve and speed new construction lies at the local not federal level.
"The lack of housing supply and choice has reached a critical juncture," Kevin Crigger, president of the Toronto real estate board, said in a press release accompanying the September sales numbers. "This is not an issue that can be solved by one level of government alone. There needs to be collaboration federally, provincially, and locally on a solution."
A separate home sales report from Vancouver showed a similar trend, with new listings up from the seasonally slow month of August, but still down nearly 20% from last year. With so little supply, Vancouver's total home sales stayed flat in September from August, and were down 13.6% from last year, the data show. That contributed to a 0.8% rise in Vancouver's benchmark home price last month.