America's Streets Are Getting Rougher
(Bloomberg) -- When it comes to road conditions, drivers in some areas of the U.S. have it far rougher than others. Pandemic-punched budget holes may mean they won't get smoothed out anytime soon. 
For drivers, roads can be bumpy for their wallets, too. Potholes caused an estimated $15 billion in damage to American cars over the course of five years, according to a 2016 report by the American Automobile Association. The average bill for repairs caused by hitting a hole was about $300. 
Three of the large U.S. cities with a high percentages of run-down roads are in California, according to a new analysis of 2018 Federal Highway Administration data published by car-buying app CoPilot. San Francisco isn't new to road ridicule: a 2016 report also found it was the worst in the country, costing local drivers about $1,000 per year.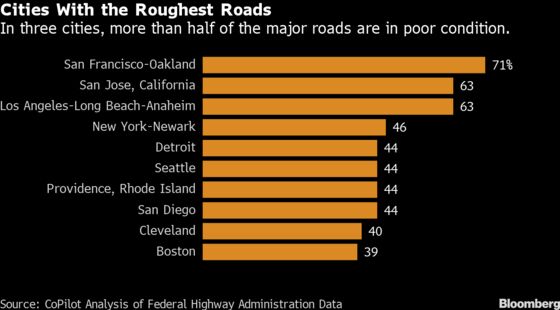 At the state level, bad roads range from Georgia with only 6% of large urban roads in rough shape  to Rhode Island, with almost half.