Tesla to Ford Shine in EV Race as SPAC Bubble Bursts
Tesla to Ford Shine in EV Race as SPAC Bubble Bursts
(Bloomberg) -- The great sorting of electric-vehicle companies is under way in the stock market.
Investors have embraced Tesla Inc. and its meteoric rise as the biggest carmaker by market value, while Ford Motor Co. has more than doubled in the past year on its EV plans. On the other hand, new entrants with little in the way of earnings, or even sales -- think Rivian Automotive Inc., Nikola Corp. and Lordstown Motors Corp. -- look to be a bubble in the process of bursting. 
The damage has been especially pronounced for businesses that went public the backdoor way of merging with a special-purpose acquisition company: Nikola and Lordstown have plunged 80% to 90% from their peaks.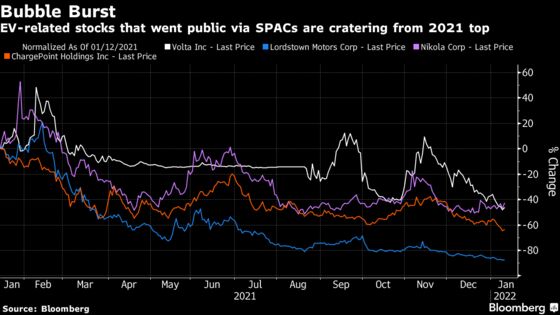 And for electric-vehicle startups, the competition is getting tougher: With Tesla established as the dominant player, the new arrivals are left to slug it out with old-school carmakers like General Motors Corp. and Volkswagen AG, which, like Ford, are determined to capture some of the EV buzz. And the vise is closing just as the prospect of tightening monetary conditions prompts investors to pull back from the most speculative stocks.
"I think it is more a case of the battle between traditional players like GM and Ford who are still extremely cheap and spending fortunes to move into the EV space and the upstarts such as Rivian," said Jim Dixon, senior equity sales at Mirabaud Securities. 
The mania also has come to a screeching halt beyond America. Chinese investors are also steering clear of EV and renewable shares, which have seen three years of gains. Tesla battery supplier Contemporary Amperex Technology Co., started 2022 with an 8.2% slump last week. The bellwether for the green shares dragged down the Nasdaq-style ChiNext Index by 6.8% in the first week of trading this year.
The thing that's bothering analysts like Morgan Stanley's Adam Jonas is that the gains for traditional automakers are coming in lockstep with new entrants like Tesla, which doesn't compute if the electric-vehicle market is a "zero-sum game," as he sees it. "We don't believe the EV market will grow enough to 'make room' for Tesla, new EV startups and legacy OEMs to justify their current valuations," he wrote in a research note last week, referring to original equipment manufacturers such as Ford.
Indeed, automakers have seen the rise in their valuations outpace growth in vehicle sales. Five of the biggest by market cap -- Tesla, Toyota Motor Corp., Volkswagen AG, Ford and GM -- are worth a combined $1.8 trillion, up from about $400 billion at the beginning of 2019. To be sure, Tesla's 1,535% rally accounts for a large chunk of the gains but Ford, for example, has tripled. 
In the EV race, Jonas says Tesla is far ahead at the moment. "Think of the EV race as a marathon. Tesla is in the lead at mile number 21. Everybody else is at mile 2 or still tying their shoes."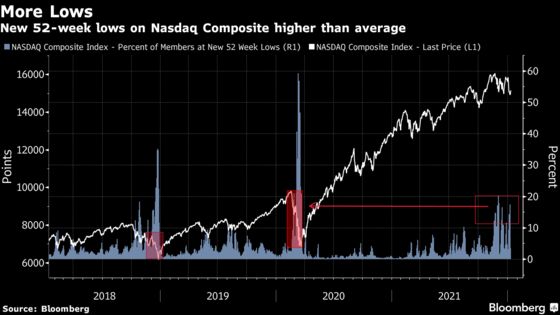 New 52-week lows on Nasdaq Composite Index have remain elevated since late November -- a trend seen at the peak of the pandemic selloff and in late 2018. The index had sharply corrected in both those instances, but this time around it's just 5% below November highs. The index opened 0.7% higher on Wednesday.
Sony will continue producing PlayStation 4 consoles throughout 2022 as it navigates disruptions to the global supply chain that have limited output of its pricier PlayStation 5
Meta Platforms named DoorDash CEO Tony Xu to its board, adding a technology-company founder with significant commerce experience to the group advising CEO Mark Zuckerberg
China's Didi has begun informal talks with the HKEX about a listing, the Financial Times reports, citing two unidentified people
Chinese technology shares rallied by the most in more than a week as investors took advantage of attractive valuations in the battered sector and the prospect of looser monetary policy conditions
TSMC is scheduled to release results on Thursday, with the market watching out for the chip giant's sales guidance, investment plans and pricing strategies