Tata Vets Jet Airways Books for Potential Acquisition
Talks still in their early stages and there's no certainty they would result in a transaction.
(Bloomberg) -- Tata Group is conducting due diligence on Jet Airways India Ltd., as the conglomerate looks to expand its footprint in the country's growing air travel sector by potentially buying a stake in the cash-strapped carrier, according to people familiar with the matter.
The talks are still in their early stages and there's no certainty they would result in a transaction, the people said, asking not to be identified discussing the private negotiations. India's Mint newspaper reported Tuesday that Tata Group Chief Financial Officer Saurabh Agrawal and Jet Airways Chairman Naresh Goyal were leading the talks.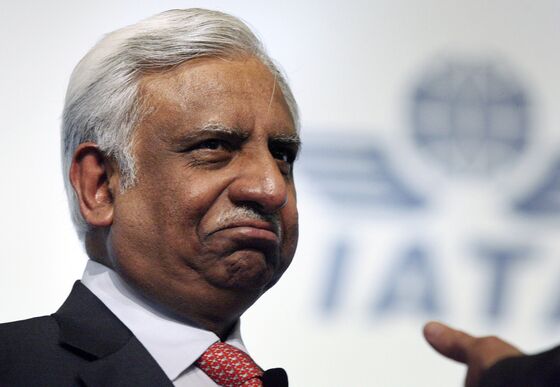 A representative for Tata declined to comment. There's plenty of interest in the Jet Airways brand, Chief Financial Officer Amit Agarwal said in a conference call on Tuesday. Agarwal declined to comment on whether Tata is looking at buying a stake in the company.
A successful deal would lead to Tata's third investment in the nation's chronically cash-strapped aviation sector following the group's two local joint ventures with Singapore Airlines Ltd. and AirAsia Bhd. For Jet Airways, a stake sale would help bring in the much needed funds and ease a cash crunch that has caused delays in worker salaries and payments to aircraft leasing companies.
Shares of Jet Airways jumped as much as 6.4 percent on Tuesday on the Mint report. The stock is still down 70 percent this year, valuing the company at $387 million. Etihad Airways PJSC owns 24 percent of India's biggest full-service carrier.
Jet Airways reported its third straight quarterly loss Monday with surging liabilities that signaled deepening of financial distress. Jet Airways is struggling to survive in a market where intense competition has depressed fares while high fuel prices -- made expensive by local levies -- negate gains from a surge in air travel. A weakening rupee also added to its woes.
The Mumbai-based carrier hasn't made a profit in nine of the past 11 fiscal years. Besides pledging to cut costs, its board in August proposed to pare debt and sell the airline's stake in JetPrivilege, a loyalty program.
To contact the reporters on this story: Bhuma Shrivastava in Mumbai at bshrivastav1@bloomberg.net;Anto Antony in Mumbai at aantony1@bloomberg.net
To contact the editors responsible for this story: Young-Sam Cho at ycho2@bloomberg.net, Sam Nagarajan