Lockheed Wins $5.5 Billion Swiss Warplane Deal
(Bloomberg) -- Switzerland selected Lockheed Martin Corp.'s F-35 warplane for a 5 billion Swiss franc ($5.5 billion) defense order, choosing the model over competing jets from Dassault Aviation SA, Boeing Co. and Eurofighter.
The U.S. aircraft were "by far" the least expensive and also won on technical grounds, thanks to their ease of operation and superior ability to detect aerial threats. In addition to the 36 planes, the Swiss government will spend 2 billion francs on Raytheon Technologies Corp.'s Patriot missile-defense network.
While Thomas Suessli, the head of Switzerland's armed forces, said the purchases are vital "to protect the country and the people from threats, including from the air," they're likely to trigger another in a series of plebiscites over a defense policy seen as controversial in the neutral nation.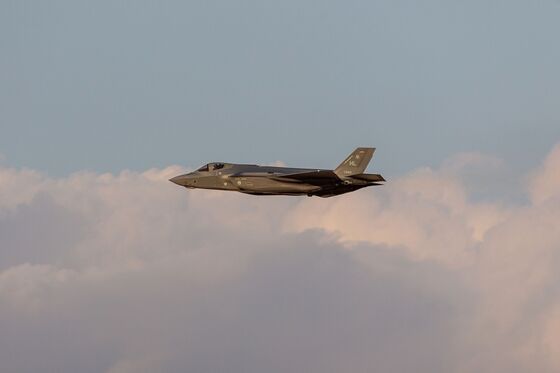 The announcement is the latest in a years-long saga to acquire new fighter jets, with Swiss voters rejecting Saab AB's Gripen in a 2014 referendum. Defense Minister Viola Amherd pushed for the overhaul due to the need to retire current aircraft, but only managed to get a green light from the public for the procurement by a very thin margin last year.
The Swiss decision comes as a blow for Eurofighter consortium member Airbus SE, which had offered final assembly of the planes in Switzerland as a last minute sweetener, according to press reports over the weekend. Britain's BAE Systems Plc and Leonardo SpA of Italy are the other members of the group.
Lockheed Martin and Raytheon each traded 1.1% higher as of 11:07 a.m. in New York following the announcement, while Dassault was priced 3.2% lower in Paris. Boeing and Airbus, which rely more on jetliner manufacture than defense activities, both rose.
The Swiss parliament needs to approve the purchase. The government says the aircraft are required to defend national airspace and for tasks like patrolling the skies during the World Economic Forum in Davos.
Critics object to the high costs and say new planes won't help counter novel threats like cyber attacks.
The anti-military Group for Switzerland Without an Army said the purchase is misguided and that the government should focus on threats such as the coronavirus or climate change. It has pledged to work with the opposition Social Democrats and Greens to trigger a popular vote on the acquisition.