Surging Oil Drilling in Texas Could Cause Summer Power Shortages
(Bloomberg) -- Texas oil and gas drillers are soaking up more electricity than generators are planning to add by the time power demand peaks next summer.
The amount of surplus electricity, or reserve margin, in the state is forecast to shrink to 8.1 percent of expected demand, according to a report Tuesday from the Electric Reliability Council of Texas Inc. That's 2.9 percent lower than the grid operator forecast in May.
"ERCOT's ability to meet Texans' growing power needs through the record-setting summer of 2018 was supported by the actions taken by power suppliers and consumers," Chief Executive Officer Bill Magness said in a statement. That will be needed "as we head into another year with tight reserves."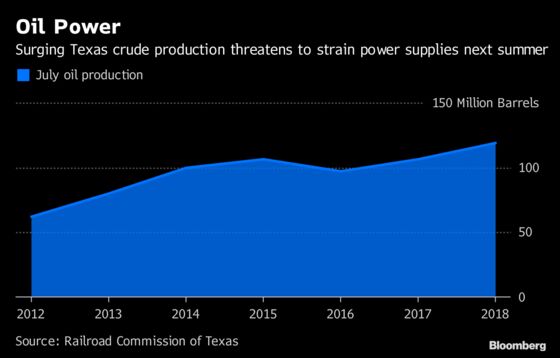 Oil and gas development in West Texas is boosting peak demand of electricity in the region by 8 percent annually through 2023, compared with just 2 percent statewide, the grid operator said. Demand next summer is expected to reach about 74,900 megawatts, or about 1 percent higher than a May forecast and greater than the record 73,500 megawatts set in July.
Prices to deliver electricity during the daytime in July 2019 rose almost 1 percent to $107.60 a megawatt-hour Tuesday, the highest since May 30.
In the following years, new power plants including solar and wind farms will help increase power reserves in Texas, according to the report.
To contact the reporter on this story: Christopher Martin in New York at cmartin11@bloomberg.net
To contact the editors responsible for this story: Joe Ryan at jryan173@bloomberg.net, Will Wade